The Window Closes for Joe Biden
"Unfortunately, I believe we're out of time," the vice president said in announcing his decision not to run in 2016.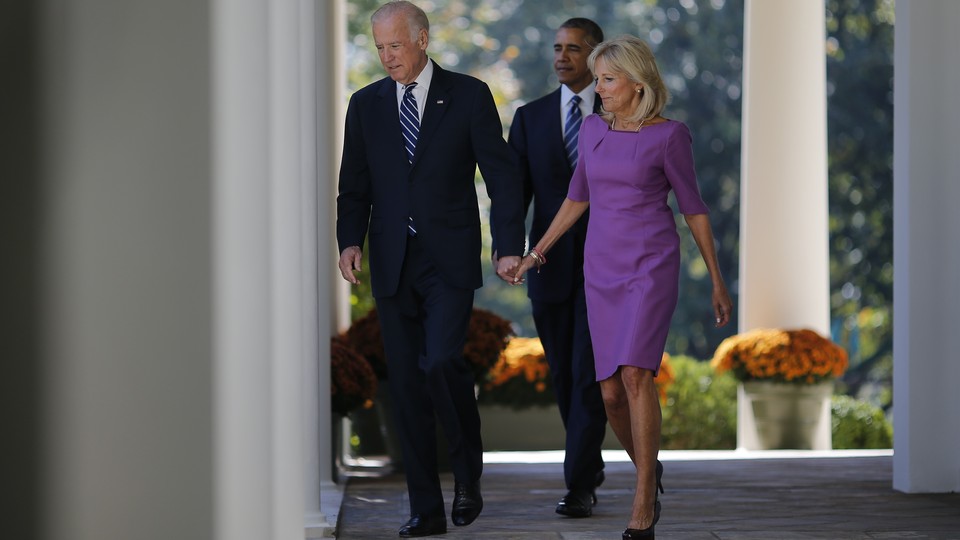 In the end, Joe Biden simply ran out of time.
Announcing his reluctant decision to forego a presidential campaign in 2016, the vice president made abundantly clear how badly he wanted to make a third and final run for the job he's long sniffed but never could grasp. His family, while still grieving over the loss of Biden's eldest son, was finally on board. Biden had a message and even a compelling stump speech—if anyone doubted so, he delivered it on Wednesday in the Rose Garden, with President Obama and his wife Jill standing by his side.
But ultimately, Biden came to the same conclusion that many in the Democratic Party had reached as his period of vacillation extended from weeks to months, and then several agonizing days more. "Unfortunately, I believe we're out of time, the time necessary to mount a winning campaign for the nomination," the vice president said. "But while I will not be a candidate, I will not be silent."
Almost from the moment Obama won a second term, Biden's desire to succeed him had collided with the widespread doubts about whether he could mount a viable campaign. Would he really challenge Hillary Clinton, who was vying not only to become the nation's first woman president but who had been his close colleague both in the Obama Cabinet and, before that, in the Senate? Clinton's struggles certainly opened that door, but never quite wide enough.
Beau Biden's death from brain cancer in late May brought the nation's sympathy to the Biden family and, somewhat improbably, offered a new rationale for a candidacy. Reports surfaced that it was Beau's dying wish that his father make another run. Yet the tragedy also renewed doubts about whether a grieving Biden was up to the rigor of a presidential bid.
The speculation persisted, reaching an almost-comical fever pitch in recent days as Biden's camp repeatedly left allies and reporters alike with the impression that he would make a dramatic entrance into the race. The head of the International Association of Fire Fighters, Harold Schaitberger, told reporters his union was preparing as if Biden was going to announce his candidacy. A backbench Democratic congressman tweeted that Biden was in. Reports circulated that Biden's advisers were scouting office space in Washington.
As recently as Tuesday, the vice president delivered a speech seen as a none-too-subtle dig at Clinton. He challenged her account of the recommendations that the two of them made to Obama before the president ordered the raid that killed Osama bin Laden in 2011, and he implicitly criticized her remark during the first Democratic debate that Republicans were her "enemies."
But after Clinton's solid debate performance last week and with filing deadlines rapidly approaching, Biden concluded that his window had finally closed, as he knew all along that it might. "I know from previous experience that there's no timetable for this process," he said. "The process doesn't respect or much care about things like filing deadlines or debates and primaries and caucuses."
Still, the ever-voluble Biden had some things to say, and he plans to continue saying them for the next 15 months. First and foremost, he said, Democrats should run firmly on Obama's record. "This party, our nation, will be making a tragic mistake if we walk away or attempt to undo the Obama legacy," Biden said. "The American people have worked too hard, and we have have come too far for that. Democrats should not only defend this record and protect this record. They should run on the record."
The vice president then outlined the platform he would have run on, had he run. Many of the items are similar if not identical to proposals that Obama, Clinton, and Bernie Sanders have already made. It would center on lifting up the middle class and reducing income equality. Biden would have pursued campaign-finance reform, criminal-justice reform, free public-college tuition, and a more progressive tax code.
If there was a difference, it was a difference in tone, and it echoed the promise of fixing Washington that Obama made eight years ago but—whether the fault was his or not—could never deliver on. "I believe that we have to end the divisive partisan politics that is ripping this country apart," Biden said. "And I think we can. It's mean spirited, it's petty, and it's gone on for much too long."
Here Biden notably repeated his jab at Clinton, signaling that while his decision might come as a relief to her campaign, he might not immediately become her surrogate. "I don't believe, like some do, that it's naive to talk to Republicans," the vice president said. "I don't think we should look at Republicans as our enemies. They are our opposition. They're not our enemies. And for the sake of the country, we have to work together."
In a proposal that recalled Beau's struggle, Biden said the country needed "a moon shot" to cure cancer. "If I could be anything," he said wistfully, "I would have wanted to have been the president that ended cancer, because it's possible."
Biden concluded his speech with an appeal to the dignity of individuals and the optimism of the nation as a whole.
There are too many people in America—there are too many parents who don't believe they can look their kid in the eye and say with certitude, "Honey, it's gonna be okay."

That's what we need to change. It's not complicated. That will be the true measure of our success, and we'll not have met it until every parent out there can look at their kid in tough times and say, "Honey, it's gonna be okay," and mean it.
"And when we do," Biden added, "America won't just win the future, we will own the finish line."
In statements, Democratic Party leaders and the vice president's would-be rivals praised his long career in government and said he would have been a welcome addition to the 2016 race. And indeed, one last Biden candidacy would have been nothing if not compelling—if only he had launched it in time.