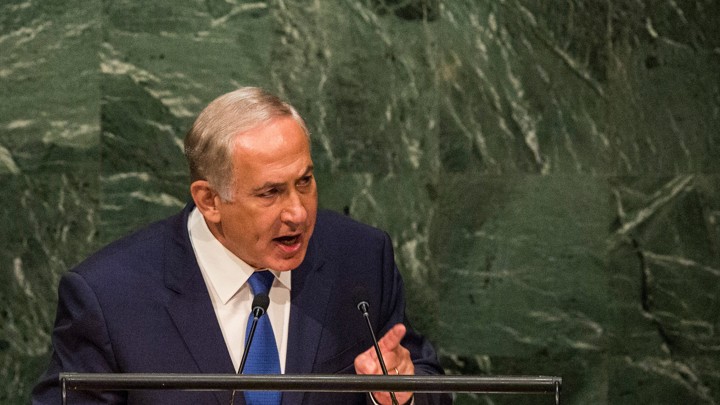 The road to the Obama administration's nuclear deal was paved with good intentions. But that doesn't make it a good deal.
That was Israeli Prime Minister Benjamin Netanyahu's message to the United States Thursday when he addressed the 70th annual meeting of the U.N. General Assembly in a characteristically fiery speech. Netanyahu said that despite the sincere belief of "some well-intentioned people" that the agreement can stop Iran from acquiring a nuclear weapon, he knows better.
"I've long said that the great danger facing our world is the coupling of militant Islam with nuclear weapons," he said. "And I'm gravely concerned that the nuclear deal with Iran will prove to be the marriage certificate of that unholy union."
In his remarks—which ran the gamut from lambasting the nuclear agreement, to praising his country's achievements in science and tech, to calling for negotiations between himself and Palestinian Authority President Mahmoud Abbas—Netanyahu initially framed his country's predicament as Israel versus the world. The U.N., he claimed, is hostile to Israel.
Netanyahu criticized nations for "celebrating this bad deal" and "rushing to embrace and do business with a regime openly committed to our destruction." He condemned the body for its inaction in the wake of some Iranian leaders' harsh anti-Israel comments. If their countries and cities were threatened by Iran and its proxies as Israel has been, "perhaps" they wouldn't be so enthusiastic, he said.
"Seventy years after the murder of 6 million Jews, Iran's rulers promise to destroy my country, murder my people, and the response from this body—the response from nearly every one of the governments represented here—has been absolutely nothing. Utter silence, deafening silence," Netanyahu said, pausing for 45 seconds to stare at the representatives assembled. "Perhaps you can understand why Israel is not joining you in celebrating this deal."
Netanyahu's tone was markedly—and predictably—different from that of President Obama, who used his address to the U.N. on Monday to praise the international cooperation that led to his administration's nuclear agreement with Iran: "If this deal is fully implemented, the prohibition on nuclear weapons is strengthened, a potential war is averted, our world is safer," Obama said. "That is the strength of the international system when it works the way it should."
Netanyahu's remarks came just six months after he addressed a divided joint meeting of Congress to rail against the administration's still-in-the-works agreement, and bucked typical diplomatic protocol in the process. But the controversy over the deal, which survived a congressional review that ended earlier this month, has largely died in Washington as Congress has moved on to fights over Planned Parenthood and the federal budget.
During his speech Thursday, Netanyahu painted Iran as the latest in a thousands-of-years-long line of nations bent on the Jewish people's destruction—all of which inevitably fall.
"I stand here today representing Israel, a country 67 years young but the nation-state of a people nearly 4,000 years old," Netanyahu said. "Yet the empires of Babylon and Rome are not represented in this hall of nations; neither is the 1,000-year Reich. Those seemingly invincible empires are long gone, but Israel lives."
Netanyahu asked for countries to enforce the nuclear deal strongly: Fight Iran's aggression in the Middle East; hold Tehran to the agreement's nuclear provisions; and use sanctions and other means "to tear down Iran's global terror network."  
The man responsible for the nuclear deal is soon meeting Netanyahu face to face: Secretary of State John Kerry, who's scheduled to speak with the prime minister on Thursday. But perhaps Kerry can take comfort in the fact that, despite his rhetoric against the deal, Netanyahu maintained in his speech Thursday his affection for the United States, "the most important partner that Israel has."
Netanyahu and President Obama may be odds when it comes to the nuclear agreement, he said, but they're united on preventing further Middle East destabilization, preventing Iran's terror proxies from gaining weapons, and supporting Israel's security.
"Israel is grateful that this sentiment is widely shared by the American people and its representatives in Congress," he said, "by both those who supported the deal and by those who oppose it."
We want to hear what you think about this article. Submit a letter to the editor or write to letters@theatlantic.com.
Nora Kelly
is a senior associate editor at
The Atlantic
.