Has the Benghazi Committee Reached a Turning Point?
With a fired staffer's accusations, the claim that the panel has become largely a political witch hunt to hurt Hillary Clinton has become mainstream.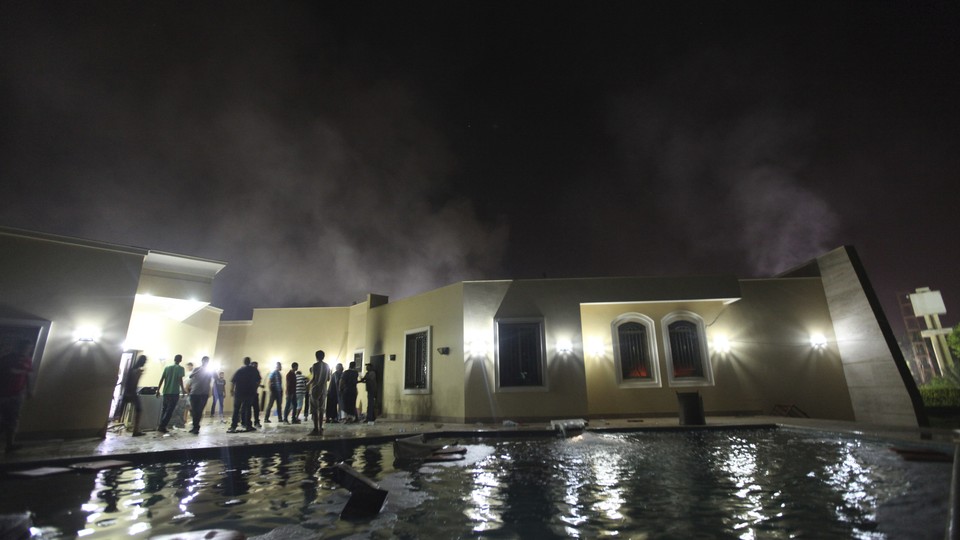 For months, Hillary Clinton and her allies have complained that the House select committee investigating the 2012 Benghazi attacks is nothing but a Republican political ploy, but she has failed to find an effective way to defuse it.
Now, it seems she's getting some help from unlikely allies: Republicans themselves.
Over the holiday weekend, it emerged that a staffer on the committee had been fired—he says after raising objections to the increasingly political nature of the investigation. Bradley Podliska, an Air Force Reserve major, former intelligence analyst, and self-described lifelong Republican, says he complained the committee had become a political witch hunt and had lost sight of actually investigating the attacks in Libya, which killed four Americans, including an ambassador.
Podliska's accusations, and some of the details he offers, are damning, but they take on extra weight in context. In late September, House Majority Leader Kevin McCarthy argued on Fox News the committee had effectively harmed Clinton's standing—taken by many observers to be an implicit admission that the panel's goal all along had been to cut the Democratic frontrunner down to size. (McCarthy argued, only somewhat convincingly, that he did not mean this.) His verbal missteps are seen as one factor in his surprise decision to drop out of the race to be speaker last week.
Many Republicans rushed to insist the Benghazi committee had the purest of motives—a difficult argument given its focus has drifted away from the attacks themselves and toward Clinton's email fracas, and because the inquiry has now dragged on for 17 months. Other influential voices see no point in playing that game. Bill O'Reilly said that "of course" the investigation is political: "If you think those guys, those Republicans on that panel, don't want to bring down Hillary Clinton, you're 6 years old, because they do, so it is political."
In a statement Saturday, Podliska said, "My non-partisan investigative work conflicted with the interests of the Republican leadership, who focused their investigation primarily on Secretary Clinton and her aides." He promised to file suit in federal court over his dismissal; the committee said he'd been fired for cause. They said he'd been sloppy in his investigations and, perhaps surprisingly, showed animus toward Clinton.
As with any firing, it's tough to tell whose motives, if any, are pure. But Podliska's accusations line up with a good deal of the public story. Many of the intelligence and defense figures Trey Gowdy, the South Carolina Republican who chairs the panel, had announced an intention to interview still haven't spoken to the committee, for example. Podliska claims the committee leapt to investigate Clinton's emails after the revelation that she'd used a private server and address while serving as secretary. He also alleged an environment that was unserious and delighted in partisan recrimination, The New York Times reported:
With the slow progress, members have engaged in social activities like a wine club nicknamed "Wine Wednesdays," drinking from glasses imprinted with the words "Glacial Pace," a dig at Representative Elijah E. Cummings, Democrat of Maryland and the committee's ranking member, Major Podliska said. Mr. Cummings used the term to question the speed of the committee's work.

At one point, several Republican staff members formed a gun-buying club and discussed in the committee's conference room the 9-millimeter Glock handguns they intended to buy and what type of monograms they would inscribe on them, Major Podliska said.
Gowdy told the Times he would have preferred for a separate committee to investigate the emails, but that Speaker John Boehner declined the request.
That points to the central dilemma of the committee. So far, the email scandal is the only particularly juicy revelation to emerge from its investigations. Promises the committee would reveal malice, negligence, or anything other than tragic but sincere mistakes at the State Department have so far gone unfulfilled. Perhaps there's a barnburner of a revelation still under wraps (though given the way things have unfolded so far, how likely does it seem such a revelation could stay under wraps for long?). Since the email flap is so far all the committee has turned up, it can't give up pursuing it. Yet in light of the comments from McCarthy, Podliska, and others, it's hard for the committee to remain politically viable as long as it's focusing only on emails and not producing any substance on the September 11, 2012, attacks. (Meanwhile, the drip-drip of news on email continues, with an AP investigation finding hacking vulnerabilities in her setup.)
Now the Benghazi committee will face new political pressures to put up or shut up. But how much pressure? Democrats attempted a procedural maneuver to kill the committee immediately after McCarthy's remarks, but the try predictably failed, given their numerical disadvantage in the House. At the moment, it seems more likely the controversy will just erode the committee's credibility, and with that, its power as a political bludgeon against Clinton. It remains murky whether and to what extent she broke the letter of the rules, but it is clear that in many ways she violated its spirit. But Clinton has often fared best throughout her career when she is seen as being bullied. Then again, she has so far failed to find a good answer to questions about her emails. In this spin war, no one seems capable of pulling out a win.