Benghazi Committee Democrats Will Stay on Panel "For Now"
Democrats on the committee met with House Minority Leader Nancy Pelosi on Friday.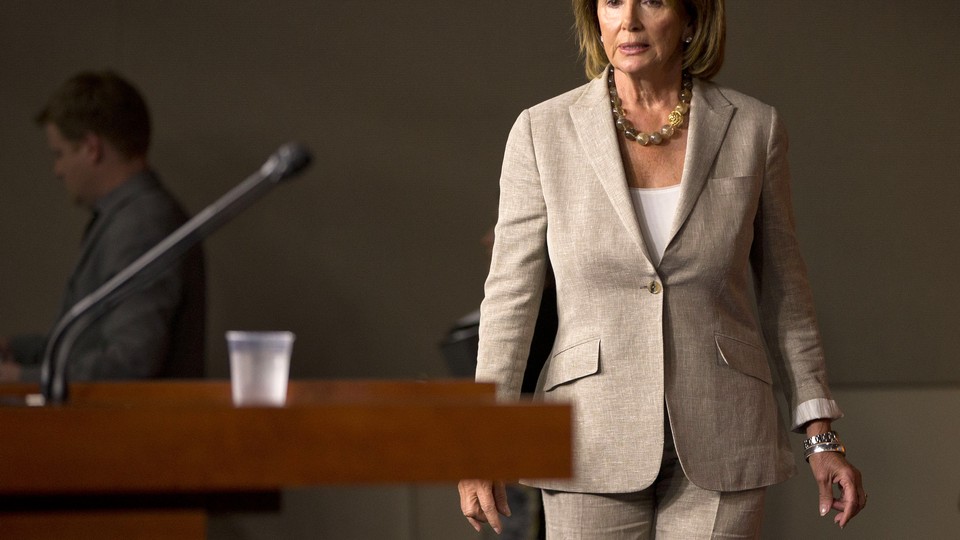 Democrats aren't walking away from the House Select Committee on Benghazi.
In a meeting with House Minority Leader Nancy Pelosi, a senior Democratic aide said, "Democratic members of the Select Committee on Benghazi made the decision to remain as participants of the panel for now."
Democrats call the GOP-led probe a nakedly political exercise designed to damage former Secretary of State Hillary Clinton, the front-runner for the Democratic presidential nomination, who spent eight hours answering questions at a marathon public hearing Thursday.
Rep. Elijah Cummings, the top Democrat on the panel, had said before the hearing that his members would make a decision about their future on the committee after Clinton's appearance.
But even before the hearing, Cummings said that Democrats had reasons to stay involved. "Some­body has to de­fend the truth," he said on Wednesday. "If you are not in the room, you can't do any­thing. So that would be a real prob­lem. So that is the di­lemma we find ourselves in."
Cummings and other committee Democrats met behind closed doors with Pelosi in the Capitol on Friday, and afterward issued a statement again calling on House Speaker John Boehner to disband the panel, which is a symbolic request given that Republicans have made clear that they're continuing the probe.
"If the Speaker rejects our request, Democrats will continue to participate at this point in order to make sure the facts are known and the conspiracy theories are debunked," the Democrats said.
Republicans on the panel, meanwhile, say they're moving into the next stages of the probe following Clinton's appearance, including more witness interviews.
Rep. Susan Brooks said Friday that Republicans hope to announce dates for interviews with former Defense Secretary Leon Panetta and former CIA chief David Petraeus "very soon."
Brooks said she expected that those interviews would be closed-door sessions, which has been the committee's practice for most witnesses. "Those will be in classified settings because those are about issues that we can't discuss in public," she told reporters in the Capitol. But she also said it's possible that some portion of the Panetta and Petraeus sessions could be public.
Republicans have not said when they will issue a final report on the probe of the Sept. 11, 2012 attacks in Libya that killed four Americans, including U.S. Amb. Chris Stevens.
While Democrats have accused Republicans of dragging the process out for political reasons, Republicans say blame rests with the pace of the State Department's document production. Brooks said there are "many more" documents the panel is still awaiting.
"We are trying to get that definitive, fact-based investigative report finished, and that will happen as soon as we can possibly make it happen, but we have got to finish the interviews; we've got to get the documents," Brooks said in the Capitol.