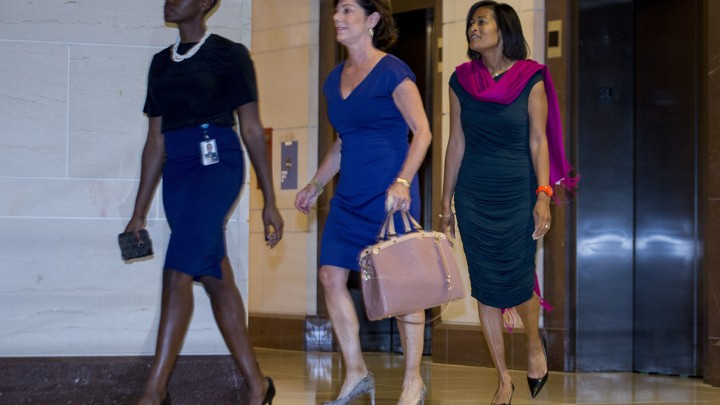 Democrats on the House Select Committee on Benghazi will release the transcript of the panel's closed-door interview last month with Cheryl Mills, a close confidante of Hillary Clinton's who served as her chief of staff at the State Department.
In a letter to Rep. Trey Gowdy, the panel's GOP leader, Democrats accuse Republicans of selectively leaking inaccurate information from the Sept. 3 interview.
"It has become obvious that the only way to adequately correct the public record is to release the complete transcript of the committee's interview with Ms. Mills," the letter states.
Democrats have previously—and unsuccessfully—urged Republicans to release the full transcripts of closed-door interviews of some witnesses, notably Sidney Blumenthal, a close Clinton ally who corresponded frequently with Clinton over her private email account while she led State during President Obama's first term.
The decision to unilaterally release the transcript arrives just days after widely circulated comments by House Speaker Kevin McCarthy, who is running to replace outgoing House Speaker John Boehner, that have put Republicans on the defensive about the Benghazi investigation.
"Every­body thought Hil­lary Clin­ton was un­beat­able, right? But we put to­geth­er a Benghazi spe­cial com­mit­tee, a se­lect com­mit­tee. What are her num­bers today?" Mc­Carthy said on Fox News late Tues­day night.
Democrats cite the comments in the opening of their letter as proof of their assertion that the committee was designed as a political weapon.
The letter states: "On September 29, 2015, Majority Leader Kevin McCarthy admitted during a nationally televised interview on Fox News that House Republicans created the Benghazi Select Committee from the very beginning to wage a taxpayer-funded political campaign against Hillary Clinton's bid for president. Obviously, this is an unethical abuse of millions of taxpayer dollars and a crass assault on the memories of the four Americans who were killed in Benghazi. Although some Republicans attempted to explain away Rep. McCarthy's admission, it reflected exactly what has been going on within the Select Committee for the past year-and-a-half."
Democrats, in the letter, say they do not take the decision to release the Mills transcript lightly, but that it stems from multiple leaks from the committee involving multiple witnesses. They are signaling that releases of transcripts from more closed-door interviews are in the offing.
"We believe it is time to begin releasing the transcripts of interviews conducted by the Select Committee in order to correct the public record after numerous inaccurate Republican leaks, and we plan to begin this process by releasing the full transcript of Ms. Mills's interview," the letter states.
But the release won't be immediate. Instead, Democrats say they're giving Republicans, the State Department, and Mills's lawyers five days to identify any information from the transcript that should be withheld from the public.
Jamal Ware, Gowdy's spokesman, slammed Democrats' plan to release interview records. He said there are "myriad" reasons to keep transcripts under wraps, such as "the need to hear from all witnesses and gather all facts before drawing inferences or conclusions from those interviews."
Ware accused the Democrats of political motivation. "Most Democrats on the Benghazi Committee have endorsed Clinton, and they are now running a protection effort for the former secretary," he said.
Democrats released a few portions of the Mills interview Monday that they say contradict the "political narrative" that Republicans have tried to create about the 2012 Benghazi attacks, which claimed the lives of four Americans, including Amb. Chris Stevens.
For instance, in one sequence, Mills, in response to a question about whether Clinton requested that military assets be deployed, recalled a videoconference in which Clinton "said we need to be taking whatever steps we can, to do whatever we can to secure our people" and that "she was pretty emphatic about wanting whatever to be done and whatever were assets that could be deployed, if that was both effective and possible to be done."
The vow to release the transcripts arrives on the same day that Clinton offered sharp words about the Benghazi committee. She will testify before the panel on Oct. 22 in what will be among the closely watched events of the 2016 election cycle thus far.
"This committee was set up, as they have admitted, for the purpose of making a partisan political issue out of the deaths of four Americans," Clinton said on NBC's Today show.
Asked if the committee should be disbanded, as several senior Democratic lawmakers have called for, Clinton said: "I have to say that now that they have admitted it's a political, partisan committee for the sole purpose of going after me, not trying to make our diplomats who serve in dangerous areas safer, that's up to the Congress."
This article has been updated.
We want to hear what you think about this article. Submit a letter to the editor or write to letters@theatlantic.com.
Ben Geman
is an energy and environment correspondent at
National Journal