Ben Carson's Mannatech Problem
The GOP candidate denied any relationship with the controversial health-supplement company. His record says otherwise.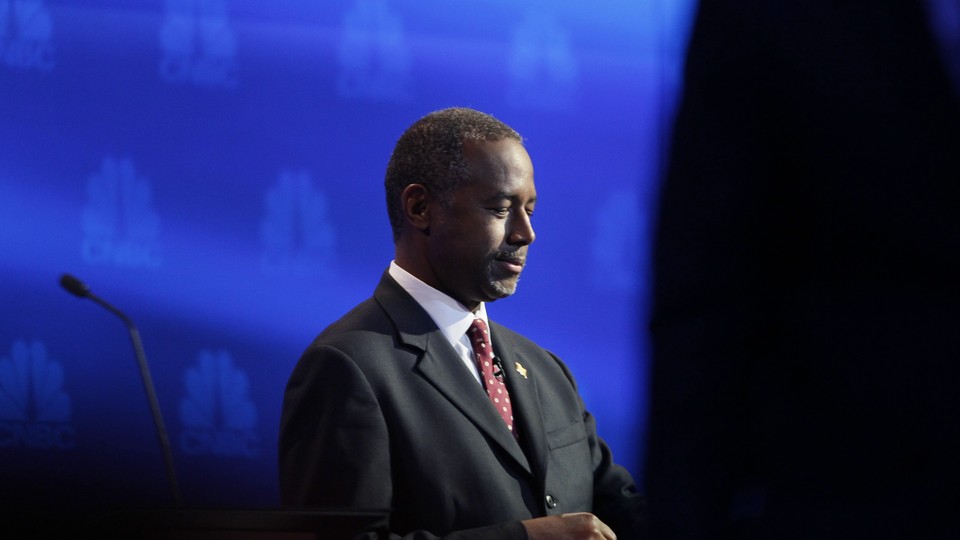 During Wednesday's GOP presidential debate in Boulder, Colorado, CNBC moderator Carl Quintanilla asked Ben Carson, a leading GOP contender and an accomplished pediatric neurosurgeon, about his relationship with a controversial nutritional-supplement company.
"There's a company called Mannatech, a maker of nutritional supplements, with which you had a ten-year relationship," Quintanilla asked. "They offered claims that they could cure autism and cancer. They paid $7 million to settle a deceptive-marketing lawsuit in Texas and yet your involvement continued. Why?"
"Well, it's easy to answer," Carson quickly replied. "I didn't have an involvement with them. That is total propaganda and this is what happens in our society. Total propaganda." He then backtracked a little. "I did a couple of speeches for them. I did speeches for other people, they were paid speeches," he told the crowd before switching back to a full denial. "It is absolutely absurd to say that I had any kind of relationship with them." Then he again acknowledged a role. "Do I take the product? Yes, I think it's a good product."
Presidential candidates frequently stretch the truth. Some of them have made fantastical claims about President Obama's birth certificate, for example, or their ability to construct a giant wall on the Mexican border that Mexico will pay for. But Carson's outright denial seems egregious even by that standard. His relationship with the company is lengthy and well-documented, which makes his response even more bizarre.
Carson first spoke out in favor of Mannatech products over a decade ago when he claimed that the Texas-based company's "glyconutritional supplements," which included larch-tree bark and aloe vera extract, helped him overcome prostate cancer.
The company doctor "prescribed a regimen" of supplements, Mr. Carson told its sales associates in a 2004 speech. "Within about three weeks my symptoms went away, and I was really quite amazed," he said to loud applause, according to a YouTube video of the event.

The candidate today is cancer-free after surgery. He told associates of the company, Mannatech Inc., that he initially considered forgoing surgery and treating the cancer with supplements only.
As the Wall Street Journal reported earlier this month, Carson's relationship with the company deepened over time, including "four paid speeches at Mannatech gatherings, most recently one in 2013 for which he was paid $42,000, according to the company." The company disputes that Carson was a "paid endorser or spokesperson," according to the Journal, and claims his financial compensation went to charity.
National Review also highlighted Carson's connections to Mannatech in January and how Carson's team went to great lengths to distance themselves from the company. Some of his video appearances have been removed from the Internet, but those that remain appear to show a deeper affiliation than Carson claimed during Wednesday's debate.
In one video for Mannatech last year that remains online, Carson discusses his experiences with nutritional supplements while seated next to the company's logo. "The wonderful thing about a company like Mannatech is that they recognize that when God made us, He gave us the right fuel," Carson explained. "And that fuel was the right kind of healthy food … Basically what the company is doing is trying to find a way to restore natural diet as a medicine or as a mechanism for maintaining health."
Carson stopped short of making substantive medical claims about Mannatech's products. "You know, I can't say that that's the reason I feel so healthy," he said. "But I can say it made me feel different and that's why I continue to use it more than ten years later." His apparent hesitation is understandable. Seven years before Carson appeared in that video, then-Texas Attorney General Greg Abbott, a Republican who was elected governor of Texas last year, sued Mannatech for running a illegal marketing scheme under the state's Deceptive Trade Practices Act. Abbott claimed that the Dallas-based company and its sales representatives repeatedly exaggerated the medical efficacy of their products.
"Texans will not tolerate illegal marketing schemes that prey upon the sick and unsuspecting," Abbott's office said at the time. "Aided by an army of multi-level sellers and their fictitious claims about its products, Mannatech has aggressively marketed supplements to countless unwitting purchasers." Abbott also emphasized that the company's claims were "not supported by legitimate scientific studies, nor are its products approved as drugs by the U.S. Food and Drug Administration."
Mannatech paid a $6 million settlement in 2009 in which the company admitted no wrongdoing. "Under the agreed final judgment, Mannatech agreed not to advertise or otherwise claim that its dietary supplements can cure, treat, mitigate, or prevent disease," according to Abbott's office. The settlement also levied a $1 million fine against company founder Samuel Caster and banned him from working for Mannatech for five years.
Carson is neither the first nor the only high-profile doctor to endorse nutritional supplements with dubious scientific backing. A Senate subcommittee excoriated Dr. Mehmet Oz last year for promoting "miracle" pills and "magic" weight-loss solutions on his nationally televised daytime talk show. My colleague James Hamblin noted that Oz's endorsements helped fuel a "sordid, under-regulated" market for self-proclaimed miracle cures. The industry is largely shielded from regulatory scrutiny by the Dietary Supplement Health and Education Act of 1994, which does not require dietary and nutritional supplements to be approved by the FDA before their sale in the United States.
The debate question could have provided Carson with an opportunity to clarify his relationship with the company and his views on nutritional supplements. Instead, his denial will only increase public scrutiny of his interactions with a controversial industry.