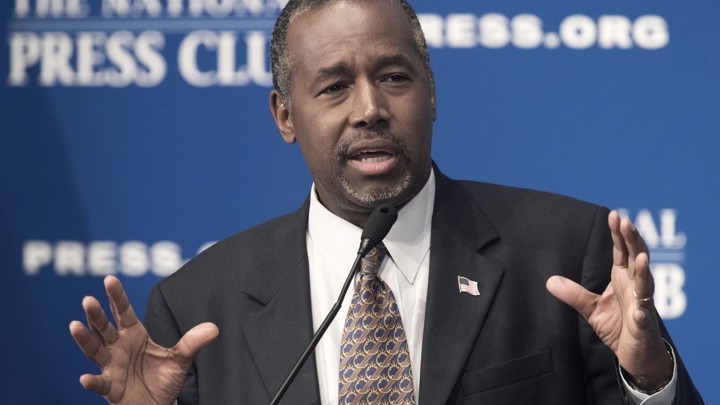 With anger at Washington and career politicians at historic levels, a mild-mannered outsider starts catching momentum despite being viewed as a naive novice. His unsophisticated personality draws mockery from political insiders, but does little to dent his poll numbers. His appeal to evangelical voters gives him an inside track in the Iowa caucuses, even as it makes party leaders uncomfortable. His record is attacked as extreme, even within his own party. Yet he holds significant leads in early general-election polling against a well-known opponent from the other party.  
This could be a story about Ben Carson's seemingly long-shot bid for the presidency this year. But the same points could be made of Jimmy Carter's out-of-nowhere presidential campaign in 1976—one that led to him becoming the 39th president of the United States. And to understand why Carson is performing so well in the Republican primary field despite his abject lack of governing experience, Carter's presidential bid—and the national environment surrounding his candidacy—is an important start.
It can be presumptuous to compare elections, but the political environment of 1976 is about as close to a recent parallel as you can find to the one shaping today's volatile campaign. Four decades ago, in the wake of the Watergate scandal, voters lost trust in Washington, and viewed those with political experience skeptically. The crowded Democratic field was filled with senators and congressmen (Mo Udall, Scoop Jackson, and Birch Bayh among them), none of whom connected with the public. Inflation was dragging down the economy, which had been stagnant for years. Terrorism was emerging as a popular tactic internationally. The incumbent party was tainted by scandal, and President Ford was damaged by association after pardoning Richard Nixon—while facing an insurgent challenge from Ronald Reagan. The country was clearly headed down the wrong track, in the minds of voters, and that manifested itself in that year's election results.
Enter Carter, who was as unconventional of a Democratic candidate as it got back then. He was as much as an outsider within the Democratic party then as Carson is now. He won his lone campaign for governor of Georgia in 1970 by courting conservatives in a racially-charged campaign that attacked his Democratic opponent as an urban liberal. Carter's presidential campaign showed surprising grassroots strength by focusing his efforts on the then-insignificant Iowa caucuses, finishing ahead of all the other candidates in the race.  
He was a quirky presidential candidate: During the race, Carter pledged to release every piece of government information about UFOs available to scientists—after filing a UFO report himself as governor. He sat down for an interview with Playboy, acknowledging that he "committed adultery in [his] heart many times." That didn't stop him from winning the presidency at a time when the public was embracing outsiders, scrambling the electoral map in surprising ways for a party that nominated George McGovern four years earlier. (That year, Carter nearly swept the South and carried Mississippi, Alabama and Texas—the last Democratic presidential nominee to win those deeply conservative states.)
Carson, likewise, is about as unconventional as a Republican presidential candidate as you could come up with. He's African-American, and grew up in poverty in inner-city Detroit. He was such a successful neurosurgeon at Johns Hopkins University that Cuba Gooding Jr. starred in a movie about his career. His only experience with politics was when he attacked the president's health care law to his face at the 2013 National Prayer Breakfast. He's one of the best-financed Republican candidates in a crowded field—with over $30 million raised at the end of September—thanks to a widespread grassroots fundraising network.
Carson's recent string of inflammatory comments about gun control and Islam, combined with ignorance about the debt ceiling, is doing little to dent his strong approval ratings—including among moderates, independents, and even some Democrats. He's polling in second in most national and state polls, within striking distance of Donald Trump. This week's Fox News poll shows him leading Hillary Clinton by 11 points—the largest margin of all the GOP candidates tested. Last week's Quinnipiac national poll showed more African-Americans viewed him favorably than not—even with the ongoing negative publicity. It probably won't last, but right now he can claim to be the most electable candidate, if the polls are to be believed. If you rely on polls to conclude that Trump's support will last until the primaries, there's no reason to believe that Carson won't have the same staying power.
What's fascinating is that many of the same people taking Trump seriously as a possible presidential nominee have trouble understanding Carson's appeal. MSNBC's Joe Scarborough, in an epic Morning Joe rant last week, acknowledged that he had a "blind spot" when it came to Carson, claiming not to understand his level of support. Liberal Washington Post columnist Eugene Robinson wrote that the "craziest" thing about the Republican field was Carson's recent momentum.
But Carson's political trajectory is familiar to anyone who has followed Republican congressional primaries in recent years. Tea-party-oriented candidates, touting their distance from Washington, mounted serious threats to some of the most entrenched senators in office. Just last year, Sen. Lamar Alexander won just 49 percent of the vote in Tennessee against a state legislator who hardly got any attention for his campaign. It took Democratic voters in Mississippi for Sen. Thad Cochran to narrowly prevail in a nasty runoff against an opponent with a history of racist remarks. Sen. Pat Roberts of Kansas couldn't even win a majority of the Republican vote against a physician who posted macabre images of gunshot fatalities to his Facebook. By comparison, Carson's resume is Herculean compared to the roster of not-ready-for-prime-time outsiders who threatened establishment icons.                
Do I think Carson will be the next Republican presidential nominee? No. Even Carter served one term as governor, and as a state senator before that. To put it mildly, Carter was more fluent speaking about public policy than Carson (even if Carson's overall professional resume is more impressive). Carson's record will get further scrutiny if he continues to lead in the polls.
But he's much better positioned to win caucuses and primaries than Trump—and carry the outsider mantle for the conservatives down the stretch. Carson is raising money from thousands of small donors, while Trump isn't doing any fundraising for his campaign. Polls show that Trump's base of support is from disaffected secular voters, while Carson's base of support is from evangelicals, who are much more likely to show up to vote at the Iowa caucuses. If Pat Robertson could finish second in the 1988 Iowa caucuses, surely Carson has a shot at winning in such a crowded field.
In 1976, a humble outsider came out of nowhere to win his party's nomination and shake up the political map. That was only possible because of the degree and intensity of voter anger at Washington and its political establishment. With a stagnant economy, rising chaos abroad, an uptick in violent crime, and continuous gridlock on Capitol Hill, the public mood is not all that different from four decades ago. Among Republicans, the anger at the party's establishment has hit a fever pitch. All that is contributing to an environment where an accomplished neurosurgeon with no political experience and limited knowledge of public policy can have a shot at the highest office in the land.
We want to hear what you think about this article. Submit a letter to the editor or write to letters@theatlantic.com.