Before Kim Davis, the Pope Hung Out With a Gay Couple
Let the wonders of papal politics never cease.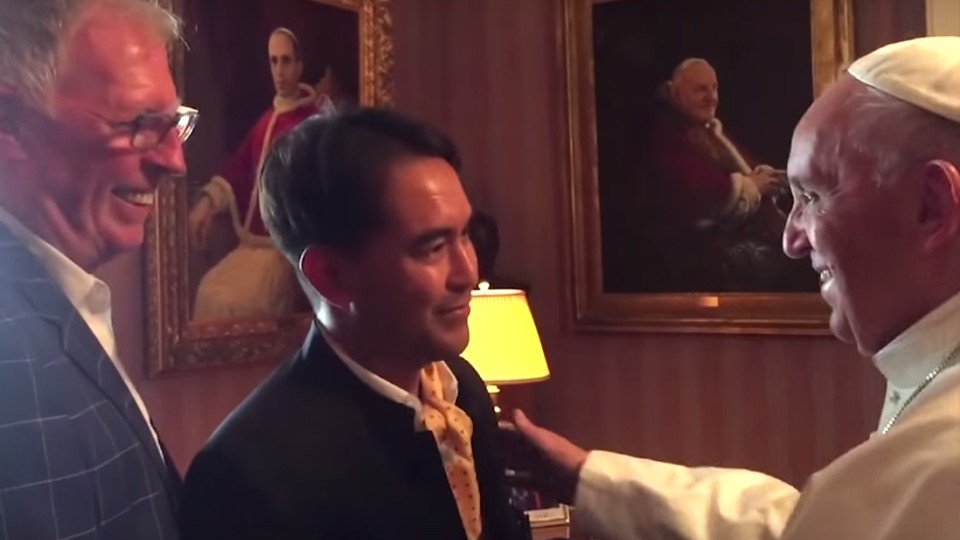 The back-and-forth over the pope's meeting with Kim Davis last week during his trip to the United States just got more interesting. On Wednesday, September 23, the day before Davis visited with Francis, the pope met with a gay couple at the Vatican Embassy, CNN reports.
Yayo Grassi, an openly gay man, brought his partner, Iwan, as well several other friends to the Vatican Embassy on September 23 for a brief visit with the Pope. A video of the meeting shows Grassi and Francis greeting each other with a warm hug. …

"Three weeks before the trip, he called me on the phone and said he would love to give me a hug," Grassi said.
Grassi was a student of the pope's in Argentina, and he said the pope knew that he was gay.
When news that Pope Francis had met with Davis came out on Tuesday, there was immediate reaction. More conservative commentators interpreted it as an implicit signal of support for the American culture-wars version of religious liberty; more progressive priests tried to downplay it as an insignificant encounter; and eventually, after a lot of press questions and a lot of backlash, the Vatican backpedaled.
The news of the meeting between Francis, Grassi, and his partner should serve as a reminder: Let he who really knows what's going on in the ever-mysterious pope's mind cast the first commentary stone. The pope saw a lot of people while he was in the United States including both a gay couple and a woman who refused to marry gay couples. He has changed the Church's tone on homosexuality: "Who am I to judge?" are the most famous words of his papacy, spoken to a reporter about a priest who may have self-identified as gay. But he has also been firm in his views on traditional marriage, speaking during this trip and elsewhere about the importance of the differentiated role of men and women. The pope meets people where they are. He does what he wants. And he always, always confounds expectations.