Most college students work to pay for school. It's been that way for decades. But where earlier generations of young people could earn enough to cover tuition and other expenses, today's students are taking out loans to make ends meet. And as the nation's college students become a more varied bunch, the financial responsibilities they shoulder are increasingly numerous.
According to a new report from Georgetown University's Center on Education and the Workforce, there were around 20 million college students in 2014, up from just 2.4 million in 1949. Seven in 10 students work while they are enrolled, a figure that has remained steady for the past three decades. What has increased is the number of hours they work.
A quarter of college students are now both full-time workers and full-time students. Many more are working closer to full-time. Nearly 40 percent of undergraduate students and 76 percent of graduate students work at least 30 hours a week, according to the report. Many are older, with families to support. Nearly 20 percent have children.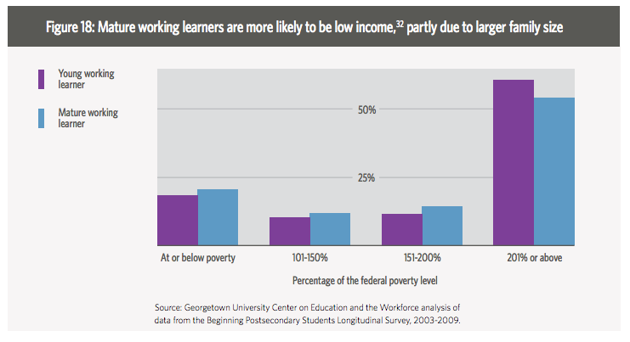 As the nation's college students have become more varied—racially, in terms of life stage, and, critically, wealth—the cost of earning a degree has climbed. Student-loan debt has ballooned beyond a trillion dollars. Sen. Elizabeth Warren is among the lawmakers who has advocated for student-loan reform, pointing out that when she was a student, a summer job was sufficient to pay for school. Now, a student working full-time earning minimum wage would make around $15,000 in a year, which is less than tuition and living expenses at most schools. According to the College Board, an undergraduate student paying in-state tuition at a four-year college is looking at about $19,000. Private four-year schools run closer to $43,000.