At Universities, More Students Are Working Full-Time
A quarter of all students are both employed full-time and enrolled in college full-time.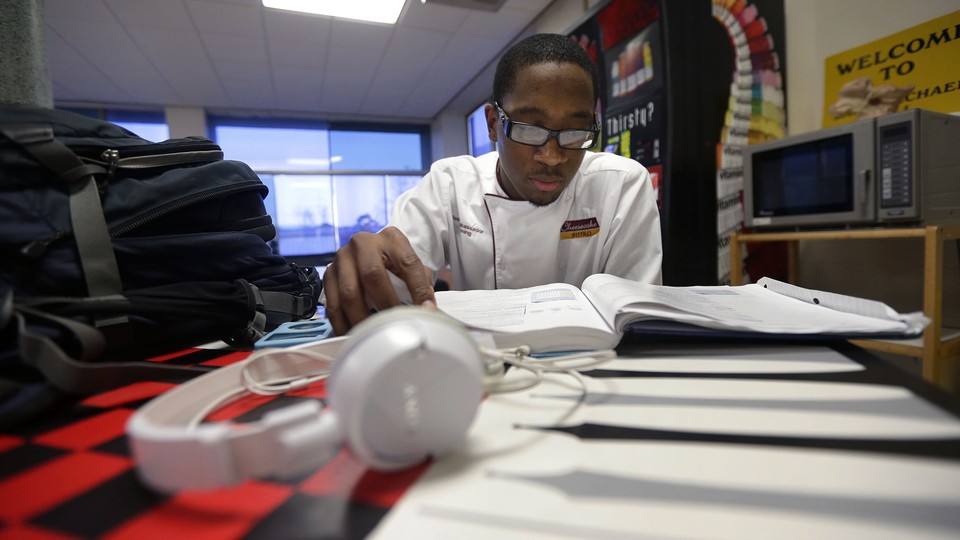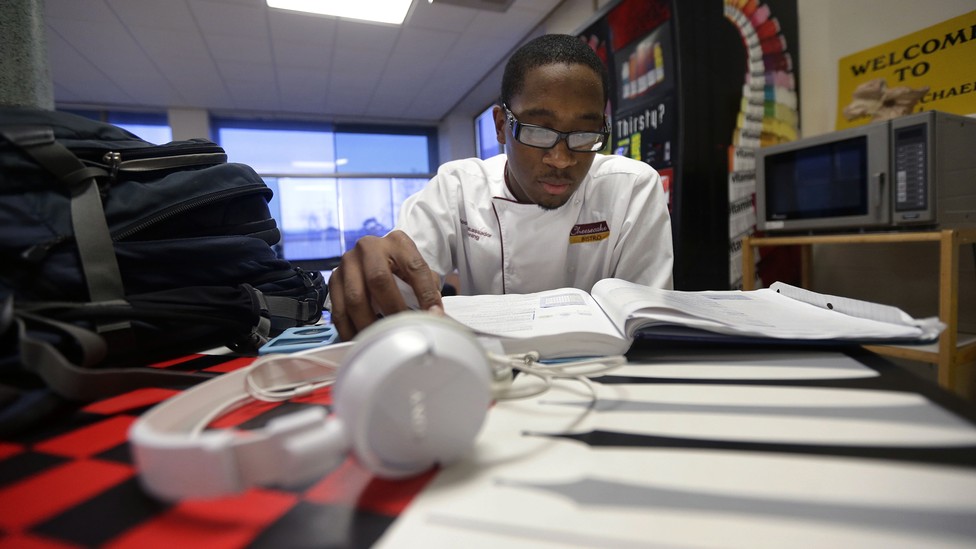 Most college students work to pay for school. It's been that way for decades. But where earlier generations of young people could earn enough to cover tuition and other expenses, today's students are taking out loans to make ends meet. And as the nation's college students become a more varied bunch, the financial responsibilities they shoulder are increasingly numerous.
According to a new report from Georgetown University's Center on Education and the Workforce, there were around 20 million college students in 2014, up from just 2.4 million in 1949. Seven in 10 students work while they are enrolled, a figure that has remained steady for the past three decades. What has increased is the number of hours they work.
A quarter of college students are now both full-time workers and full-time students. Many more are working closer to full-time. Nearly 40 percent of undergraduate students and 76 percent of graduate students work at least 30 hours a week, according to the report. Many are older, with families to support. Nearly 20 percent have children.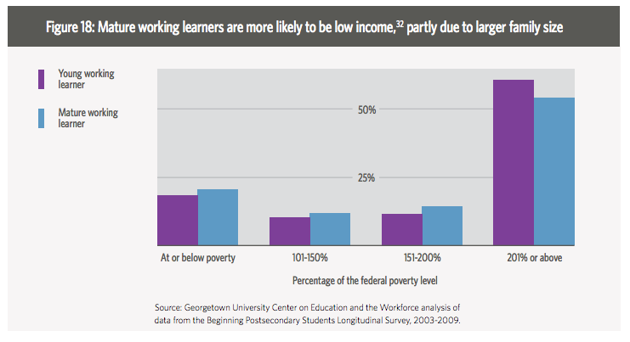 As the nation's college students have become more varied—racially, in terms of life stage, and, critically, wealth—the cost of earning a degree has climbed. Student-loan debt has ballooned beyond a trillion dollars. Sen. Elizabeth Warren is among the lawmakers who has advocated for student-loan reform, pointing out that when she was a student, a summer job was sufficient to pay for school. Now, a student working full-time earning minimum wage would make around $15,000 in a year, which is less than tuition and living expenses at most schools. According to the College Board, an undergraduate student paying in-state tuition at a four-year college is looking at about $19,000. Private four-year schools run closer to $43,000.
"Today, almost every college student works, but you can't work your way through college anymore," Anthony P. Carnevale, director of the center and the report's lead author, said in a statement. "Even if you work, you have to take out loans and take on debt."
Working, the report notes, can open career opportunities for students. But, particularly for first-generation and low-income college students, working long hours can lead to poor grades, or worse, dropping out. While students from wealthy families can afford to take unpaid internships to gain hands-on knowledge in their desired field, low-income students often end up in restaurant or retail positions.
Although these jobs can offer valuable experience, they often don't provide the crucial networking opportunities that can help students break into a number of industries. These students also are disproportionately concentrated in under-resourced schools, the report says, meaning they may have less access to career guidance and counseling.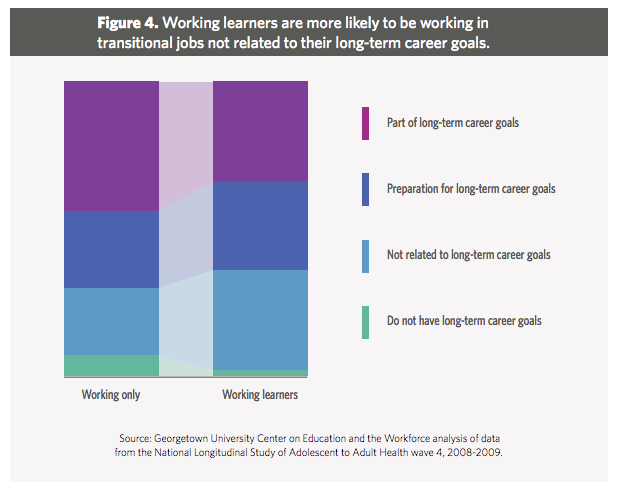 There's also a lack of clarity around which degrees lead to which careers. "We need much stronger connections between learning and work," Nicole Smith, chief economist at the center and a coauthor of the report, said in a statement. "When students pick a major or field of study, they need to be told up front what kind of career it likely leads to and how much money they are likely to make, especially if they have to pay back student loans."
The Obama administration had sought to help answer that question with an ambitious college ratings plan, but it was scrapped amid pushback from colleges. The president wanted, as part of that plan, to tie the amount of federal aid that a school receives to such factors as employment rates and earnings. The report advocates funding postsecondary education in part through labor market outcomes, and suggests more investment in competency-based education, the idea that a student could earn credit for skills with labor-market value.
Advocates on both sides of the aisle have argued that looking at what skills a student can demonstrate as opposed to how many credit hours they've earned could help older students and veterans with workforce experience. According to the report, a third of working learners are age 30 or older, and concentrated in health care and business fields. Finally, the report calls on more employers to help foot tuition bills.
One thing is clear, as the report's title, "Learning While Earning: The New Normal," points out. The days of students just being students are long gone and unlikely to return. Juggling work and school is the standard, a balancing act that can benefit learners when both occur in moderation. But the number of students who have no option but to work long hours to pay for school and satisfy other financial obligations is rising, and this report argues that there are openings for policies to ease that burden.