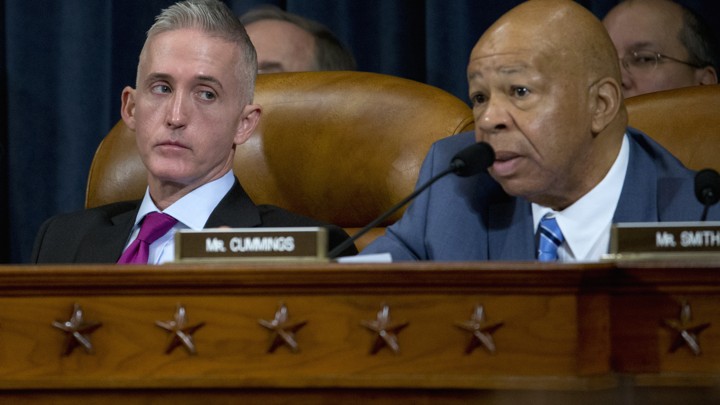 Hillary Clinton and House Benghazi Committee Chairman Trey Gowdy had something in common during Thursday's high-profile hearing with the Democratic White House front-runner.
Both used early lines in their opening statements to honor the service and courage of the four Americans killed in the Sept. 11, 2012 attacks: Chris Stevens, Sean Smith, Glen Doherty, and Tyrone Woods.
But from there they sharply diverged. Gowdy, in a defensive stance amid attacks on his committee's motives, was combative as he said that the panel had broken new ground—at one point he used the term "first committee" seven times in sequence to describe the panel's work.
Clinton, in contrast, adopted a calm and even somber tone during much of the hearing, even when Gowdy and other GOP lawmakers including Reps. Jim Jordan, Martha Roby, and Mike Pompeo questioned her aggressively.
"I would imagine I have thought more about what happened than all of you put together. I have lost more sleep than all of you put together," Clinton told the panel at one point, speaking in gentle tones, about the fatal attacks, noting she has been "racking her brain" about what more could have been done.
Alongside the clear effort to avoid appearing frustrated or annoyed, Clinton used the hearing to seek to subtly convey her qualifications—and seek to downplay the GOP focus on her emails.
For instance, at one point GOP Rep. Susan Brooks alleged that a reduction in the number of emails Clinton sent or received about Libya in 2012 compared to the prior year showed "a lack of interest in Libya in 2012."
Brooks, later in the exchange, noted that "there is not one email to you or from you in 2012 when an explosive device went off at our compound in April. … What kind of culture was created in the State Department that your folks couldn't tell you in an email about a bomb in April of 2012?"
Clinton rebutted Brooks with comments that reminded listeners about her closeness to the White House:
"Well, Congresswoman, I did not conduct most of the business that I did on behalf of our country on email. I conducted it in meetings. I read massive amounts of memos, a great deal of classified information. I made a lot of secure phone calls. I was in and out of the White House all the time."
At another point, during an exchange with Rep. Peter Roskam, Clinton reminded the panel:
"I have been in a number of Situation Room discussions. I remember very well the very intense conversation over whether or not to launch the Navy SEALs against the compound" thought to contain Osama bin Laden.
In contrast to Clinton's tone, there were fireworks between Republicans and Democrats.
Gowdy and Democratic Reps. Elijah Cummings and Adam Schiff got into an argument over Clinton's correspondence with Sidney Blumenthal, the subpoena Gowdy sent him, and whether the full transcript of his closed-door deposition with the committee and others should be released.
"You asked for the truth, the whole truth, and nothing but the truth. Well, that's what we want to have. Let the world see it," Cummings said in a heated, raised voice. "What do you have to hide?"
Clinton had rough moments as well. When Pompeo demanded to know why nobody had been fired over the attacks, she descended into mushy process-speak.
"The personnel rules and the laws that govern those decisions were followed very carefully," she said, later noting: "It is my position that in the absence of finding dereliction or breach of duty, there could not be immediate action taken, but there was a process that was immediately instituted and which led to decisions being made."
And Clinton looked particularly exasperated during Jordan's questioning, when he interrupted her repeatedly. But three hours into the hearing, she had not produced anything likely to become a viral hit or heavy ammunition for her GOP rivals in the 2016 elections.
We want to hear what you think about this article. Submit a letter to the editor or write to letters@theatlantic.com.
Ben Geman
is an energy and environment correspondent at
National Journal