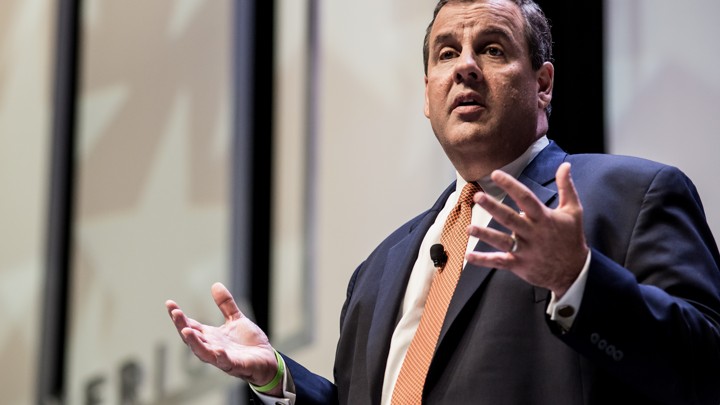 As the East Coast braces for Hurricane Joaquin, Chris Christie wants everyone to know that he's ready.
The New Jersey governor has faltered in the polls, prompting questions about whether the 2016 candidate will qualify for the main stage at the next Republican presidential debate at the end of the month. But Christie is taking full advantage of the spotlight created by the rapidly advancing storm to head off doubts about his ability to lead, dredging up memories of Superstorm Sandy as evidence that he has the know-how and experience to govern, even in tough times.
"I'm better and I'm more ready, and I was pretty ready the last time," Christie said at a press conference on Thursday. "After what we went through with Sandy, we're not only ready for a storm to come but we're also much more ready for the aftermath."
To amplify his message, Christie sent out a string of tweets during the press conference. "We are prepared. I need everyone to not panic," one read. The governor also declared a state of emergency in New Jersey in anticipation of the extreme weather event. 
Christie took the opportunity to draw a contrast between himself and his Republican rivals, suggesting that his tenure as New Jersey governor gives him an edge in the 2016 race and makes him a more serious candidate.
Defending his decision to praise President Obama for the federal government's leadership in the wake of Sandy, Christie insisted Thursday he will do his job, no matter what it takes, adding that he's prepared to call up the president again if need be. The governor went on to say: "If anybody should learn anything about me from the experience during Sandy—eight days before a presidential race for a guy that I was the biggest surrogate for in the country—I'll do my job first. … There will always be people in my party who won't like it but they've never been governor so they don't understand what it means to be here and have to do this job, and I'm going to do it."
Joaquin has steadily strengthened in recent days. Meteorologists predict that the storm could make landfall in the United States over the weekend, and the mid-Atlantic may stand in the hurricane's path, with meteorologists warning that North Carolina and New Jersey could be hard hit.
So far, Christie appears to be making an effort to appear responsive and ready as the hurricane advances. The governor canceled a planned presidential campaign event in New Hampshire slated for Friday and plans instead to be in New Jersey.
For Christie, bracing for extreme weather is familiar, and fraught, territory. The New Jersey governor has come under intense criticism for the state's response to Sandy, a deadly and damaging hurricane that hit the region in 2012.
Critics have accused Christie of failing to adequately prepare for the event or take steps to rebuild the state and assist displaced families in the wake of the storm. Faced with confrontation, the governor has grown visibly angry. Christie told a heckler to "sit down and shut up" at a Sandy anniversary event last year. "Turn around, get your fifteen minutes of fame, and then maybe take your jacket off, roll up your sleeves, and do something for the people of this state," Christie yelled.
Christie took a far more diplomatic tone Thursday. He was not sharp and accusatory. He was pragmatic and inclusive. "Every day, I was out with the public after Sandy and saw the emotional reactions of people," Christie said.  "As awful as it was, they're still here, and they're still standing, and they survived. Damaged, yes, Traumatized, by the experience, of course, but they're here and they've learned something ... I've learned something and we've learned something from doing this."
If you're wondering where Christie's iconic fleece is—the one that he wore frequently in the aftermath of Sandy—the governor answered a question about that, too. "I haven't seen it in a while, I believe it's in my closet, but I have to tell you I haven't eyeballed that baby in a while," Christie said, adding that he would "look for it tonight."
We want to hear what you think about this article. Submit a letter to the editor or write to letters@theatlantic.com.
Clare Foran
is a former associate editor at
The Atlantic
.