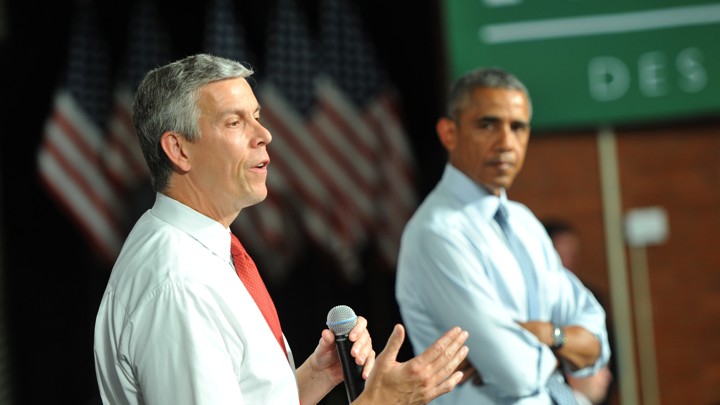 Education Secretary Arne Duncan intends to step down in December, a White House official confirmed to National Journal.
President Obama announced on Friday that Duncan will give up his title and that John B. King Jr., the current acting deputy secretary of Education, will serve as his replacement.
"Arne bleeds this stuff, he cares so much about our kids and he has been so passionate about this work, and everybody who interacts with him including some who disagree with him on some issues never question the genuineness and heart that he has brought to this job," the president said in remarks on Friday. "So I'll be honest," he said, "I pushed him to stay."
The president does not plan to formally nominate King to take the top spot at the Education Department, a process that would subject King to a potentially contentious confirmation by Congress. Instead, King is expected to serve as acting secretary, a title that would allow him to helm the department without going through a formal confirmation.
"I know that together we're going to be able to continue to do great things on behalf of our kids," Obama said of King, calling him "an exceptionally talented educator."
A Senate GOP aide suggested that the president's decision to bypass Congress is not likely to face much Republican pushback, saying: "We're at the end of the second term of a president that traditionally ends with a deputy stepping up to finish out the year or so left in a cabinet member's term, but generally presidents pay at least some tribute to the 'advise and consent' role of the Senate. Since King can technically act as secretary for a year before requiring confirmation and since King isn't too controversial and we've come to expect this president to snub Congress at every turn, as Republicans we'll have to take solace in the fact that this president is almost gone." 
The news that King will helm the department provoked criticism from Randi Weingarten, the president of the American Federation of Teachers, who said in a statement: "we are disappointed to hear that Deputy Secretary of Education John King Jr. will be appointed as the acting secretary." The federation has been critical of King in the past for what it has called a "misplaced focus on the high-stakes consequences of Common Core testing," while he served as New York State's education commissioner. 
In remarks delivered at the White House press conference on Friday, King praised the Department of Education's agenda under the president, citing a series of priorities ranging from "strengthening early childhood education" to "ensuring that more Americans have access to high quality, higher education"
"It's an incredibly agenda and I'm proud to be able to carry it forward with the amazing team we have at the department," King said.
Very few of Obama's original Cabinet members remain. With Duncan stepping down, Agriculture Secretary Tom Vilsack, White House Chief of Staff Denis McDonough, and Shaun Donovan, the former Housing and Urban Development secretary and current Office of Management and Budget director, are the only remaining Cabinet members who have served since the start of Obama's presidency.
Duncan called the job "an unbelievable honor" in remarks at the press conference Friday, adding: "It's been an amazing, amazing journey and I feel so lucky to have been a part of this team."
Duncan notified Department of Education staff of his intended resignation in a letter, a copy of which was obtained by National Journal. Duncan referred to the news as "bittersweet," saying: "Serving the President in the work of expanding opportunity for students throughout this country has been the greatest honor of my life."
Duncan explained that separation from his family ultimately led to his decision. "It's with real sadness that [I] have come to recognize that being apart from my family has become too much of a strain, and it is time for me to step aside and give a new leader a chance. I haven't talked with anyone about what I'll do next, and probably won't for a little while—I'm simply returning to Chicago to live with my family. I imagine my next steps will continue to involve the work of expanding opportunity for children, but I have no idea what that will look like yet." Duncan noted in the letter that he has been commuting "for several months" to and from his family in Chicago and his job in Washington, D.C.
Duncan's tenure as secretary has inspired vitriol from both teachers' unions and school-choice activists, along with an intense sense of loyalty from his staff and supporters. In a recent interview with Politico, Undersecretary for Education Ted Mitchell choked up while talking about his experience working for Duncan. "I can't let you leave without telling you what a privilege it has been to work with Arne," he said.
Sen. Lamar Alexander, the Republican chair of the Senate Health, Education, Labor, and Pensions Committee, called Duncan "one of the president's best appointments" in a statement, adding: "He has a big heart, cares about children, and I have enjoyed working with him."
This story is developing. Correction: An earlier version of this story misstated the number of original Cabinet officials still remaining in the Obama administration.
---
Emma Roller and Brian Resnick contributed to this article
We want to hear what you think about this article. Submit a letter to the editor or write to letters@theatlantic.com.
Clare Foran
is a former associate editor at
The Atlantic
.