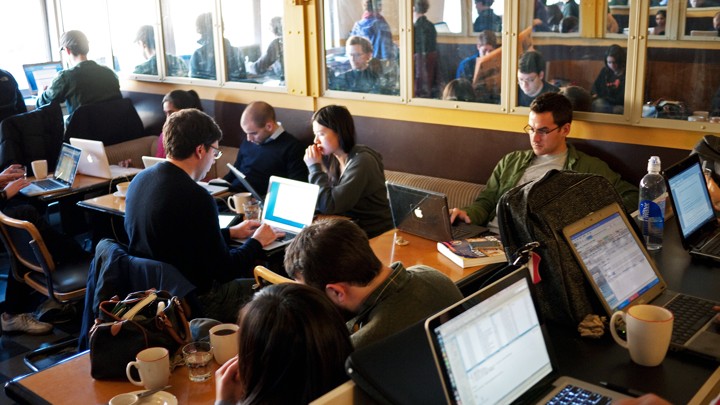 More and more Americans are quitting their jobs—or picking up side jobs—to work as freelancers. In fact, a third of American workers have done freelance work in the past year, according to a 2015 independent survey sponsored by the Freelancers Union and Upwork. That's 54 million people.
The plus side to being a "solopreneur" is clear: You get to decide your own work schedule, workload, and where to work from. And technology has made it even easier for freelancers to find gigs.
But the downside is huge, too: Freelancers have irregular paychecks, making it harder to qualify for home and auto loans. And of course, freelancers don't get company-sponsored health insurance or paid time off.
So are freelancers actually happier than full-time employees? Indications are that freedom, choice and flexibility seem to equal happiness. Here's the fine print on this grow­ing seg­ment of the work­force, ac­cord­ing the sur­vey:
Nearly 54 million people have done freelance work in the past year, compared with 53 million in 2014.
60 percent of freelancers said they started freelancing by choice.
Two-thirds of people surveyed say freelancing gives them more flexibility to determine work hours and location.
More than half of freelancers—60 percent—who left traditional jobs say they are now making more money. Of that group, 78 percent say they were making more money within a year.
About 69 percent of freelancers say technology has made it easier for them to find work, with 42 percent of them finding work online.
The No. 1 reason people took up freelancing was to make more money, followed by flexibility and financial necessity.
Freelancers are expected to make up 40 percent of the workforce by 2020.
This story is part of our Next America: Workforce project, which is supported by a grant from the Annie E. Casey Foundation.
We want to hear what you think about this article. Submit a letter to the editor or write to letters@theatlantic.com.
Alexia Fernández Campbell
is a former staff writer at
The Atlantic
, where she covers immigration and business. She was previously a reporter at the
South Florida Sun-Sentinel
and the Spanish-language newspaper of
The Palm Beach Post
.