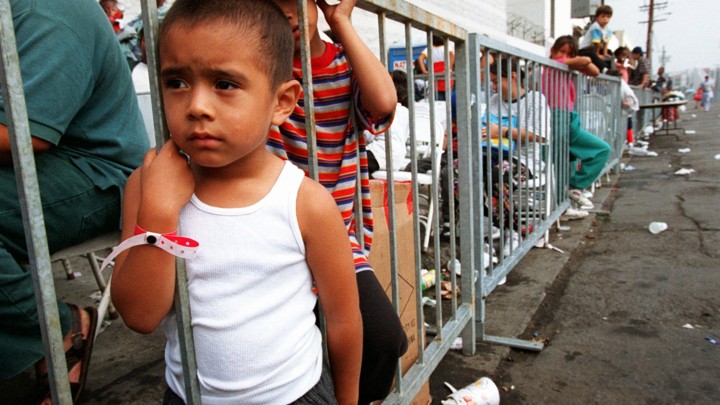 This article is from the archive of our partner

Growing up poor has wide-ranging negative effects. Depending on where they live, America's poor children are less likely to have access to good public schools and less likely to earn higher wages later in life. In children, poverty is also linked to slower brain development (which further worsens academic performance) and health problems, such as asthma and obesity.
The United States has a larger share of kids who have to deal with these negative consequences than most other countries with similar resources, according to a new report released by the Organisation for Economic Co-operation and Development.
Twenty-one percent of American kids live in poor households (defined as having an income of less than half of the country's median income). America's share of poor children is much higher than the average (14 percent) of all OECD member nations and well above other advanced countries like Canada (15 percent), Great Britain (around 10 percent), and Australia (13 percent).
Here a chart showing where the United States stands with respect to other member nations of the OECD: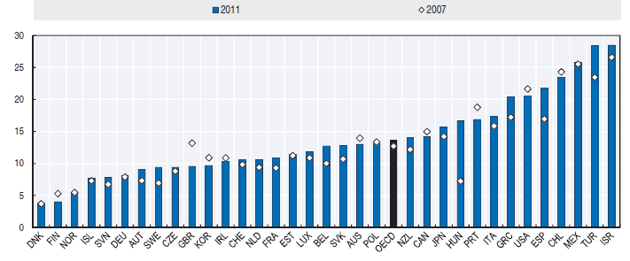 It's not surprising, then, that the United States also scores low compared with other OECD member nations when it comes to children's health and education. Here are two more charts from the OECD report, showing that the United States has a much higher share of kids who report poor health and academic opportunities than the OECD average: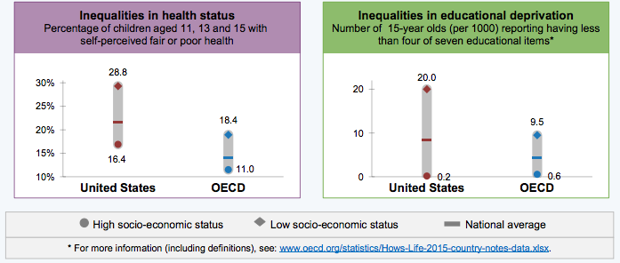 A part of the problem is that the United States just doesn't spend enough money trying to reduce child poverty, as The Atlantic's Olga Khazan notes. According to a recent study she cites, the United States spends less than 1 percent of its GDP on pulling poor kids out of poverty—chump change compared with what other developed countries are spending.
This article is from the archive of our partner CityLab.
This story is part of our Next America: Early Childhood project, which is supported by grants from the Annie E. Casey Foundation and the Heising-Simons Foundation.
We want to hear what you think about this article. Submit a letter to the editor or write to letters@theatlantic.com.