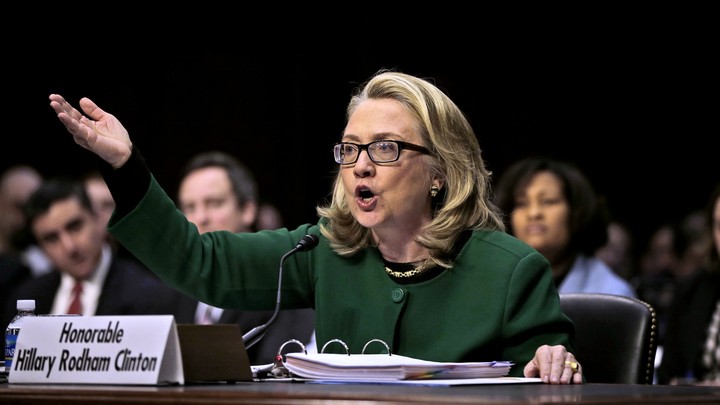 When Hillary Clinton arrives on Capitol Hill tomorrow for her testimony in front of the Benghazi Committee, her four years as secretary of State will be front and center.
And, after spending the early months of her candidacy studiously not mentioning foreign policy issues, Clinton's campaign is OK with that. Just recently, the Democratic front-runner has begun actively touting her tenure as America's chief diplomat.
The campaign started the week of her congressional testimony by releasing a five-minute video touting Clinton's foreign policy chops, quoting a bevy of national and international leaders on accomplishments from her role in negotiating Iran sanctions and the Gaza cease-fire to her work for women and girls and global LGBT rights.
The video includes a past news clip of President Obama saying history will view Clinton as "one of the finest secretaries of State we've had." Others heaped praise on her, too: "She was able to restore the credibility of the United States," said Leon Panetta, the former CIA director and Defense secretary (and Bill Clinton-era White House chief of staff).
"I don't think I have ever met a person more capable of being president," former Secretary of State Madeline Albright, another veteran of the Bill Clinton administration, added.
On Wednesday, Priorities USA Action (the super PAC backing Clinton's campaign) put a similar message on the airwaves. Its first TV ad in the early primary states focused entirely on Clinton's State tenure and on attacking the Benghazi Committee. "As secretary of State, she stood strong for America, traveling almost a million miles, never backing down," the ad says.
Meanwhile, Clinton herself is raising her Cabinet experience more frequently on the campaign trail. At an event earlier this month in Muscatine, Iowa, Clinton joked about sending copies of her book Hard Choices to all of the Republican candidates so they can learn how foreign policy accomplishments are made.
"You know, I hear the Republicans talking from time to time in their debates and elsewhere, and they say things like, 'Oh, I don't know what she accomplished as secretary of State,'" Clinton said. "And then I thought maybe they just don't know, so I have now sent each of them a copy of my book Hard Choices, about what we did during those four years."
Later that day, in Mount Vernon, Iowa, she elaborated and further touted those accomplishments. "You could kind of, you know, page through it, and if you wanna know how to set up an international coalition to force Iran to the negotiating table because you imposed sanctions, I did it. I can tell you how you do that," she said. "Or maybe you wanna know how to negotiate a cease-fire between Israel and Hamas and to stop the rockets that are coming from Gaza. And you negotiated with the Muslim Brotherhood president of Egypt who is supporting Hamas, and you stop that, you get a cease-fire."
The Clinton team's strategy also includes deploying foreign policy surrogates: Albright made her first campaign appearances boosting Clinton last week in Iowa. Albright also gave a speech about 2016 and foreign policy at the Center for American Progress last Friday, heaping praise on Clinton and her role in restoring confidence in the United States abroad.
"Thanks in great measure to the efforts of Secretary Clinton, we have restored America's reputation after years of grave damage in the wake of Iraq," Albright said. "We have strengthened our position in Asia and built stronger relationships with India and Japan. We successfully negotiated a bold diplomatic agreement with Iran, one that prevents them from obtaining a nuclear weapon and avoids plunging us into another war in a chaotic Middle East."
It's a big shift from when Clinton announced this spring, when foreign policy issues and her four years helming the State Department got almost no mention from Clinton's campaign. In the early days of her campaign, Clinton only spoke about her time at State in the context of her work for women and girls and as part of one of her "four fights" that would be the focus of her campaign. In fact, until this fall, Clinton's only real foray into foreign policy issues on the campaign trail came when she gave a speech on Cuba back in July.
At the time, Clinton was mired in headlines over foreign donors to the Clinton Foundation—not to mention the email scandal that's still making news today. At the time, campaign officials indicated that the initial focus of the campaign would be on economic issues versus foreign policy issues.
But things changed three weeks ago when House Majority Leader Kevin McCarthy made his now-infamous comments about the intentions of the Benghazi Committee. ("Everybody thought Hillary Clinton was unbeatable, right? But we put together a committee … what are her numbers today?") All of a sudden, Clinton and her team had a potent way to push back against GOP attacks over her private email server and her handling of the Benghazi attack.
In addition to being able to clobber Republicans for politicizing the Benghazi Committee, Clinton's team now has an opening to use her record on foreign policy issues as a positive, rather than a negative—and the approach from her team and her allies reflects both those things.
In other words, a part of her biography that was seen as an albatross when she first announced her campaign is now one that the campaign sees as an asset—which is a huge change heading into Thursday's testimony on the Hill.
We want to hear what you think about this article. Submit a letter to the editor or write to letters@theatlantic.com.
Emily Schultheis
is a writer based in Berlin with a fellowship from the Institute of Current World Affairs. Her writing has appeared in
Foreign Policy, The Guardian,
and
Politico
, among other publications.