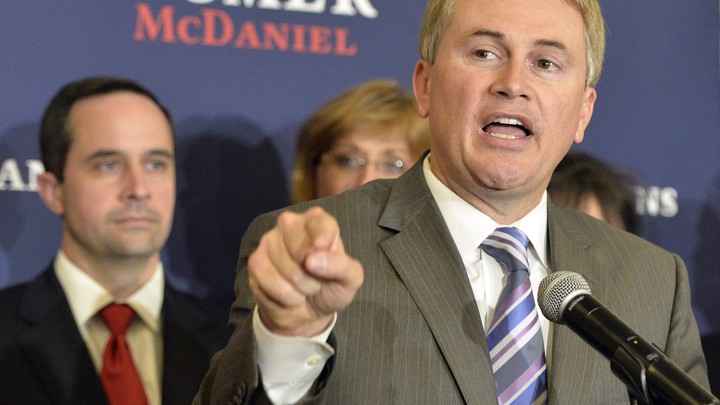 Back in May, James Comer lost the Republican primary for governor of Kentucky by a mere 83 votes. Once seen as the likely next governor of the state, Comer was hit with scandal and hampered by an unexpectedly nasty, crowded, and high-spending GOP campaign.
But just five months later, the Kentucky agriculture commissioner is mounting another bid for office that's expected to attract fierce intra-Republican competition—and could once again dredge up the allegations that probably sank his run for governor. With Rep. Ed Whitfield retiring, Comer is already campaigning for a safely Republican congressional district in Western Kentucky.
Two weeks before the gubernatorial primary, Comer's college girlfriend told the Louisville Courier-Journal that he had physically abused her. The allegations, helped along by a rival campaign, took over the last days of the primary campaign and likely bumped Comer to that narrow loss, even as his campaign aired TV ads in which the candidate's wife touted his character and values.
But Comer said he doesn't believe that line of attack will have the same impact in the GOP primary for Whitfield's rural district.
"I don't think anyone can ever pull a stunt like that again," Comer said. "One candidate used it as an issue—[Hal] Heiner—and he dropped like a lead balloon. One candidate defended me in the primary and shot up, and that was [Matt] Bevin," who won the nomination.
"That was a turning point for all three campaigns," Comer said. "… We were prepared for [negative ads]. We were not prepared for that Courier-Journal story and those allegations."
The gubernatorial primary was seen as a tossup by the end of the campaign, but now, Comer is seen as the early congressional front-runner. He won 55 percent of the GOP gubernatorial primary vote in this district, which is also where his fundraising base is rooted. Comer said that the majority of the political and financial operation from his last campaign remains, and that he's already received support from those in the district who backed Heiner and Bevin in the governor's race.
"Since the [gubernatorial] campaign, I've been a good sport. We've kept in constant communication with the organization," Comer said. "At the end of the day, we ran a very positive race, and I think the way we conducted ourselves through especially the last two weeks of that race is what helped lead us to the position that we've started from in this congressional campaign."
Yet, as in 2015, Comer won't have a clear path before him. Former Whitfield district director Michael Pape and Hickman County Attorney Jason Batts have also announced they'll run, and a handful of other Republicans' names are being floated, too.
Still, Republicans think Comer is at the top of the pack. And they said the allegations that plagued the end of his run for governor would not affect him this time—and that other candidates would probably do well to avoid them.
"I think a lot of political people were surprised at the resiliency that Comer showed when he actually picked up or maintained support after that story came out," said Al Cross, a columnist for the Courier-Journal and longtime observer of state politics.
"I think Comer is a superior candidate with a superior resume in this race," said Kentucky Republican strategist Scott Jennings, who now works as a consultant for Jeb Bush's presidential campaign. "My gut instinct is that voters are going to be looking for somebody with a bit broader experience, so Comer probably offers that more so than Pape in this case."
While he's never run for public office, Pape—who worked for Whitfield for more than two decades—said that his long career working with constituents in the district gives him an advantage. Pape said he plans to stay away from negative tactics. "I'm going to run a positive campaign. I'm going to talk about what I bring to the table and what's unique from any other candidate."
Pape said that his former boss plans to endorse him, a potential boon in a district that hasn't seen an open congressional race in decades. (Whitfield's political office didn't respond to a request for comment.) Both Whitfield and Pape endorsed Comer for governor last year.
"It's not everything, obviously, but it's something to say, look, I don't have a public record because I've never run for public office before, but I have a record of service, … and that I've been a part of a team that's really made a difference for the 1st Congressional District," Pape said.
But as Pape noted, endorsements aren't everything. "I think people certainly respect Ed Whitfield. … But I tend to think in a primary like this, folks are going to want to be looking for candidates who can stand on their own, because the only line on Michael Pape's resume is assistant to Ed Whitfield," Jennings said.
While the outcome of this next primary is uncertain, Comer is clear on one thing. "I do not see a scenario where I ever run for governor of Kentucky," Comer said. "I want to be a good congressman for the 1st Congressional District."
We want to hear what you think about this article. Submit a letter to the editor or write to letters@theatlantic.com.
Lisa Hagen
is a campaign reporter based in Washington, D.C.