After Clinton Spectacle, Benghazi Panel Goes Back Behind Closed Doors
Republicans say that other high-profile witnesses will be interviewed in private.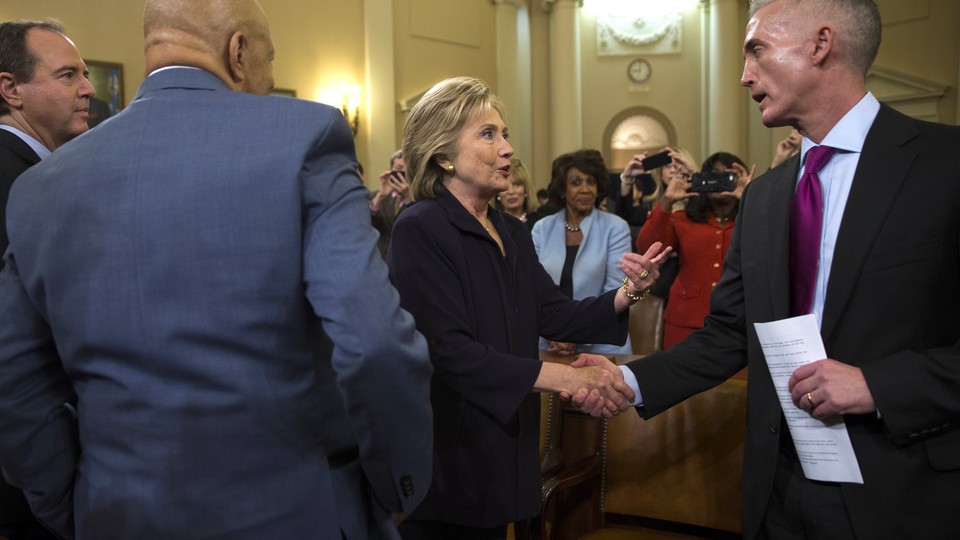 Don't look for the House Select Committee on Benghazi to do business in public again anytime soon.
On the heels of Hillary Clinton's 11-hour appearance before the panel last week, the committee is heading back behind closed doors for what's likely to be the rest of the roughly two dozen interviews that Republicans envision.
Closed-door, transcribed interviews have been the GOP's standard practice throughout the long-running probe, which has included just four public hearings (and Clinton's was the first since January).
That preference likely reinforced by the hearing with Clinton, which was widely viewed as a political win for the Democratic front-runner and also featured some bitter exchanges between Republicans and Democrats.
Committee Chairman Trey Gowdy, appearing on Meet The Press on Sunday, said private sessions don't include "bickering" among members. Host Chuck Todd asked Gowdy whether TV cameras add to "grandstanding" on both sides of the aisle.
"What do you think, Chuck? You have been following Congress for a long time. I can just tell you the private interviews, there is never any of what you saw Thursday," Gowdy said. He said the next two dozen interviews would be behind closed doors. "The private ones always produce better results," he said.
Gowdy said the public setting for Clinton's appearance was the choice of the former secretary of State.
On Friday, Benghazi panel member Susan Brooks said Republicans hope to announce dates for interviews with former De­fense Sec­ret­ary Le­on Pan­etta and former CIA chief Dav­id Pet­raeus "very soon."
Speaking on Fox News that evening, Gowdy called the Clinton hearing a "food fight" as he signaled that he's unlikely to schedule a public hearing with Panetta, though he did not completely close the door on the idea.
"If I can do Panetta in public—he is a very well-regarded guy on both sides of the aisle, I think he would be a good witness, if I can do him in public and have a constructive conversation, but part of what I saw yesterday Greta wasn't all that constructive, and for the American people just to tune into a nine hour food fight, I would err on the side of a private one before I would do that," Gowdy told Fox host Greta Van Susteren on Friday.
Asked if any of the remaining interviews will be conducted as public hearings, committee GOP spokesman Jamal Ware said Saturday that "The transcribed interview remains the committee's primary means of talking to witnesses."
It remains unclear when, exactly, the probe that has been running for 17 months will wrap up, although it's expected to last until some time next year. Republicans say they're still awaiting more documents from the Obama administration.
Democrats had in recent weeks suggested they may walk away from the committee, that they allege is a partisan witch hunt, after Clinton's appearance. But after a meeting with House Minority Leader Nancy Pelosi on Friday in the Capitol, Democrats announced that they would continue participating for now.
The committee is deeply divided, and Democrats say they have concluded that they can counter Republicans more effectively by remaining on the panel.
"We have decided to stay on the committee, because somebody has to be in the room to defend the truth, whole truth, and nothing but the truth," Elijah Cummings, the panel's top Democrat, said Sunday on Meet The Press.
He cited Clinton's appearance as evidence.
"If you listened to the questions that were being asked by Republicans and the way they tried to attack her, you really did need to have Democrats in the room to give the other side of the story, not so much ... to defend her, but to try to make sure that the complete picture was painted," Cummings said.