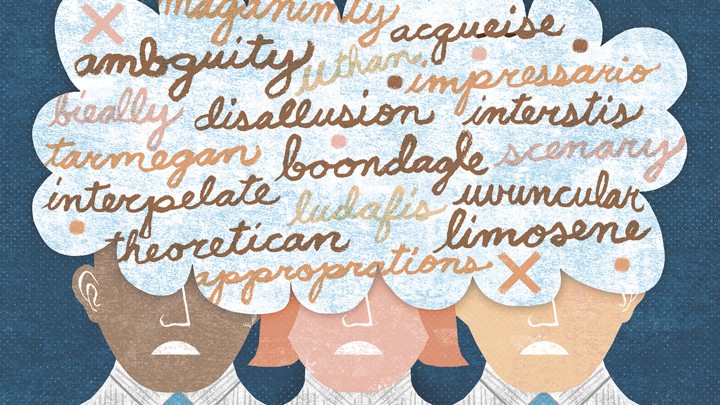 It's a Wednesday night in late October, and the ballroom plus two balconies at the National Press Club are standing room only. Some 400 people clad in business attire and fortified with beer and wine from the cash bar have turned out to watch seven members of Congress face off against eight representatives of the fourth estate at the club's far-from-annual "Politicians vs. Press" spelling bee.
The event is a commemoration of sorts of a similar spelling contest, between 14 members of Congress and 14 journalists, hosted by the club at the New Willard Hotel in 1913. President Woodrow Wilson was there, as was Secretary of Agriculture (and bee pronouncer) David Houston, as well as Secretary of State William Jennings Bryan. The words ranged from "moose" to "bdellium." Republican Rep. Frank Willis of Ohio was initially declared the winner, but, according to a 1928 history of the press club, it was later ruled that Sen. Miles Poindexter, a Progressive Party member from Washington, had provided an acceptable alternate spelling of "hydrocephalus," so he and Willis were retroactively declared co-champions. A hundred years later, in 2013, the press club revived the contest, and, in the final round, Democratic Sen. Tim Kaine of Virginia defeated Rebecca Sinderbrand, then of Politico, now at The Washington Post.
Presiding over this year's contest was Jacques Bailly, who has been pronouncing words at the Scripps National Spelling Bee since 2003; he was joined by various Scripps officials, scorekeepers, and judges—including Vanya Shivashankar and Gokul Venkatachalam, both 14, who won this year's national spelling bee. The words, chosen by Scripps, were definitely not as challenging as those lobbed at the middle-schoolers. "In an adult spelling bee, if you started using those words that we use in the national spelling bee, first of all, people would get out quickly, and that's not fun," says Peter Sokolowski, editor-at-large for the Merriam-Webster Dictionary, who was the pronouncer at the 2013 National Press Club contest. "And second of all, nobody has ever heard these words, so that's not fun, either." Also in the interest of keeping the action going, the contestants were allowed one flub—they would be eliminated only after their second mistake.
But as the event unfolds, these attempts to give participants a fighting chance don't entirely take. David Kerley of ABC News opens the 2015 contest by dropping a letter from "ambiguity." "I'm a broadcaster," he explains, to cheers and laughter. "I just have to know how to say it!" Kaine, the reigning champion, is up next; he gets one letter wrong in "veterinarian." Republican Sen. Jeff Flake of Arizona follows, joking, to much applause, about Republicans not being able to spell "speaker." But he also isn't able to spell "chastisement." The bell rings, and he issues a loud, "Argh!"
"Very easy question," the man sitting to my left says under his breath. "They don't study well." He has a point. The string of mistakes continues when Bloomberg's Angela Greiling Keane trips over "boondoggle." New Jersey Democrat Bill Pascrell draws "limousine," to which he responds, "You've gotta be kidding me," before giving it a shot—"L-I-M-O...S-E-N-E." The crowd expresses its disappointment. "Z-E-N-E?" he offers. When Kerley returns, he's quickly foiled by "magnanimity." Republican Rep. Tom Emmer of Minnesota is stumped by "acquiesce."
All of which leads me to wonder: Why did these folks, few of whom seem to be spelling-championship material (and some of whom seem like good candidates for a medical trial involving spell-check chip implantation in humans) agree to participate in such a contest in the first place?
This is Washington, so perhaps it should come as no surprise that mettle-testing and naïveté were involved. During the festivities, I run into Democrat Brad Ashford, a freshman representative from Nebraska, still stinging after dropping the first "i" in "appropriations." "You know, it was a long word," he tells me as we stand in line for hummus, while a 1990s cover band called White Ford Bronco blasts "Mr. Jones" by the Counting Crows. "I got caught in the middle of it." But he tells me he appreciated the "mental exercise" and that he mainly signed up to see how he'd do in the age of spell check. "I was a little nervous about it, because I haven't really spelled anything since 1988. … I felt really quite good about the fact that I could actually do it."
In the moments and days after the event, I track down some of the other participants to pose the same query. When I start to ask Flake the question, he helps me finish it. "Why sign up in the first place when…" I begin. "When I can't spell?" he offers. Flake, who went out on the word "dissolutions," tells me he figured that participating in an event like this couldn't hurt his relationship with the press—and he didn't see much political cost: "I probably share with most Americans, you know, probably the inability to stand up and, you know, do well at a spelling bee. … Doing poorly at it, I don't think, I don't think that's too—too many strikes against you. Maybe I'm wrong."
Rod Kuckro, a reporter at Environment & Energy Publishing, was moved to participate because of the walloping the press team took during the previous contest. "I wanted to stick up for the older members of the club who actually learned how to spell," he says. "It was a little embarrassing [in 2013]. Most of the journalists were millennials—and they were bloggers and they worked for, you know, online websites—and they couldn't spell worth a darn." But neither studying the AP Stylebook nor his long career in letters ("I spent more than 20 years as an editor ... reading 12,000 words a day, every day") prepared him for the word "ptarmigan"—or, as he put it: "What stumped me was that silly question about that bird."
Washington Post columnist Clinton Yates, who started "avuncular" with a "u," wound up on stage in part because he didn't quite realize what he was getting into. He tells me that, just a couple of days before the event, BuzzFeed's Evan McMorris-Santoro, who is on the National Press Club's board of governors, asked him to participate, and Yates agreed when he found out that White Ford Bronco was playing. ("That was absolutely the selling point.") He thought, he says, it was a small, informal kind of thing. "So we got here and … everybody's talking like, 'Oh, yeah, well, you know, it's on C-SPAN, and there's going to be like 400 people here.' And I was like, 'What?' I'm thinking this is like some sort of for-the-family event, you know. Turns out, it's a huge deal, and people are taking it really seriously. And I was like, 'Oh, snap.' At that point, I'm getting a little nervous, to be honest."
Back in the ballroom, the night is winding down, and Don Beyer, a Virginia Democrat, stands against six journalists: Yochi Dreazen of Foreign Policy, Keane, Nick Gass of Politico, Kuckro, and Yates and Karoun Demirjian, both of the Post. It comes down to Beyer and Demirjian, who battle to the finish, misspelling "impresario," "Plantagenet," and "bergamot" along the way. Beyer claims the championship with "vermicide" and "apostasy." Afterward, Beyer proffers what was, ultimately, the most common reason for participating given by both pols and hacks: "It was great fun." Exactly how much fun for the unofficial "Best Speller in the United States"? "Just as much fun as Election Night."
We want to hear what you think about this article. Submit a letter to the editor or write to letters@theatlantic.com.
Zach Cohen is a web producer for National Journal Hotline. Before joining National Journal in 2014, he interned at The Washington Post, Time Magazine, USA Today and PBS MediaShift and wrote about politics and government for New Voices. Zach was born and raised in New Jersey and got his bachelor's degree in international relations from American University, where he served as editor-in-chief of The Eagle, the school newspaper.