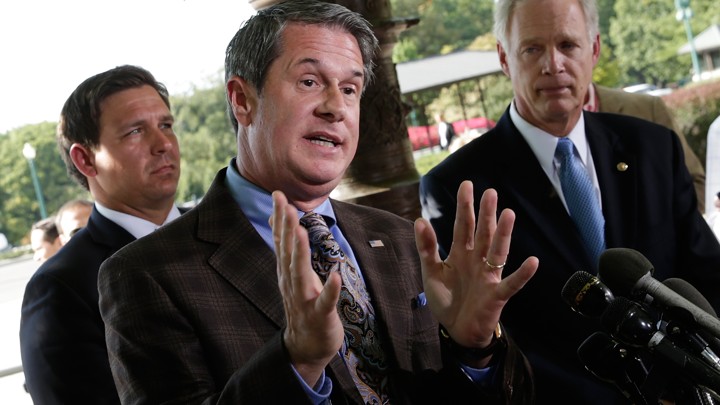 Sen. David Vitter is in the final stages of his quest to become Louisiana's next governor, a goal he's framed as the capstone of his career and his last attempt at elected office. Despite some public polling showing him facing a closer-than-expected race against his likely Democratic opponent in a November runoff, it remains unlikely Vitter will lose, which leads to the question: What kind of governor will Vitter be?
"There's a lot of speculation in the state about what kind of a governor would Vitter be, because it's easier in the Senate to be a bomb thrower and a cantankerous person, and that's something we're not really as used to in an executive-type role," said G. Pearson Cross, a political science professor at the University of Louisiana at Lafayette.
Based on campaign rhetoric, if Vitter is elected he's likely to remain just as socially and fiscally conservative as he's been in Congress, but he has hinted at possibly edging toward the center on some issues.
Having spent most of his two terms in the Senate as one of the most conservative members of the minority party, Vitter is best known as a conservative agitator on issues like immigration and health care. But when he launched his campaign for governor in January, Vitter said that ultimately, "I believe as our next governor I can have a bigger impact," noting that he'll have "many more tools" at his disposal to pursue the kinds of changes he's long sought. He also said he was running "to take on the important issues and make the hard decisions." Hard decisions won't be difficult to find. Whoever wins the Louisiana governor's race will be stuck with the unenviable job of confronting the state's persistent budget problems.
One major thread that's likely to weave itself into a potential governorship is Vitter's proclivity for rooting out corruption and waste and stripping those in power of what he sees as unfair perks and privileges—a zeal that can at times seem overbearing, but has also won him the support of Louisianans. There is a populist streak that binds together some seemingly disparate efforts throughout his career—like stripping members of Congress and their staff of special health subsidies and working to curb executive pay—that have led him to both tick off fellow Republicans and occasionally forge unlikely alliances with Democrats. On top of his recent efforts on hot-button issues like sanctuary cities and Planned Parenthood, he's also cosponsored bills with Democratic Sen. Sherrod Brown to hold big banks accountable for the mistakes of the financial crisis, and paired up this year with Democratic Sen. Elizabeth Warren to cap the executive pay of those at the government-backed mortgage lenders Fannie Mae and Freddie Mac. In his current bid for governor, Vitter is railing against money wasted on "thousands of unnecessary state cars."
In listing his top accomplishments, Vitter is most likely to point to bipartisan efforts helpful to Louisiana, like securing loans and flood-insurance money to assist recovery efforts from Hurricane Katrina, or a water-resources bill he worked on with Democratic Sen. Barbara Boxer.
"I have a long history of challenging the status quo by refusing my Congressional pension and fighting to pass terms limits, eliminate the Obamacare exemption for Congress, and end automatic pay raises," Vitter said in a statement to National Journal. "Too many politicians are living on a different planet, and we need to bring them back down to earth in order to effectively govern. That's how I always have, and always will lead." 
These efforts have alternatively been viewed as righteous or ridiculous, or sometimes fruitless depending on the cause. But they stem from the same impulse, one that will guide him if elected governor.
Operating as one of the most conservative members of the minority party in the Senate, Vitter hasn't been integral to many high-profile budget or policy debates in recent years. But that would change if he's elected governor and assigned to work with a state legislature overwhelmingly controlled by Republicans. By most appearances, Vitter has better relationships with members of the Louisiana legislature than he does with some colleagues in the Senate, which could come in handy when tough votes are required to address the state's budget problems. At the very least, Vitter's on better terms with local Republicans than outgoing Gov. Bobby Jindal.
"You couldn't have worse. Jindal had terrible relations with the legislature, mostly because he just ignored them," Cross said.
Vitter stayed involved in state politics while in Congress. He formed the Louisiana Committee for a Republican Majority in 2005 to help elect conservatives to the legislature, and has become active once again throughout his gubernatorial campaign. His campaign organized a dozen policy-focused leadership forums between last fall and spring, and each were attended by at least a handful of legislators—most of whom, his campaign believes, have his personal cell number. Vitter even went so far as to announce his cell-phone number to a crowd at a local meeting this summer in order to emphasize his accessibility relative to Jindal. (That accessibility doesn't necessarily extend to the press, which he's notoriously dodged since his decade-old prostitution scandal. The leadership forums were closed to the press and the public.)
"Most would say he's been very successful, especially with Republicans, at attempting to allay those fears that he's a rabble rouser and is not going to be able to work with anyone," said Bernie Pinsonat, a pollster for the Baton Rouge-based Southern Media & Opinion Research.
It also remains possible that Vitter the governor could be more moderate, or at least more willing to compromise on some issues than Vitter the senator. When he first announced his intention to run for governor in 2014, Vitter looked ready to run on a more moderate platform. He came out in support of Common Core, and talked early on about potentially accepting Medicaid expansion. But as he's fought off small inroads made by one Republican opponent seeking to compete for the title of "most conservative," Vitter's backed off. He reversed himself on Common Core, and made an aggressive push in recent weeks to remind voters of his conservative bona fides on issues like abortion, guns, and food stamps. He has expressed openness, however, to reforming a costly state-college scholarship program, which puts him on the opposite side of the issue from Jindal. And despite his reputation as an anti-Obamacare crusader in Congress, Vitter has stuck by his openness to accepting federal money for Medicaid expansion under certain conditions.
"If he did that, it would be a big deal. That would be a real departure from where we were with Governor Jindal," Cross said. "That's the thing about Vitter—he's a little bit of a wild card occasionally."  
We want to hear what you think about this article. Submit a letter to the editor or write to letters@theatlantic.com.