A New Challenger for Kevin McCarthy?
Representative Jason Chaffetz, chairman of the House oversight committee, may run for speaker after criticizing the frontrunner's comments about the Benghazi investigation and Hillary Clinton.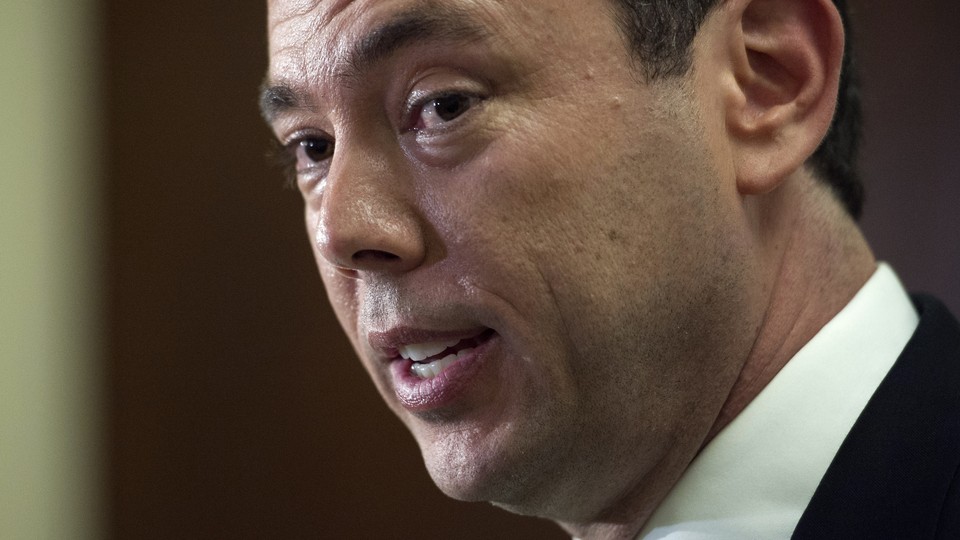 Kevin McCarthy may have another challenger in his bid to succeed John Boehner as House speaker.
Representative Jason Chaffetz, the chairman of the House oversight committee, is preparing to run for the top post, Politico reported Friday afternoon. Chaffetz's entry would add another outspoken Republican voice to the race, but he'd still be hard-pressed to defeat McCarthy, who as majority leader remains the clear frontrunner.
Chaffetz's reported move comes just a day after he demanded that McCarthy apologize for suggesting in a Fox News interview with Sean Hannity that the House Benghazi committee was a politically-motivated effort to bring down Hillary Clinton. The comments were a political gift to Democrats and annoyed Republicans, who have insisted for more than a year that the select committee was created solely to get the facts behind the 2012 terrorist attack that killed four American diplomats in Libya. But Chaffetz's challenge is likely about more than McCarthy's gaffe: It reflects the lack of enthusiasm that many Republicans have about his expected ascendancy to the speaker's office as well as frustration among conservatives that while they successfully forced Boehner out, they lack their own candidate to succeed him. When Eric Cantor lost his primary 15 months ago, Republicans simply elevated McCarthy as the next in line, and promoting him to speaker after Boehner's resignation would be doing the same thing.
Chaffetz, 48, was first elected in 2008 after defeating a six-term Republican incumbent in a Utah primary. He's not exactly a conservative hardliner, but he was part of a group of Republicans who tried to recruit Representative Trey Gowdy, chairman of the Benghazi committee, to run for majority leader and serve as the second-ranking Republican under McCarthy. But Gowdy passed on the race, raising the likelihood that the GOP leadership team won't look much different after Boehner is gone. McCarthy's only current challenger is Daniel Webster, a Florida conservative who won about a dozen votes during Boehner's narrow re-election win as speaker in January. Even Webster's supporters concede he has little chance of winning, and it's possible that Chaffetz will do little more than split the anti-McCarthy vote.
He's certainly a more recognizable face than Webster, having been in the news this week for grilling Cecile Richards, the president of Planned Parenthood, during a lengthy House hearing and then again when it was reported that officials in the Secret Service tried to discredit him when he led the congressional probe into security lapses at the agency.
The race for speaker is a two-part process. On October 8, Republicans will gather behind closed doors to elect their leader by secret ballot. To win, McCarthy needs just a majority of the conference, or 124 votes. The formal election for speaker, however, occurs at the end of the month on the House floor, in public. McCarthy's bigger problem would come if a faction of more than 29 Republicans refuses to vote for him on the floor, which would cause the House to be deadlocked. That's how Boehner's conservative opponents had tried to oust him in January, when 25 Republicans voted for someone else.
For now, the threat to McCarthy might be minimal, but the Republican leadership election is still a week away, and those races are famously fluid. If Chaffetz gains momentum, it's yet another indication that his internal support is soft, and the House GOP's yearning for change is strong.