A High School—and a Senior Center
This modern two-in-one complex in Boston serves young and old.
This article is from the archive of our partner

"You'll have to excuse us, because we're about to serve lunch, and it's total chaos," says Marilyn Hurwitz, striding through the busy lobby of the Swampscott Senior Center toward a multipurpose room where some three dozen elderly women and a handful of men sit waiting for their salmon fillets, spinach salads, and split-pea soup.
The ladies—who, in the gracious style of their generation, wear skirts and stockings, accessorized with lipstick and tasteful jewelry—sit chatting, their walkers and canes parked nearby. But should lunch be late, Hurwitz assures me, they are capable of creating a ruckus.
"You should see the poker games," she says.
A tendency toward unruly cafeteria behavior is one thing the senior citizens in Swampscott, a seaside Boston suburb, have in common with the town's youth, but it's not the only thing. In fact, the airy 7,500-square-foot facility that hosts their knitting circles, card games, and exercise classes shares space with the local high school.
"It's just a positive neighborly relationship," says principal Ed Rozmiarek. "This building is called Swampscott High School, but it's a community space, and it was designed that way."
The town didn't originally set out to combine its senior center with its high school, says the building's architect, Philip Poinelli, a principal at Symmes Maini & McKee Associates in Cambridge. But during the early phases of planning, as his team met with officials, they realized that the needs of the town's elderly overlapped quite neatly with those of its teenagers. At the time, the senior center was using a small Victorian house that fell far short of accessibility standards.
The senior center had a strong dance program, Poinelli recalls learning. "We said, 'Well, we have a dance room in the high school.' In the winter, they took seniors in a bus to a local shopping center to walk—I said, 'Well, we have this huge field house, you could use that.' There was so much overlap, and it just seemed to make sense."
The building that Poinelli and his team ultimately designed is something that the architect, who specializes in schools, would like to see more often. It's all too common for departments to compete against one another for funding, rather than joining forces, he says.
"It's surprising. A high school is probably the greatest capital expenditure that a community will make," he notes. "So why shouldn't it serve everyone, from child care to senior citizens?"
In Swampscott, town officials and the project's architects focused primarily on efficient use of resources. Why build two pottery studios when older artists can share a kiln with teens? There was no official intergenerational programming. But students and seniors have formed serendipitous relationships since the building opened in 2007.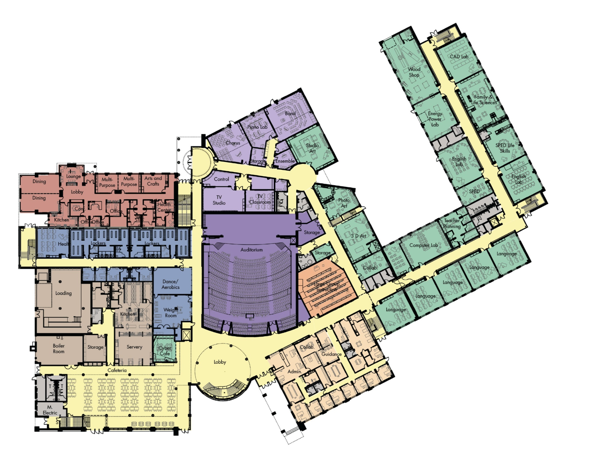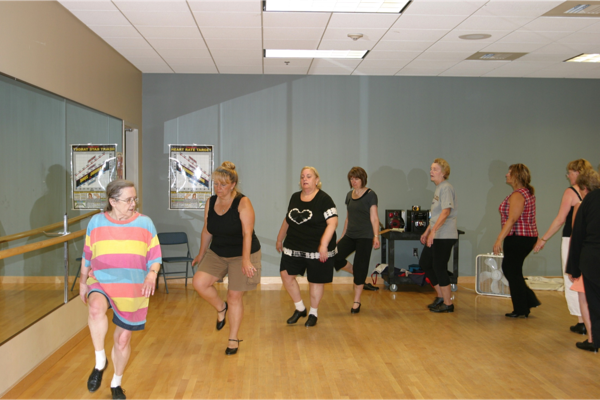 Members of a knitting circle taught several students to knit, for example, and high school sports teams give presentations to the senior men's group, sharing their strategies for the upcoming season. Kids in need of community-service hours help serve lunch at the senior center, and veterans have been asked to talk to students about their service. The senior center gets 25 free tickets to every high school performing arts event, and last year, the seniors' dance team performed at the high school talent show.
"That was fun," says Rozmiarek, adding: "Every now and then, I think it would be nice to have a more formal partnership. It's kind of an untapped resource."
That's a frustration that both sides feel. Hurwitz, herself a retired high school principal who now works part-time directing the town's Council on Aging, says her staff would also like to have more formal and frequent interaction. Still, the center's clients, who numbered more than 1,000 last year (up from a few dozen at the old center), appreciate a location that puts them at the heart of the action.
Eddie Cohen, 89, comes to the center four days a week. Sharing lunch with friends is the main draw, but he also relishes the chance to sit out front in the morning and afternoon, chatting with students as they come and go to classes.
"It's fun to tease them," he says. "It keeps your mind active."
Alice Campbell says having the high school next door gives her and her friends a sense that they are part of the greater community—unlike a stand-alone senior center, which might feel isolated or carry a certain stigma.
"We like to see young people," she says. "It's just a lovely feeling, having them nearby. I think it's something anyone who's building a senior center should consider."
Campbell, who is 86 and has been known to arrive at the center on the back of her nephew's motorcycle, makes her apologies before bustling away. "I have to go play bingo," she says.
This article is from the archive of our partner CityLab.