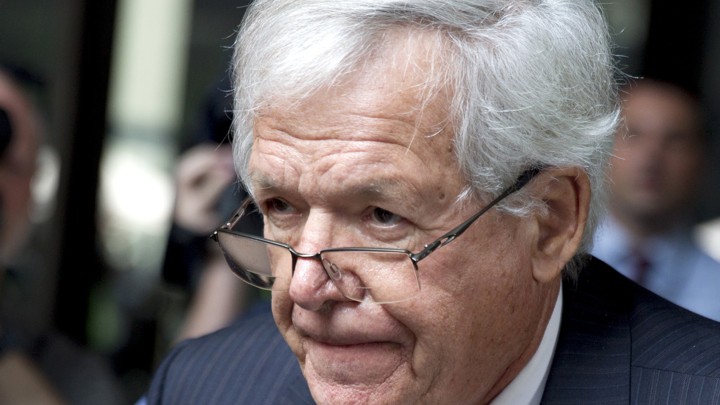 On October 28, the day before House Republicans are scheduled to elect the next speaker of the House, the man who held the office longer than any other Republican will walk into a federal courtroom in Chicago and plead guilty to a felony.
For the many GOP lawmakers now eying the speaker's gavel, the abrupt fall from grace of Dennis Hastert is another sobering reminder—as if they needed any more—that the post just two spots below the presidency hasn't brought much glory to its occupants in recent years. Hastert led the House from 1999 to 2007, and it appears that neither the financial crime he'll be copping to nor the "misconduct" he tried to keep secret occurred while he was speaker.
The 73-year-old Hastert was charged in May with violating banking law and lying to the FBI about withdrawals of more than $1 million. Prosecutors said the money was intended as "hush money" to cover up allegations of sexual misconduct against a man when Hastert was a high-school wrestling coach decades ago. The guilty plea would prevent Hastert from having to admit those past misdeeds, but it reportedly will not keep him out of prison.
Hastert knew well the tarnished lineage of recent House speakers—he only got the job after Republicans ousted Newt Gingrich and the man initially pegged to replace him, Bob Livingston, abruptly resigned amid allegations of marital infidelity. It was later revealed that Gingrich, too, had been having an affair when he was leading the House's impeachment of President Clinton for lying about his own extramarital dalliances.
The last two Democratic speakers, Nancy Pelosi and Tom Foley, have been pushed out by will of the voters as opposed to scandal. But Foley's predecessor, Jim Wright, resigned in 1989 after just two years because of an ethics scandal. Indeed, it has been more than a quarter century since Tip O'Neill became the last House speaker to leave office completely on his own terms. Hastert, whose political career ended with the Democratic wave election of 2006, was known as a genial speaker who turned a blind eye to ethical lapses in the House under his watch. There's little doubt, however, that his forthcoming guilty plea will overshadow that legacy, even if the full details of his misconduct never come to light.
By a coincidence of timing, Hastert will be in court at a moment of high drama for the House, as Republicans wait for Paul Ryan to decide whether he wants to be speaker. The party's 2012 vice presidential nominee has a host of factors to consider, both political and personal, and none more important than whether the polarized chamber is governable at all. But the job's recent checkered past might be one more reason to give him pause.
We want to hear what you think about this article. Submit a letter to the editor or write to letters@theatlantic.com.
Russell Berman
is a staff writer at
The Atlantic
, where he covers politics.