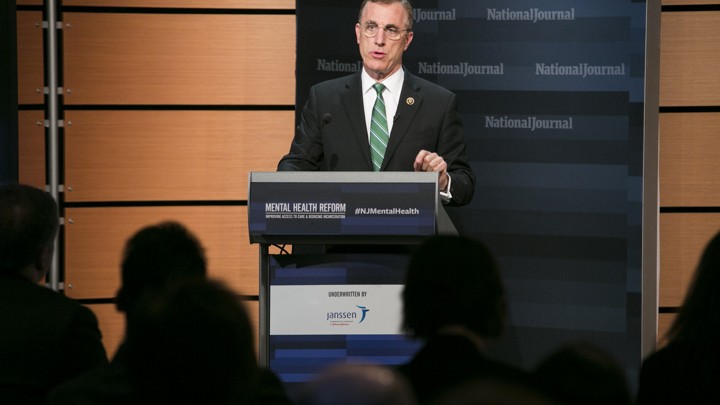 It's difficult to find partisan division when it comes to mental-health reform, particularly on bipartisan bills currently making their way through both chambers of Congress. But to move forward on reform, lawmakers must tiptoe around a dangerously partisan issue: gun control.
Rep. Tim Murphy, a Republican, and Sen. Chris Murphy, a Democrat, both agree on several important changes needed in the current mental-health system: There need to be more hospital beds for the mentally ill, more mental-health professionals, and more family involvement in care. Both bills have bipartisan support, and both are receiving attention from the committees they must move through before coming to their respective floors for votes.
Both Murphys spoke at a National Journal event on Wednesday, underwritten by Janssen Pharmaceuticals, Inc., titled "Mental Health Reform: Improving Access to Care & Reducing Incarceration."
But the Murphys starkly disagree with one another when it comes to whether mental-health reform is the answer to gun violence. Tim Murphy says yes: "We've got to be paying attention to what's in their minds, not what's in their hands." But Chris Murphy is adamant that reforming a broken mental-health system does not solve a problem that can be resolved only by making it harder for guns to get into the hands of those intending to do harm.
"I know we're talking about this in a more robust way because of these shootings," Chris Murphy said. "The mental-health system needs to be fixed because it's broken. Period. Stop."
Lawmakers advocating for mental-health reform, however, know that the bitter gun-policy debate is something that could sink their effort. At Wednesday's event, both Murphys were careful not to cross a line, coming close to promoting their own views on gun control but stopping short of doing more than making it known where they stand.
They did address a host of other problems, depicting a system that is failing those who need it to avoid incarceration, hospitalization, and homelessness.
While the Murphys said it's dangerous to associate mental illness with violence, both welcome the attention recent shootings have brought to address a problem that can lead to a much greater variety of tragedies beyond mass shootings.
"What we're going to do once again is have moments of silence in Congress as we mourn the deaths of these people who should not have died because someone should have been treated," Tim Murphy said. "We don't need moments of silence. We need moments of action."  
But, he said, "we need to recognize most people with mental illness are not violent." Both stressed that mentally-ill people are much more likely to be the victims than the perpetrators of violence.
Tim Murphy's House bill has 136 cosponsors, with Rep. Eddie Bernice Johnson as the lead Democrat. Chris Murphy introduced his Senate bill with Republican Sen. Bill Cassidy. The Senate duo is currently adding cosponsors in pairs—one Democrat, one Republican.
Tim Murphy said prominent barriers to a functioning mental-health system include a lack of mental-health professionals, a Medicaid rule limiting patients from seeing two doctors in one day, a Medicaid billing policy prohibiting federal matching payments for inpatient care of enrollees at psychiatric hospitals with more than 16 beds, and the fact that many minorities get their mental-health services in prison.
Chris Murphy mentioned a lack of enforcement of parity requirements in the Affordable Care Act, as well as a divide between physical and mental health care, as problematic. They both also talked about changes needed to HIPAA provisions that stand in the way of family involvement in the care of the mentally ill.
"I think the reason we've grown this very quick bipartisan list of supporters is because the issue is personal," Chris Murphy said. "The deeper I get into this issue and the more time I spend with families, the more complicated solutions become to me."
We want to hear what you think about this article. Submit a letter to the editor or write to letters@theatlantic.com.
Caitlin Owens is a health care reporter at National Journal. Her work has previously appeared in the Los Angeles Times, The News & Observer and The Charlotte Observer. She is a graduate of the University of North Carolina at Chapel Hill.