A Delegate Matter
Explaining the Iowa caucuses to the world
I am two weeks into Iowa State University Professor Steffen Schmidt's massive open online course on the Iowa caucuses, a four-week, self-paced exploration of the first-in-the-nation state's big political claim to fame. I've reached out to talk to him, but not about the homework. In my role as a reporter, I'm curious to know why he was compelled to offer such a class, for free, in the first place.
Schmidt is being diplomatic, but the short answer is: He's still hoping that, someday, somehow, people will understand. "People just can't figure out—this little, tiny, white state in the middle of the country, and they get to be the first to shout out, you know, who they like," he says. "And how does that work? And why did it happen?" So, ahead of the 2016 elections, he explains, "I thought it was important to pull together a lot of the answers that I would normally have to give over and over and over again to the media."
"Over and over and over again" doesn't really cover it. Schmidt, 72, is a ubiquitous voice on Iowa politics and history, and he has been studying the caucuses for 45 years. A Nexis search reveals that he has been mentioned in the press in connection with the topic hundreds of times. The caucuses are clearly of great importance to him, for reasons both civic and personal—but does the world at large really need a month-long course on the subject?
As of late September, with the first session underway, more than 1,300 people apparently think so. Like me, they have gained access to readings and videos on topics including the origins and history of the caucuses, caucuses versus primaries, and the role of the news media. There is a section on straw polls and one on the journey of prominent caucus winners. There are interviews, conducted by the graying, bespectacled Schmidt, with experts such as Iowa Gov. Terry Branstad and his former chief of staff, David Oman, and with Richard Seagrave and Richard Bender, both of whom were involved in designing the first Democratic caucus. There are discussion forums and quizzes. There are additional resources for further study.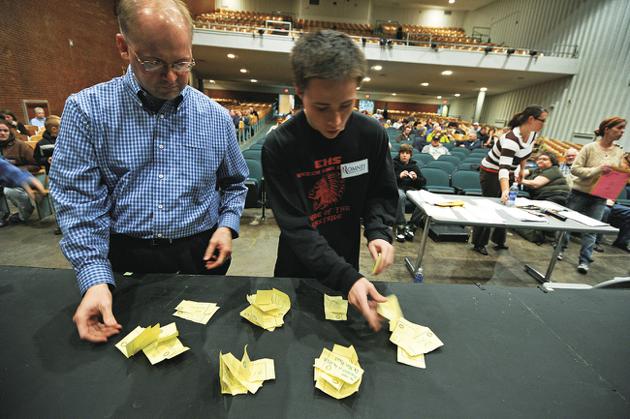 The course is broken down into four weeks, but students can move through it at their own pace. I typically spent between two and four hours a week reading, watching, and following the discussions online. Schmidt plans to hold three more month-long sessions before the caucuses next year.
Most of the participants I speak to are current or past students or employees at ISU: Mark Milliman is an electrical engineer and conservative political activist in Colorado, and a former student of Schmidt's. Why is he taking the course? "I realized I never really understood the history of the Iowa caucuses," he says. Elaine Edwards, a former ISU communications manager, once worked as an agricultural reporter at Iowa's Fort Dodge Messenger and interviewed then-Sen. Gary Hart of Colorado after a 1984 debate in Ames—"before Monkey Business." She's now an innkeeper in Minnesota. A few of Schmidt's pupils are overseas. Erik Bernath is an online-communications consultant in Budapest who's also active in local politics. "I'm just a part-time politician," he says with a laugh. He's mainly curious about how our system compares with the European one. And some students are experts themselves who want to dig deeper, such as Iowa State Sen. Jeff Danielson, the chair of elections law in the Iowa Senate. "There's a lot for someone like me to still learn about the caucuses," he says.
Then there are those of us in the media. When Schmidt and I speak, he focuses on the value of the class to foreign outlets seeking to understand the process, "especially European, Latin American, some Asian news media." (Schmidt, a native of Colombia, is a fluent Spanish speaker.) But in a somewhat less delicate moment earlier this year, he spoke more broadly: "The news media really would love to be able to report something 'cleaner' than what the caucuses are," he said during a Drake University panel discussion. "When the caucuses take place, they want to be able to report who won and who lost, and pretend that there are delegates actually selected on caucus night. ... And so, I'm finding it difficult to try to instruct and inform the media on what really happens, because they don't really want to know that. ... They don't want all of this complex stuff and how this all works and how great this is. They want hay bales, they want a tractor, they want Jesse Jackson suddenly in his four-piece suit with a gold watch handed a little piglet that he grabs and doesn't know what the hell to do with."
The media may not fully understand the caucuses, but, as Schmidt notes repeatedly in the course, it's journalists who are largely responsible for making the event so important. He pegs the national interest in the caucuses to 1976, when media coverage of Jimmy Carter's better-than-expected second-place finish (behind "Uncommitted" by about 10 points) transformed Carter's candidacy. "It's true that it's a media event, and that's terrific, because the buildup to the caucuses is what's really important," he told the audience at the Drake panel.
One question Schmidt says journalists often ask that he can't answer is, "Will the caucuses survive?" Schmidt says he doesn't know, but he clearly hopes so. In the introduction to the last unit of the course, he tells his students: "The caucuses have worked very well, I should tell you that. And even though some of the reporters, especially if they're doing humorous pieces, want to sort of diminish the value of Iowa and the Iowa caucuses as the way to begin the selection process for president, I personally have always been a fan of it. I think it's a great way for citizens to be able to get engaged. Iowa's a great place for presidential contenders to come and, without spending a lot of money, make a mark, get followers, and maybe do very well in the caucuses. And I think if there's a takeaway from this last unit of the Iowa Caucuses MOOC, it is that Iowa has provided a kind of unique environment for democracy to unroll and unfold every four years."