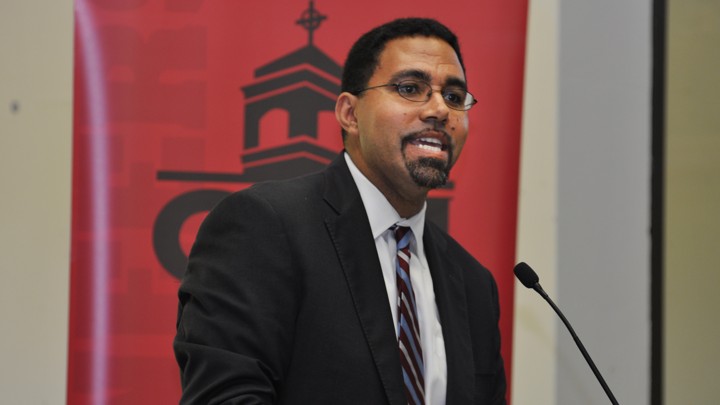 Education Secretary Arne Duncan will step down in December to return to his hometown of Chicago. In an email to staff, Duncan said he does not have plans for the future yet, but hopes to continue expanding opportunities for children.
John B. King Jr., senior advisor delegated duties of deputy secretary of Education, will succeed Duncan as acting secretary. Here are 5 things to know about King.
1. King joined the Education Department in January 2015. His long title is vague, but King basically oversees education policy from preschool through 12th grade, along with department operations. The department has more than 4,000 employees and an operating budget of $60 billion. At 40, he will be one of the youngest cabinet members (Housing and Urban Development Secretary Julian Castro is 41.).
2. King, who is African-American and Puerto Rican, has a history of focusing on underserved students of color. He has been a leader in the Obama administration's My Brother's Keeper initiative, which centers on young men of color. King has used his personal story to demonstrate the power of education. Both of his parents died before he was 13, and King credits his teachers in Coney Island, New York, with giving him hope. King graduated from Harvard, also Duncan's alma mater, Yale and Columbia. King has supported controversial New York school closures, but also voiced concerns that the state wasn't doing enough to support English-language learners, and criticized policies that lead to school segregation.
3. King previously worked as commissioner of education for New York state, where he was CEO of the State Education Department and president of the University of the State of New York.
4. King has classroom experience. He taught high school social studies in San Juan, Puerto Rico and Boston, Massachusetts. His two children currently attend public schools in the Takoma Park region of Maryland, where he lives with the children and his wife.
5. King used to manage Uncommon Schools, a nonprofit charter management organization that runs schools in urban areas of New York, New Jersey and Massachusetts. During his time as commissioner, he used state Race to the Top funding to grow charter schools. Before that, he co-founded and worked at Roxbury Preparatory Charter School. The teachers' unions that have bashed Duncan for being too friendly with charter schools aren't likely to be pleased with King's charter background. The unions will also likely balk at his support for Common Core standards and teacher evaluations.
This article is part of our Next America: Higher Education project, which is supported by grants from the Bill & Melinda Gates Foundation and Lumina Foundation.
We want to hear what you think about this article. Submit a letter to the editor or write to letters@theatlantic.com.
Emily DeRuy
is a former staff writer at
The Atlantic
, where she covered education.