1,001 Times the Media Acted Shocked That Trump Was Running a Real Campaign
Yes, he's running for president.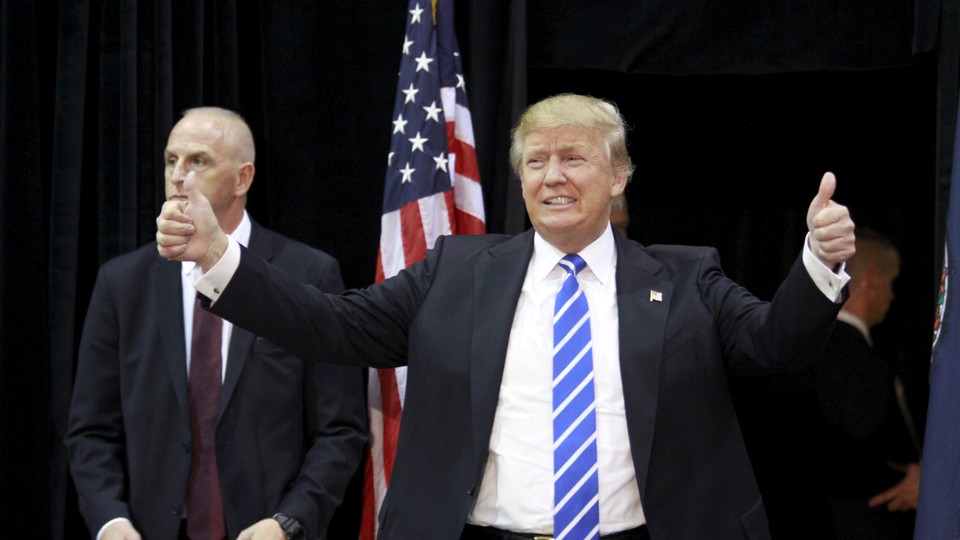 Back in February, Donald Trump was trying to convince the Washington Post he was really going to run for president, after years of crying wolf.
The article, which makes amusing reading now, reported that Trump had hired a potential campaign manager, New Hampshire-based Corey Lewandowski, as well as operatives in Iowa and South Carolina. The Iowan, Chuck Laudner, was particularly well regarded, having directed Rick Santorum's winning campaign in the state in 2012.
"I am more serious about this than I've ever been before," Trump said in the article. "I made the deal with Chuck and Corey and some more we'll be announcing soon because I'm serious and I want to focus on making America great again." Still, the piece took a skeptical tone, noting that Trump had flirted with running without following through several times in the past.
Today, there's no doubt that Trump is running—he has been the clear frontrunner for three straight months, since announcing his campaign in mid-July. Yet that aura of disbelief still pervades articles about his campaign, which are invariably suffused with a sort of can-you-believe-it? incredulousness that no other candidate faces.
Here's the Post again, on August 13 ("An Iowa surprise: Donald Trump is actually trying to win"):
Trump is trying to beat the politicians on their turf, building one of the most extensive organizations in the Republican field.

The groundwork laid by Trump's sizable Iowa staff, with 10 paid operatives and growing, is the clearest sign yet that the unconventional candidate is looking beyond his summer media surge and attempting to win February's first-in-the-nation caucuses.
Here's Politico on August 25 ("Trump's growing pains"):
Donald Trump's candidacy is trying to get real. Having proven the durability of his lead in the polls, Trump's political organization is now working to put together a ready-for-prime-time operation that can withstand the rigors of a campaign waged beyond the realm of stage-managed rallies, television screens and Twitter feeds. … In South Carolina, the campaign has just landed a sought-after activist, and in Iowa it's building a 99-county infrastructure, even as Republicans in New Hampshire says its ground presence there pales next to those of its rivals.
Here's Reuters on August 25 ("How Trump plans to turn gawkers into hardcore supporters"):
The Republican frontrunner's surging campaign is largely viewed as powered by his personal celebrity and his persistent presence on television. But...when those voters enter the Grand River Center on Tuesday evening, they will immediately be diverted to tables where Trump's staff will recruit them to be county precinct captains, organizers, and volunteers. … It's another reason, beyond strong poll numbers, why Trump's candidacy is being viewed with increasing seriousness both inside and outside Iowa.
The New York Times, August 26 ("Test for Donald Trump: Turning Crowds Into Real Voters"):
And yet, despite his flamboyant politics and a strategy that seems focused on appearing, every hour of every day, in the national spotlight, Mr. Trump has put in place a robust field operation in Iowa, grounded in the most time-proven methods.