Without Federal Drone Rules, States Are Blazing Their Own (Potentially Conflicting) Paths
As the government works to finalize a set of rules for commercial drone users, states are passing laws that could set up conflicts with the eventual federal regulations.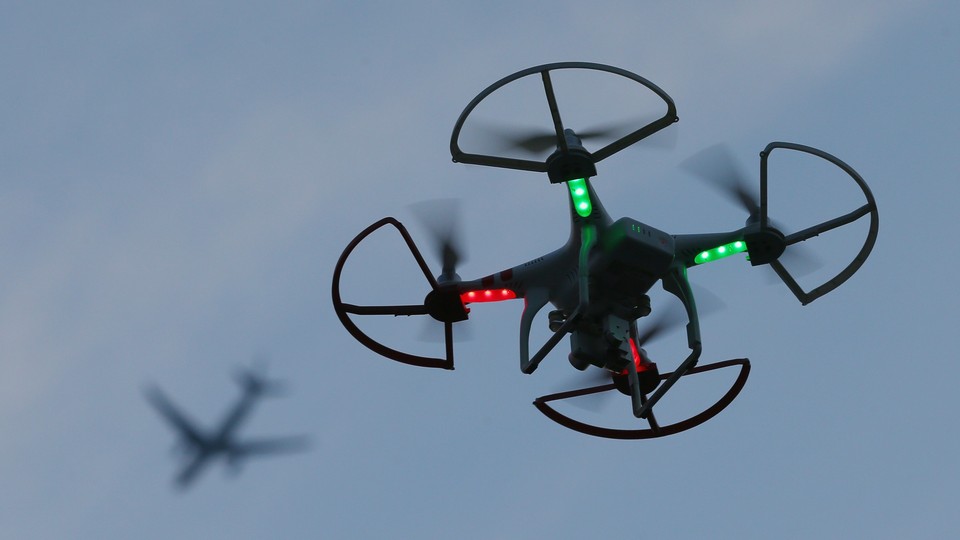 Three years after it was tasked with developing a set of rules for commercial drone operators, the federal government still has not finalized drone regulations, instead doling out more than 1,000 exemptions to allow businesses to fly drones in the meantime.
Tired of waiting on Washington, states are moving to develop their own drone rules. But many of the laws that states are proposing and passing may end up conflicting with what the federal government eventually comes up with.
According to the National Conference of State Legislatures, the past two years have seen 26 states pass legislation concerning drones. The laws range widely in their treatment of drones, from the mildly limiting to the extremely restrictive.
On one end of the spectrum is California, a state often at the vanguard of developing civil-liberties and consumer-protection rules. California's state legislature last week sent a bill to the governor that would make it illegal to fly a drone within 350 feet of the ground over private property without consent, a rule opposed by technology companies such as Amazon and Google, which have plans for delivering goods and Internet access by drone.
But most of the state-passed drone laws to date have been less restrictive. Some states looking to create privacy safeguards have taken smaller steps toward fighting drone-equipped peeping Toms. Other states target specific industries or use-cases: Louisiana's drone law concerns agriculture, while Tennessee's governs drone flights over prisons. And a handful of states have passed legislation to outlaw using drones for hunting or interfering with hunters.
The patchwork of drone laws makes commercial users nervous.
"The federal government needs a framework that allows robust innovation and research. If local lawmakers move first and create artificial statutory restrictions, ill-considered laws like the California bill may drive jobs and innovation over the border and overseas," said Gary Shapiro, CEO of the Consumer Electronics Association, which represents thousands of tech companies.
Hopeful commercial drone users such as Amazon have also railed against the federal government for making it difficult for them to develop and test drone systems in the United States. Earlier this year, The Guardian reported on a secret Amazon drone-testing site in Canada that the company turned to for lack of opportunity at home.
As the proliferation of drones continues to accelerate this year, almost every state has considered legislation to govern how they can be used, whether by law enforcement, businesses, or the public. Forty-five states have considered more than 150 drone-related bills in 2015, according to data from the National Conference of State Legislatures.
Meanwhile, the federal government is in the midst of parallel processes to come up with national drone regulations.
The main overseer of the nation's airspace, the Federal Aviation Administration, is in charge of studying safety aspects of commercial drone flights and is finalizing a set of safety rules for commercial users. A draft of its proposed rules was announced in February, and FAA officials have said they expect to be finished by mid-2016.
But the FAA says its mandate stops at safety and security. It claims privacy issues, which have dogged the idea of widespread drone flights, remain the purview of the National Telecommunications and Information Administration, an agency in the Commerce Department.
NTIA recently began a series of meetings that will bring together stakeholders in federal drone rulemaking to settle on voluntary drone privacy guidelines. But a privacy advocacy organization filed suit against the FAA soon after the agency announced its safety rules, arguing that the FAA's mandate to come up with a "comprehensive" set of drone regulations requires it to draw up privacy regulations as well.
Some members of Congress have also wandered into the fray, with proposals to restrict where drones can fly for safety reasons, require geofencing technology to keep drones away from sensitive sites like airports, and even temporarily create a full set of rules for drones that would govern their use until federal agencies finalize their regulations.
Recent data from the FAA that revealed a growing number of "close calls" between drones and commercial airliners has added to the urgency of lawmakers in statehouses and in Washington. According to the agency, there have been nearly 700 pilot sightings of drones so far this year, about three times the total number of sightings in 2014.