With Walker Out, Christie and Kasich Try an Iowa Reset
The former front-runner's demise has led the GOP presidential field, including two candidates who haven't spent much effort in Iowa so far, to reevaluate the odds in the first caucus state.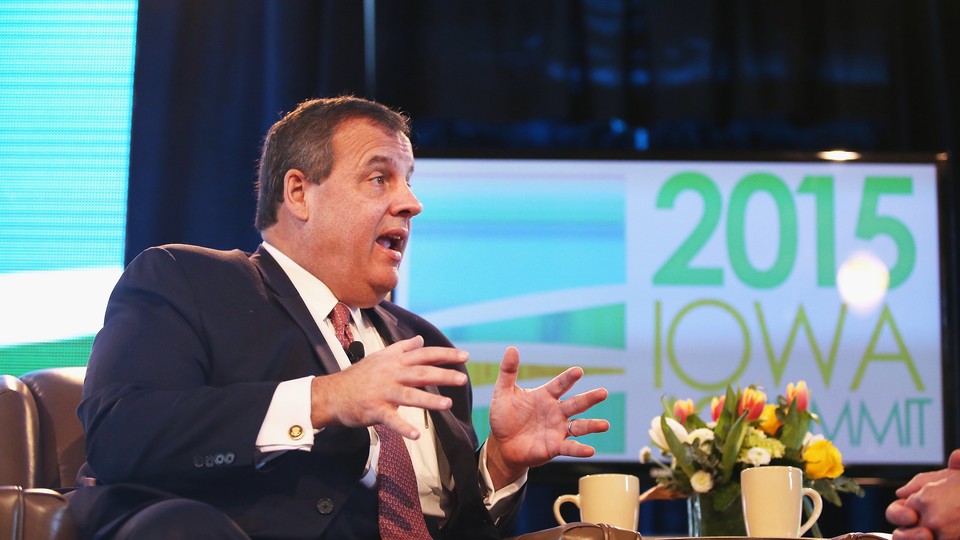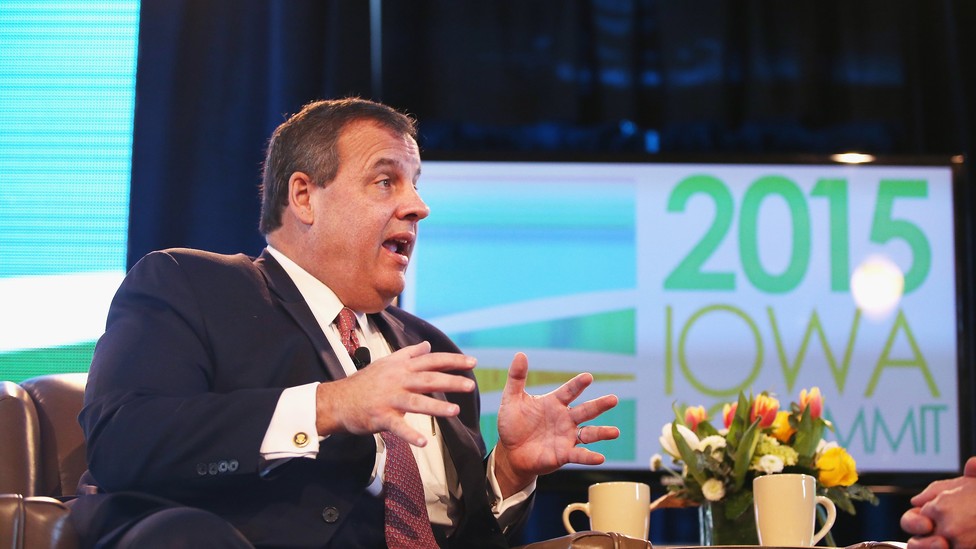 Iowa, the first state in the presidential-nomination process, is getting a second look from two New Hampshire-focused GOP candidates.
New Jersey Gov. Chris Christie and Ohio Gov. John Kasich have each spent more than three times as many days in New Hampshire this year, but Wisconsin Gov. Scott Walker's unceremonious early exit from the presidential race has opened up Iowa—even to fellow governors who have largely been concentrating on more moderate voters.
Neither Christie nor Kasich is expected to win the state's first-in-the-nation caucuses, where conservative voters tend to dominate. But both campaigns now hope that, in an unsettled presidential race, a better-than-expected Iowa finish could help launch them to success in their make-or-break state of New Hampshire one week later. Already, Christie and Kasich are expanding their Iowa teams and planning to spend more time on the ground interacting with voters. Christie traveled to Iowa for a two-day swing this week, and Kasich is set on Wednesday to make his second trip there in less than a week.
"Walker's exit was one giant reset button, because everybody committed to Walker early and they didn't look at anybody else," said one Iowa Republican operative working for a rival presidential campaign. "Then he throws this big surprise turd into the punch bowl, and now everybody has to look around and determine, 'OK, now I need to start paying attention. Who do I like?'"
Christie started Tuesday by gathering some of his oldest fans in presidential politics. In the spring of 2011, a group of seven Iowa Republican financiers flew to New Jersey to try (unsuccessfully) to recruit Christie to start a presidential campaign. A little more than four years later, Christie flew to Des Moines to accept endorsements from six of them for 2016. (The seventh, Cameron Sutton, is remaining neutral due to his role as Sen. Joni Ernst's state director.)
One member of that group, Iowa agribusiness millionaire Bruce Rastetter, was heavily courted by Republican presidential candidates. Back in March, nine White House hopefuls traveled to Des Moines to appear onstage with Rastetter at the first Iowa Agriculture Summit, which the GOP donor organized. And five attended an annual party Rastetter throws at his central Iowa estate this past summer.
"Those are pretty significant endorsements. People look at that as the donor wing of the party, and it is, but there's some pretty strong conservative individuals on that list as well. That definitely is an interesting shot in the arm," said veteran Iowa GOP strategist John Stineman. "These are all things you do if you're going to spend more time here and give more attention here."
On top of those endorsements, Christie has an experienced team of operatives at his disposal in Iowa, many of whom come from longtime GOP Gov. Terry Branstad's orbit. Christie's Iowa state director, Phil Valenziano, served as Mitt Romney's Iowa field director in 2012 before becoming Branstad's political director for his 2014 reelection. Branstad's former chief of staff, Jeff Boeyink, is a senior adviser for Christie in Iowa. Jake Ketzner, who managed Branstad's last campaign, signed on this month as a senior Christie adviser as well. And Kevin Poindexter, who worked for the Republican National Committee in Iowa, serves as Christie's political director in the state.
(RELATED: National Journal Staffer Tracker)
Christie's Iowa team is a reflection of the close relationship he has nurtured over the years with Branstad, particularly during his tenure as chairman of the Republican Governors Association. Christie met privately with Branstad, who is not expected to make a presidential endorsement, for 30 minutes Tuesday morning.
Now, Christie hopes this infrastructure will begin translating into concrete support among caucus-goers. "I am completely committed to competing and committed to competing hard here," Christie said at a press conference in Des Moines on Tuesday. "By the time you get to February, you'll be tired of seeing me," he added.
Kasich also plans to increase his presence in the state, having just gotten his local operation off the ground. Two weeks ago, his campaign put its first two Iowa staffers on payroll: Cory Crowley, a former aide to Sen. Chuck Grassley, was hired as state director, and state Rep. Mary Ann Hanusa was named state chair.
Crowley said that Kasich's main competition in the state will be Christie and two other establishment-friendly candidates: Jeb Bush and Marco Rubio. And he thinks that Kasich's blunt style and experience can help him break through the pack.
"He talks straight like Donald Trump, but not in an inflammatory way," Crowley said. "He's got experience, probably more experience really than anyone else in the field, having spent 18 years in Congress and now his second term as a governor. So if you like a legislator or a governor, you get both in him."
Still, Crowley doesn't see a win in the state as necessary for Kasich, predicting that there will be five tickets out of Iowa in 2016. "I don't think Iowa will ever become Kasich's New Hampshire," he said.
Christie and Kasich are both making a play for former backers of Walker, who had appeal to both the establishment and grassroots wings of the party. One of Walker's county chairs, Jean Davidsaver, joined the Christie campaign soon after Walker dropped out. Crowley said he plans to announce a list of onetime Walker supporters who are now siding with Kasich after the governor's Wednesday visit.
However, Christie and Kasich have some major catching up to do if they want to become top-tier contenders in Iowa. Both candidates lag in the low single digits in recent polling, though Kasich may have more room to grow. Voters who know him view him more favorably, but nearly half of Iowa Republicans haven't heard enough about Kasich to form an opinion, per a Quinnipiac University poll released this month.
For Christie, the picture is bleaker. Half of the state's Republicans said they viewed Christie unfavorably, compared to 37 percent who view him favorably.
Christie and Kasich also lag behind their rivals in number of visits to Iowa this year. From Jan. 1 through Sept. 30, Christie spent 13 days campaigning in Iowa and Kasich just five, according to data compiled in National Journal's Travel Tracker. By comparison, Bobby Jindal spent 52 days in Iowa during that period, and Rick Santorum logged 45 days. Christie and Kasich were much more focused on New Hampshire, where Christie has spent 40 days this year—the most of any candidate from either party in the presidential race—and Kasich spent 23 days, placing him fifth among Republicans.
But they still have a full four months to make their case to Iowa voters.
"I'm going to work hard and we're going to turn people around," Christie said.