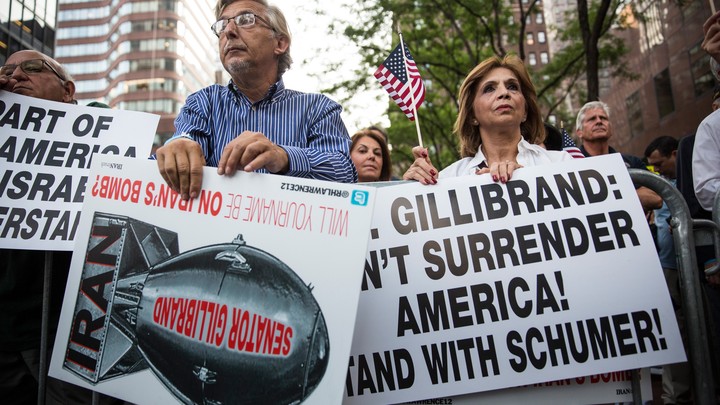 The Obama administration's nuclear agreement with Iran looks safe in Congress with 42 votes of support, likely enough to block a disapproval resolution from passing. But in the wake of the president's gains, organizers of a Capitol Hill rally Wednesday against the landmark deal say they haven't significantly altered their goals—and insist there's still more work to be done.
Morton Klein, president of the Zionist Organization of America, told National Journal late last week that through the Stop Iran Rally, his group hoped to discourage enough senators to reject the deal that President Obama wouldn't secure enough votes to filibuster the resolution. Now that he has—with one senator to spare—Klein's group is doubling down on another of its aims: getting Democratic senators who have already publicly declared their support for the deal to switch their allegiances.
The rally will be held "to see if we can change the minds of people who are supporting it, to make them rethink this," said Klein, who heard of the first three announcements when reached by National Journal early Tuesday afternoon. "And to really mention to them that the future blood of innocents … will be on the hands of every member of the House and Senate who votes on this bill."
Changing hearts and minds is a tall order, especially when the speakers at the rally appear to be exclusively from the Right. That's not on the agenda for the Tea Party Patriots, who have built their brand on rallies like Wednesday's slated event.
Jenny Beth Martin, co-founder of the Tea Party Patriots, said her group's aim hasn't budged since she began making moves in late spring to hold the event, well before any U.S. senator or congressman formally declared their intentions about the deal.
"The message has been and will continue to be that we want the Senate to pay attention to the majority of Americans who do not want this Iran deal to go into effect," she said. The Tea Party Patriots want to ensure that members of Congress "hear from the American people and their own constituents," but they "didn't set out to do this rally to change minds."
In a "tool kit" released by the TPP ahead of the rally, organizers were explicit about the advantages of rallying the troops on Capitol Hill: "Members of Congress, their staff, and the press are forced to take notice when thousands of people gather outside the Capitol," it reads. "Tea Party Patriots excels in this type of grassroots organizing, and our past rallies and protests on Capitol Hill have garnered huge media coverage." Another post-game effort to involve everyday voters is encouraging state ballot measures that would prevent state money from companies doing business in Iran.
Alex VanNess of the pro-Israel Center for Security Policy said his group's goals for the rally have altered somewhat since the summer. They were, initially and predictably, to voice the center's strong opposition to the deal, but now its members are focusing on Senate procedural matters.
Through the rally, the center hopes to convince the Senate not to filibuster the Iran vote, to ensure that senators "are on the record for voting for this deal, which we do not believe to be good."
"We want to show that they're going against the majority of Americans," VanNess said.
According to a Pew Research Center survey released Tuesday, about half of Americans disapprove of the nuclear agreement, with about 30 percent of those surveyed having no opinion and with an overall 3.6-point margin of error. Another recent poll from CNN suggests an even higher number of Americans disapprove of the deal, at 56 percent. That poll had a 4.5-point margin of error.
No matter the groups' slightly varied aims, the event organizers are bringing some major firepower to the Capitol to argue against the deal.Donald Trump and Sen. Ted Cruz are both scheduled to attend, as is fellow presidential candidate Jim Gilmore. Conservative radio hosts Glenn Beck, Mark Levin, and Sarah Palin will be there as well, in addition to other speakers.  
Klein said that despite the current whip count, attendees can still expect "strong statements" from speakers "about why this deal is a catastrophe." They can also expect to hear statements echoing conservative claims that the president has violated the Iran deal review bill.
In the interview last week, Klein said that if the deal goes into effect, he hopes Congress will demand specific consequences be laid on Iran if they violate their obligations—an inevitability, as he sees it.
Martin, for her part, hopes American voters will have long memories. In an interview, she recalled the tea party's efforts during the Obamacare battles five years ago. Despite that law's passing, voters who'd opposed the act didn't quickly absolve legislators who voted for it. They remembered come election time where their representatives stood and voted against those who supported it, Martin said.
Though she can't predict whether the national Iran deal debate will have a similar outcome, "we're paying attention to the votes right now," Martin said, "and I know our supporters are paying very close attention."
We want to hear what you think about this article. Submit a letter to the editor or write to letters@theatlantic.com.