With Boehner Out, the GOP Leadership Scramble Begins
Kevin McCarthy is favored to become House speaker but the field isn't set, and a host of other Republicans are eyeing promotions.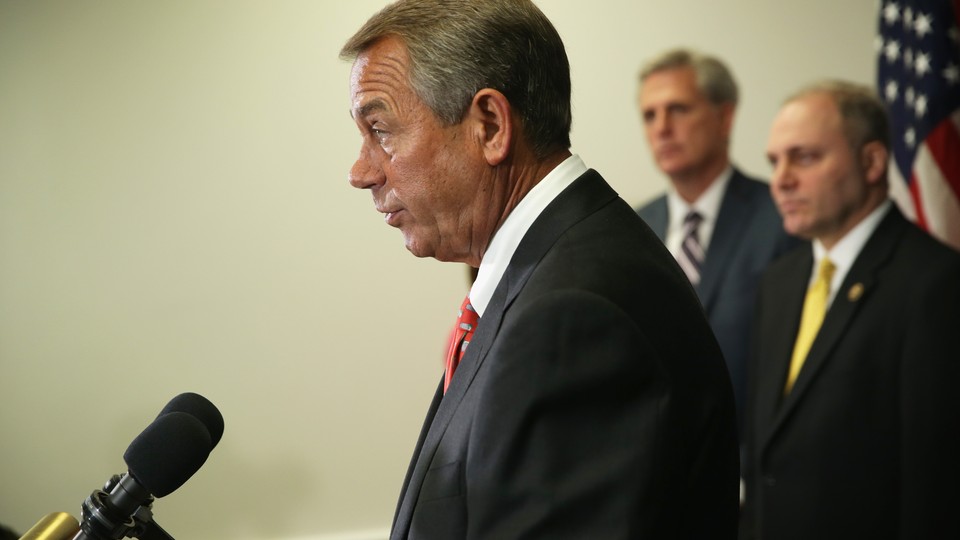 As rumors spread through the Capitol this month that House Speaker John Boehner could be toppled in a conservative coup, a picture began to appear of a what a post-Boehner leadership table could look like.
Then on Friday morning, Boehner surprised even his closest friends by announcing that he will retire Oct. 30, and most of that slate seems to have been wiped clean.
Last week, Majority Leader Kevin McCarthy was believed to have an unobstructed path to the gavel. McCarthy, the four-term California Republican, has yet to announce his intentions formally, but nearly every Republican interviewed said he would ascend to the top House position.
"That's up to the members," Boehner told reporters at a Friday press conference, when asked whether McCarthy take his spot. "Having said that, I think Kevin McCarthy would make an excellent speaker."
But while McCarthy appears to remain the favorite, nothing is assured. He has already begun calling members seeking their support for the speakership. Ways and Means Chairman Paul Ryan and House Freedom Caucus Chairman Jim Jordan both said they will not run for speaker, siphoning off some of McCarthy's competition, while Rep. Daniel Webster has said he is running for the top job. And what Financial Services Committee Chairman Jeb Hensarling will do is an open question. He has long toyed with the idea of running.
"Chairman Hensarling is considering his options, and I expect he will have a decision by early next week," his spokeswoman, Sarah Rozier, said Friday.
Current House Majority Whip Steve Scalise, meanwhile, wasted little time. On Friday evening, Scalise held a conference call with his whip team to let them know that he is running for majority leader if McCarthy becomes Speaker, according to a source with knowledge of the call. And Republicans said Conference Chairwoman Cathy McMorris Rodgers is also making calls about the majority leader position.
Meanwhile, other upstart members are looking to inject a fresh face into leadership. Rep. Peter Roskam, McCarthy's former chief deputy whip, who notably bucked leadership on the Iran deal this month, is said to be considering a run for a leadership position, though it is unclear which one. He said in a statement that maintaining the same team would do little to put an end to the infighting that has marred the conference in the past.
"I'm for somebody who can bridge the divide in our Conference," Roskam said. "If we don't have a plan to get us out of this dysfunction, reshuffling the deck won't make anything better. I'm going to work hard to make sure we get the leadership we need, not just settle on the fastest, easiest choice."
The far-right House Freedom Caucus has been actively angling to insert one of their own into the discussion, and are looking to vote as a bloc in order to cut a deal with whomever they agree to support. They met Friday afternoon after Boehner's announcement.
"I wouldn't be at all surprised that some in our caucus would be running," HFC member John Fleming said. "And the Freedom Caucus will kind of work together to have more weight in the vote."
Still, others said the group could set its sights lower, perhaps angling for rules changes.
"I don't think that the conservative wing of the party has enough mass to get one of our own to get elected. We certainly have enough mass to influence the outcome," Rep. Mick Mulvaney, an HFC member, said.
Finally, a few retiring members are said to be considering a run for the speakership, if only to hold on to the gavel as a placeholder until 2017. "You've got Candice [Miller] and John [Kline] and different ones that are retiring," Rep. Marsha Blackburn said.  "So I heard that out there. I've heard different ones running, so we'll see."
"A number of members have approached her on this idea," a GOP aide familiar with the discussions said of Miller.
The latter idea is borne of the fact that with Boehner resigning mid-term, only his leadership slot is up for grabs. If McCarthy runs and wins, that creates a vacancy at the Majority Leader position. If not, the rest of the leadership table could remain in place, at least until the next Congress, when leadership elections would take place across-the-board.
If McCarthy does move up, however, the race for Majority Leader could be extremely heated. Both Scalise and McMorris Rodgers have an eye on the spot, and Budget Committee Chairman Tom Price or Roskam could make an outside run for the seat as well. Rules Committee Chairman Pete Sessions is also a potential contender, though members of the Texas delegation, the largest single-state group of House Republicans, met Friday afternoon and some among the group are pushing Sessions to run instead for whip.
If Scalise wins and vacates the whip seat, Chief Deputy Whip Patrick McHenry is ready to take his place. Rep. Markwayne Mullin told members last week that he would run for the No. 3 post as well.
"We just got the news, we're still processing it," Mullin said Friday, leaving the GOP Conference meeting. "I think all of us were surprised."
Rep. Dennis Ross, one of Scalise's deputy whips, announced in an email to colleagues he'll run for the post too, assuming Scalise moves up.
Further down the ladder, if McMorris Rodgers cedes her position as conference chairwoman, the position is wide open. Republican Policy Committee Chairman Luke Messer could attempt to move up from his nominal leadership spot, but the rest of the field is a complete unknown.
---
Alex Brown and Sarah Mimms contributed to this article