Winners and Losers From Wednesday's Republican Presidential Debate
Carly Fiorina imposed herself on the debate, while Scott Walker was one candidate who faded into the background.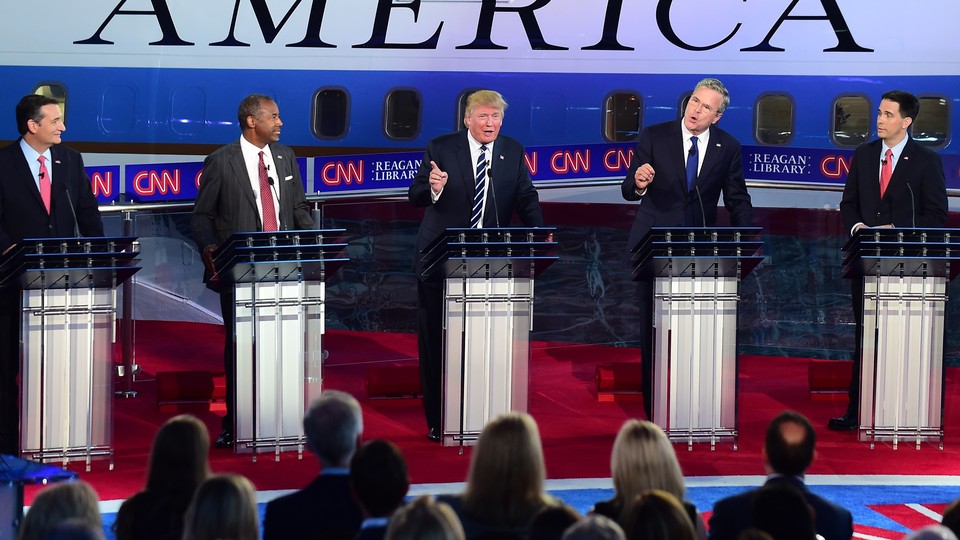 The second Republican presidential debate certainly delivered on its promise: The 11 candidates on stage attacked one another, and frequently, over the course of a three-hour slugfest at the Ronald Reagan Presidential Library in California. That added up to a good night for a handful of the presidential hopefuls. For others, it's one they'd rather forget.
WINNERS
Carly Fiorina: The night's undisputed champion. Fiorina was a force, showing both a clarity and passion in her arguments that her rivals struggled to match. Her best moment came about halfway through the debate, when she finished a rousing takedown of the Iranian nuclear-arms deal and pivoted right to a vigorous case for defunding Planned Parenthood—two issues that sit at the heart of the current GOP primary campaign.
"This is about the character of our nation, and if we will not stand up and force President Obama to veto this bill, shame on us," Fiorina said in regard to the Planned Parenthood issue, earning some of the night's loudest applause.
Fiorina is very clearly good at this. She won last month's junior varsity debate, and when she went toe-to-toe with her opponents Wednesday, she usually came out on top. She even landed the cleanest jab yet at Donald Trump, when she fielded a question about Trump's dismissive comments on her appearance.
"I think women all over this country heard very clearly what Mr. Trump said," she said.
The former Hewlett-Packard executive earned a small surge in support after the first debate in August. After another good performance in front of a larger audience, she might be in line for a much bigger bump after the second.
Marco Rubio: The senator from Florida started slowly, struggling to even get air time in the debate's first hour after an awkward joke about the water bottle at his lectern. But he came on strong over the course of three hours, particularly on foreign policy. And above all, when Rubio talks, he reminds everyone watching why he would be such a formidable opponent in a general election.
Asked to respond to criticism from Trump that GOP candidates shouldn't speak in Spanish, Rubio answered deftly, citing the need to speak directly to one of the country's fastest-growing voter blocs.
"I do give interviews in Spanish, and here's why: Because I believe that free enterprise and limited government is the best way to help people who are trying to achieve upward mobility," Rubio said. "And if they get their news in Spanish, I want them to hear that directly from me. Not from a translator at Univision."
Rubio is telegenic, well-spoken, and deeply familiar with the issues. It showed again tonight.
Chris Christie: For a candidate who barely qualified for Wednesday night's debate, the New Jersey governor commanded an awful lot of attention. The combative Christie is clearly comfortable jousting with his onstage foes, and he even managed to get the better of Fiorina and Trump when the two candidates argued about their respective business records.
"You're both successful people. Congratulations," Christie said, in one of the night's most memorable lines. "You know who's not successful? The middle class in this country who's getting plowed over by Barack Obama and Hillary Clinton."
One night of success won't turn around the governor's flagging campaign, and like many of the 11 candidates on the stage, he went long stretches between appearing on air. But for someone who needs a lot of things to break in his favor, he'll be relieved that something finally went right.
LOSERS
Scott Walker: Walker needed a good showing to turn around his sagging candidacy—and, without question, he didn't produce one. The Wisconsin governor seemed to disappear for long stretches, unable to find ways to inject himself into the debate as Fiorina so often did. And when he did talk, he failed to impress.
It wasn't that Walker committed any gaffes. He just didn't find any ways to stick out on a crowded stage. His most memorable moment came when he called Trump an "apprentice" near the debate's beginning. Taking on the front-runner seemed like a great idea to put himself back front and center in the debate, but for some reason, he shied away from Trump attacks afterward. And even that lone jab later felt tame compared to criticism from Fiorina and Christie.
Walker still has time to claw his way back to the top of the polls. But it didn't start Wednesday.
Donald Trump: Trump doesn't play by the normal rules of politics, so gauging his performance is difficult. But the bombast that carried him through last month's debate seemed to lose its sizzle Wednesday, and for the first time, his rivals (especially Fiorina) seemed to cause him some real damage.
Even Bush, a frequent Trump target, scored points on Trump when the business mogul tried to blame his brother, the former president, for letting Barack Obama succeed him.
"As it relates to my brother, there's one thing I know for sure," Jeb retorted, to loud applause. "He kept us safe."
Give Trump credit: When he and Bush tangled, he often came out on top. The billionaire has an undeniable stage presence that can make even his bullying persona look appealing, and it's possible that voters will look at his performance much differently than the pundits will. But it's hard to fathom how the front-runner's performance will grow his support.
Rand Paul: Paul reminded Republican voters of two things Wednesday night: He and Trump don't get along, and his foreign policy views are badly out of step with the conservative base. The debate was only minutes old when Trump turned to the senator from Kentucky and criticized his physical appearance, mimicking the way an older brother would tease a younger sibling.
Paul fought back, but the real damage came later, when he talked about the Iranian nuclear deal. No candidate seemed more determined to back the agreement, an unpopular view in a party that overwhelmingly opposes it.
"Should we continue to talk with Iran?" Paul asked. "Yes. Should we cut up the agreement immediately? That's absurd. Wouldn't you want to know if they complied?"
Of all the 11 participants, Paul felt like the most expendable.