Why the U.S.-China Summit Is a 2016 Campaign Issue
"It's like a rule. You have to accuse the incumbent of being soft on China."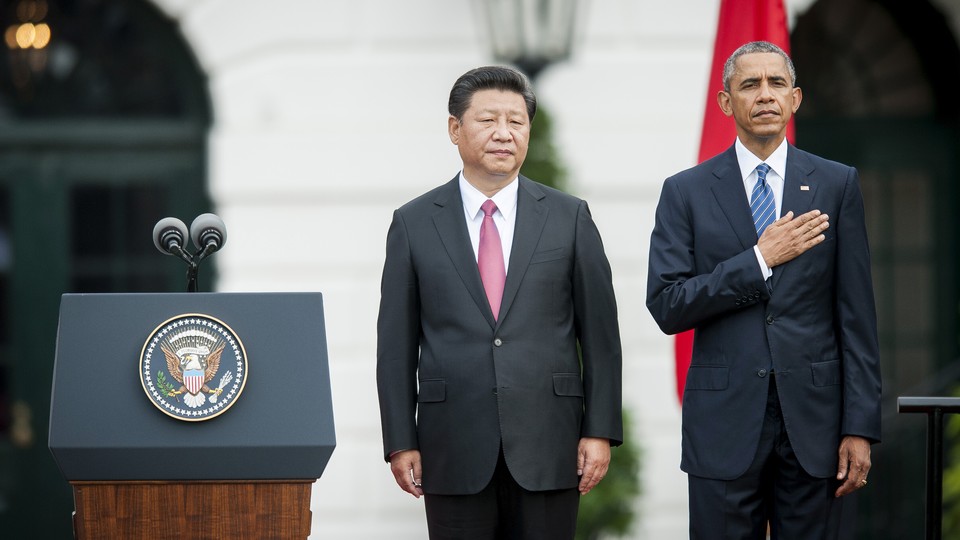 The visit of Chinese President Xi Jinping on Friday takes place against a backdrop of increasing attacks on China from the Republican presidential candidates who are making promises to get tougher on Beijing both militarily and economically—even to the point of making Xi eat a Big Mac instead of giving him a state dinner.
Front-runner Donald Trump is the candidate who boasted that he would deny Xi the state dinner he'll get from Obama on Friday evening. "I'd get him a McDonald's hamburger and I'd say we gotta get down to work," said Trump last month. His only sign of compromise was in the size of the burger. "I would give him a double, probably a double-size Big Mac," he said.
Other candidates have been as tough. Scott Walker was the most vocal before he ended his campaign this week, repeatedly declaring that he would cancel the summit. Carly Fiorina on Tuesday said she would cancel the state visit but meet privately with Xi. In South Carolina, she accused Obama of being meek in his dealings with China, Russia, and Iran, comparing the three to misbehaving children. "What happens if you let your teenager do bad stuff over and over again, what do they do? Bad stuff," she said. "Well it's true of China ..."
Mike Huckabee has demanded a "decoupling" of the U.S. and Chinese economies. He did not say how you would "decouple" the biggest trade relationship in the world with almost $600 billion in goods and services last year. Another candidate, Marco Rubio, wanted to downgrade this week's summit to a "working visit," to allow Obama "to speak bluntly to this authoritarian ruler." And candidate Chris Christie has called for the United States to adopt a "military approach" to China.
The attacks have not gone unnoticed in China. "They are watching these debates among the Republicans and listening to what these candidates have to say about them and are quite concerned about the influence it may have on the next administration," said Bonnie S. Glaser, a China expert at the Center for Strategic and International Studies. "They worry whoever is elected—Democrat or Republican—there will be a tougher policy toward China going forward."
Cheng Li, who grew up in China during the Cultural Revolution and now is at the Brookings Institution, said Chinese officials "pay a lot of attention" to the debates and the campaign and are "just completely shocked by some of the criticism."
In 2012, remarks by Republican Mitt Romney were greeted with a commentary in the official state news agency Xinhua, stating that "bashing Beijing is no cure for Washington's woes." It added, "Crafty politicians tend to cater to an even ratchet up the antagonistic sentiment of some poorly informed voters toward China, dreaming that they could ride the anti-China wave to higher political echelons and even the White House."
At the White House, they privately view the Republican comments as naïve and simplistic, noting that with $600 billion in trade and maintaining, there is no way to cut off high-level talks with the world's second-largest economy and a growing power in Asia.
But they are not unhappy if the campaign rhetoric worries the Chinese. "China does need to be mindful of the broad concerns in the United States on certain issues," said Ben Rhodes, deputy national security adviser for strategic communications. "... Across the political spectrum, people are concerned about certain Chinese activities. And that is going to reflect itself not just in what this president does and the next president does, but in what Congress does."
Of course, no one at the White House can afford to be too judgmental of this crop of candidates. They well know that Obama also played this game when he ran for office in 2008. He called President George W. Bush a "patsy" for not being tougher on China on trade and threatened to shut off Chinese access to American markets.
Indeed, attacking China is one of the hardiest staples of American presidential campaigns ever since the "who lost China" debate was triggered by the Communist victory in 1949. "It's like a rule. You have to accuse the incumbent of being soft on China," William A. Reinsch, president of the National Foreign Trade Council, told National Journal in the last campaign.
Bill Clinton did it to George H.W. Bush, Bob Dole did it to Clinton, George W. Bush did it to Al Gore, Obama did it to Bush, and Mitt Romney did it to Obama. It has happened so often that the Chinese are starting to expect it, even if they don't like it.
"While they are concerned about the types of comments we heard on the campaign trail, they have a much thicker skin than they used to have," said Robert Daley, director of the Kissinger Institute on China and the United States at the Wilson Center. He added, "Whether it is Bill Clinton talking about the 'butchers of Beijing' or George W. Bush saying we'd do anything it took to defend Taiwan, they dislike the learning curve. But they see it getting shorter and they have a more sophisticated understanding of our politics now."
It has, though, injected the agenda with a sense of urgency. "This is what I think they're really concerned about—it's what comes next," said Glaser. "So I think they're trying to use this one-year plus period in the Obama administration to get done in some areas as much as they can."