Why the Clinton Email Scandal Is So Sticky
Reasonable doubt stems from the Clintons' history of innuendo and inquiry.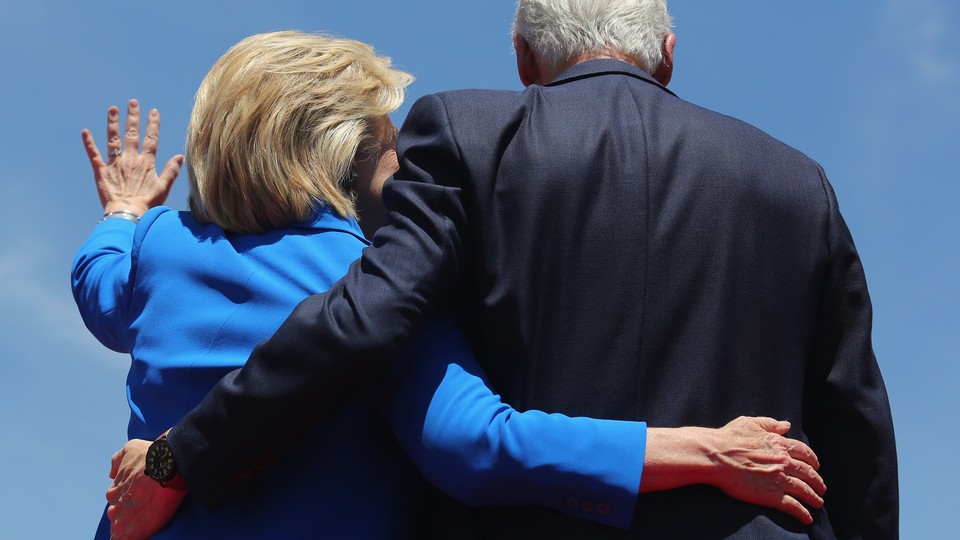 "You can't complain," Bill Clinton said before he did. In an interview broadcast by CNN on Sunday, Clinton likened the email scandal dogging his wife's presidential campaign to the Whitewater land deal and others scandals that shadowed his political career. "It always happens."
Yes, sir. That's sort of the point. Many voters are tired of Clinton controversies and their side effects: deflection, deception, derision, and division.
He also blamed the email flap on Republicans who want to undercut Hillary Clinton's campaign and on political reporters who aren't interested in substance.
Stipulated: Republicans are partisan and reporters are shallow.
Another fact: It's not our fault.
The GOP did not create a secret email system independent of the Freedom of Information Act, congressional oversight, and historical archives. The media did not discuss and distribute classified information on the unsecured server. Hillary Clinton's campaign—not the vast right-wing conspiracy—has repeatedly and intentionally misled the public.
I feel sorry for the Clintons. I really do. Starting with the Whitewater land deal, which I first investigated in the mid-1980s—finding no wrongdoing on the part of the Clintons—this extraordinarily talented couple has been the subject of spurious rumors and allegations. (I won't list them all, but include every conspiracy theory you've read about Vince Foster's suicide.)
I understand their siege mentality.
And yet, Bill and Hillary Clinton repeatedly display a willingness to aggressively deny wrongdoing when the facts say otherwise. Despite her denials, a federal prosecutor found "substantial evidence" that Hillary Clinton had a role in the 1993 White House travel-office firings. Five years later, Bill Clinton lied to the public about his affair with Monica Lewinsky.
Which is why the email scandal is so sticky. Hillary Clinton's defense can be boiled down to two words—trust me—and we can't. There will be no trust before a credible independent review of the emails she deleted.
There will be no trust until she admits what she did was wrong—and not because of "the confusion it created," as she likes to say, but because it violated a federal policy and the fundamentals of good government: transparency and accountability.
Don't take my word for it. Listen to Madeleine Albright, the secretary of State under Bill Clinton, who was asked on MSNBC's Morning Joe today whether she would let her deputy secretary of State put all email on a private server.
"I would not," she said. "No."
Easy answer. Straight answer. This scandal is sticking around because Hillary Clinton can't seem to summon the same.
Previous: Ron Fournier Talks Clinton Emails on CNN