Why Syrian Refugees Might Settle in These U.S. Cities
We look at how they're likely to be a boon rather than a burden to these places.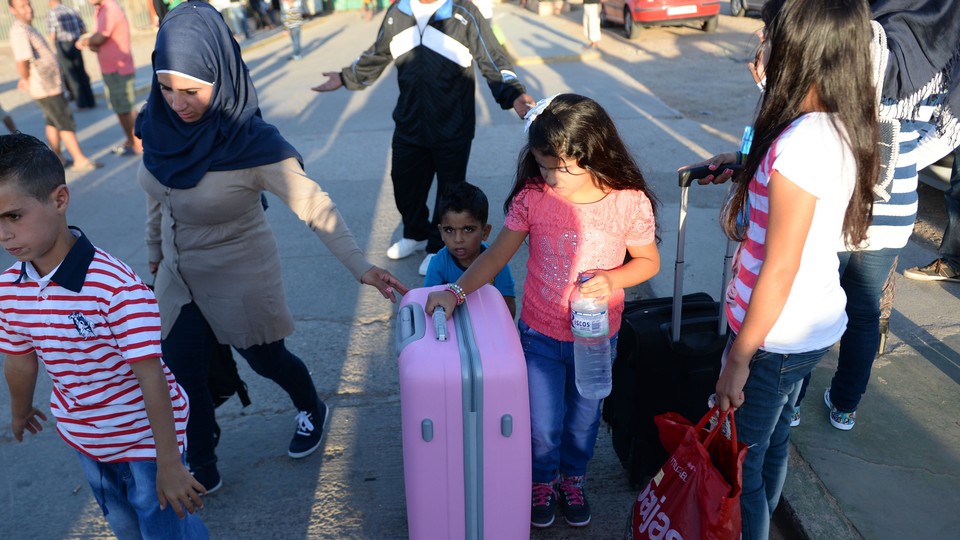 This article is from the archive of our partner

Stories of horror and unimaginable loss experienced by Syrian refugees have refocused international attention to the region's immense human suffering. But Syrians who have made it to foreign shores encounter a mixed reception.
Hungarians have resisted the waves of people thronging to their borders. Germany has welcomed them—promising to open its doors to 500,000 refugees annually in the coming years. After facing criticism for its own lackluster response to the refugee crisis, the U.S. government announced yesterday that it, too, would make room for 10,000 Syrians in the next year.
This number is a fairly small slice of the 70,000 total refugees America takes in annually from all countries. The U.S. has accepted far more refugees from other conflict regions in the past. Here's a Pew Research Center chart showing the number and origin of refugees the U.S. has take in over the past few decades: ​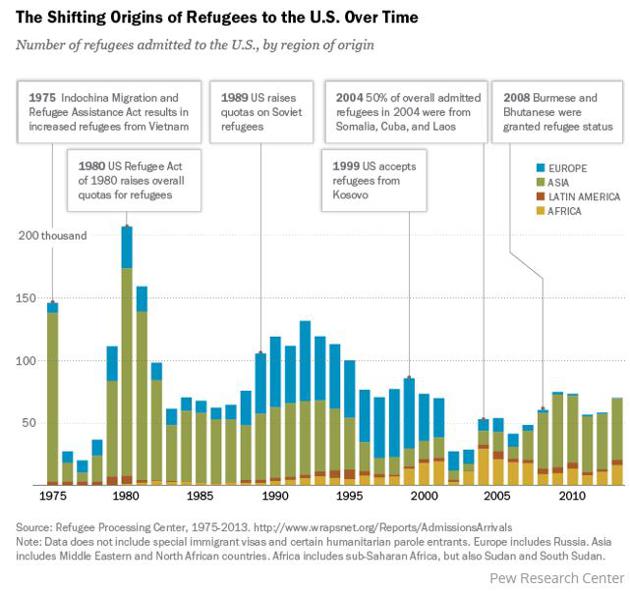 America's pledge doesn't come close to meeting the international demand to resettle the millions of displaced Syrian people, says Randy Capps, director of research at the Migration Policy Institute. Still, he says, the White House commitment is significant, especially given that America currently accepts fewer than 2,000 refugees from Syria. Capps helped us understand where these new arrivals are likely to end up.
Where will the Syrian refugees settle?
The Syrian population is America very, very small. Syrians make up 7.8 percent (below) of the roughly 1 million immigrants from the Middle East and North Africa living in the U.S. as of 2013, according to MPI. Here's an interactive map of the main metro areas where this population is concentrated: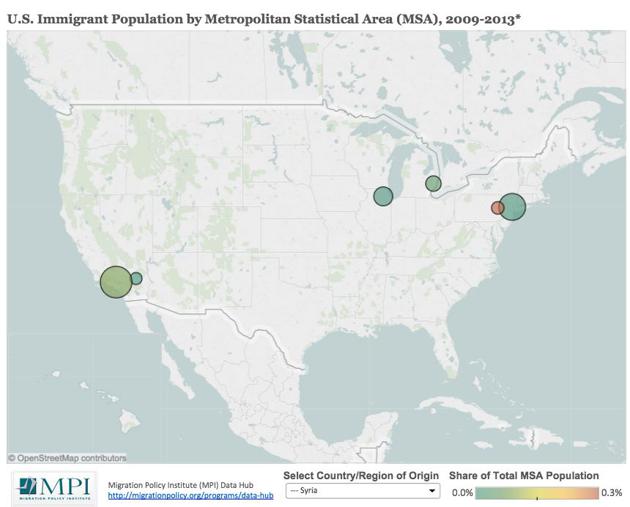 Los Angeles, the New York-New Jersey metro area, Chicago, and Detroit house the bulk of America's Syrian population. (Syrians are also present in and around Allentown, Pennsylvania, and Riverside, California.) Incoming refugees with family ties in America are likely to be resettled in these regions, where they have relatives and support networks, explains Capps. These big immigrant hubs also have strong state and non-profit organizations that help new arrivals settle in.
But while the six metros above are the most popular homes for Syrian immigrants in particular, cities such as Atlanta, San Diego, and Boston host large populations of immigrants from the same part of the world. In that sense, these places might also be possible destinations for the incoming Syrians. Here's a metro map showing how the immigrant population from Western Asia (the Middle East minus Egypt) is distributed across the U.S.: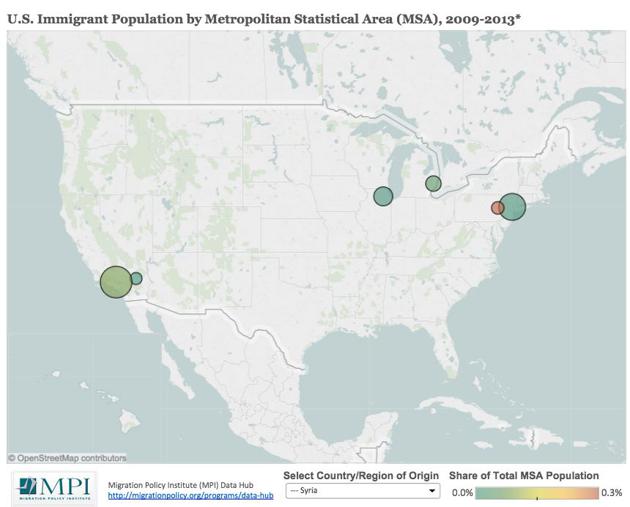 Refugees without families are a slightly different story. They can be dispersed more generally, Capps says, even in cities without large Syrian and Middle Eastern populations. The government might small numbers of incoming refugees find homes in different towns and cities, in collaboration with state and local resettlement programs.
Syrians could benefit their new homes in many ways
Syrians tend to have high levels of education and a varied skill set. This puts them at an advantage in the American job market, especially compared with lower-skilled refugees from other countries.
Of course, they will go through an adjustment period. They may face language barriers and their degrees may not translate to the American job market. To get back up on their feet, they might need help from state and nonprofit service providers. But Capps predicts the Syrians will soon be in a position to contribute to the economy.
"There could be some bumps on the road. Like the experience of a lot of other refugees recently who are highly skilled, many of the Syrians may wind up in some low-wage jobs that are not commensurate with the social status they had before," Capps says. "But because of high educational attainment in general and high past job skills attainment, my assumption and hope would be that they would rise in the labor market relatively quickly."
In other words, by welcoming Syrian refugees, U.S. cities might be doing themselves a favor. For a city like Detroit in particular, which has seen its populations plummet and its economy tank, Syrian refugees might turn out to be a lifeline.
This article is from the archive of our partner CityLab.