Why Native Americans Oppose Junipero Serra's Sainthood
Pope Francis's choice to canonize the California priest has raised protests.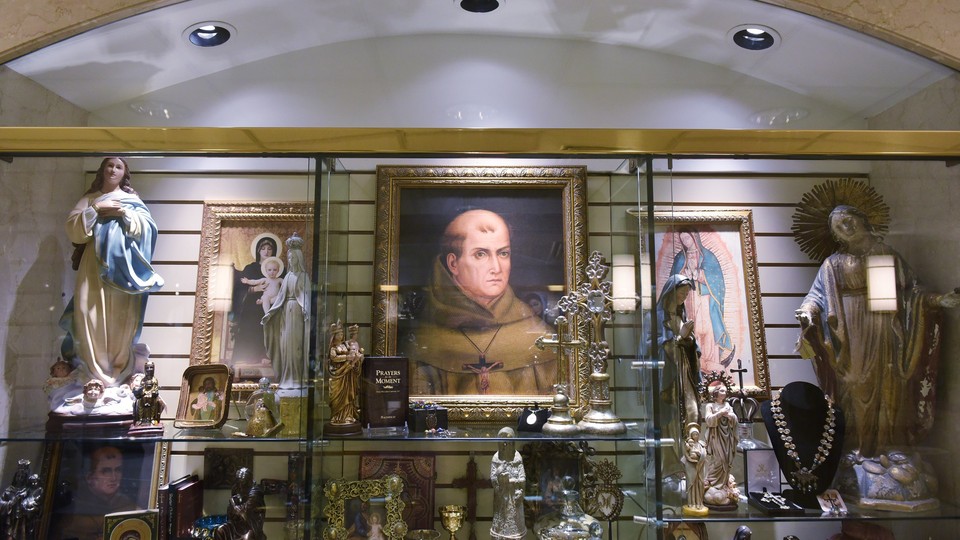 On his visit to Washington, Pope Francis will canonize a controversial friar who he has called a "founding father of the U.S.," a man who helped Spain colonize California in the 1700s. Junipero Serra gave rise to cities such as San Diego and San Francisco. His lifelong goal was to baptize Native Americans—the same reason many protest his upcoming sainthood.
From her home in Santa Clarita, just north of Los Angeles, Caroline Ward-Holland heard the announcement in January. Pope Francis told journalists as he flew in his papal jet, that "in September, God willing, I will canonize Junipero Serra in the United States."
To protest the man most famous for creating the California mission system, Ward-Holland wanted something grand to signify her disapproval. Serra was a man who, in her opinion, "had no problem beating" the Native Americans of California—her people—and who "looked at them as slaves."
Ward-Holland is Tataviam, an indigenous group that lived in the Santa Clarita Valley. Initially, she considered recreating the 16-mile walk her ancestors made from the Mission San Fernando Rey de España to the grounds of her ancestral village, which now rests below Six Flags Magic Mountain, she says. But as she shared the idea with her son, she thought, "Let's just do them all."
On Sept. 7, Ward-Holland and her 21-year-old son, Kagen Holland, started to walk the 650 miles that connected 21 Catholic missions, reaching from the Bay Area to San Diego.
A Mission to Baptize
Serra traveled from Spain by ship to the New World, and lived in Mexico City. There, he waited nearly two decades for his life's calling. He marched north in 1769, and founded nine missions that stretched from what is now the Mexican-U.S. border to Sonoma County, just north of San Francisco.
The missions were part of the Spanish colonization of America, and had two main functions: 1) to stave off the Russians (seriously) from settling the West Coast, and, 2) to "assimilate the native people by making them into productive citizens of the empire," says Robert Senkewicz, historian and author of Junipero Serra: California, Indians, and the Transformation of a Missionary.
The missions were Catholic settlements where people worked, ate, and slept. They also served as outposts for Spanish soldiers. They were typically surrounded by large farms, and— sometimes out of curiosity, other times by coercion—the Native Americans joined the Spanish there. Serra founded nine missions himself, a number that would grow to 21.
The Spanish put Native Americans to work as builders. They taught them to farm as Europeans did. But Serra's ultimate goal was to baptize them. Once baptized, they couldn't leave.
Soldiers dragged the Native Americans who tried to leave back to the missions, where they were often flogged in punishment. The missions were cramped. They also spread diseases that would later kill off huge numbers of California's Native American population.
While horrible, this was not unique to the missions, or the Spanish colonizers. For its part, the Catholic Church has apologized—first Pope John Paul in 2000, and later Pope Francis while on a tour of Bolivia. "I humbly ask forgiveness," Pope Francis said in July, "not only for the offense of the church herself, but also for crimes committed against the native peoples during the so-called conquest of America."
Support Along the Trail
Ward-Holland's walk began at Mission Solano, the northernmost mission, near the Bay Area. There, she joined hands with her son and eight others as they stood near three marble plaques with hundreds of Native American names, all of whom had been baptized and died.
They read each name aloud.
She and her son walked south with backpacks along the El Camino Real trail. They passed grassy hills, valleys, and vineyards, and camped the night outside. The next day they walked to Mission San Rafael Arcangel. There, Ward-Holland says, the graves of Native Americans were under a parking lot. "There's not even a respectful sign, not even a memorial or anything," she wrote in a blog post.
Mother and son crossed the Golden Gate Bridge. Web developer Cat Wilder, described by Ward-Holland as "a free spirit from Santa Cruz," followed behind them in a Toyota Tacoma with a truck bed of supplies.
Along the way, strangers have offered food and socks and their homes for the night. A group of 80 joined hands with them outside Mission San Jose. Mother and son have walked around 135 miles.  "I have blisters on every toe," Ward-Holland says. "We may not get to San Diego until the first week of November."
To reach sainthood, Francis has cut out the usual two-miracle requirement needed. Instead, he has said that Serra's evangelizing is enough. It's believed that Serra baptized more than 6,000 Native Americans.
Serra's sainthood represents two American firsts: America's first Hispanic saint and the first time that a pope will conduct a canonization on U.S. soil.
Ward-Holland has the admittedly unrealistic hope that Francis will call off the canonization. Still, if he doesn't, she says she and her son will continue to walk the 21 missions where the Native Americans of California were often kept against their will. They'll burn sage and say prayers along the way.