Why Even the Pope Cannot Move Congress on Immigration
Pope Francis highlighted the issue Thursday, but too much has already poisoned the well.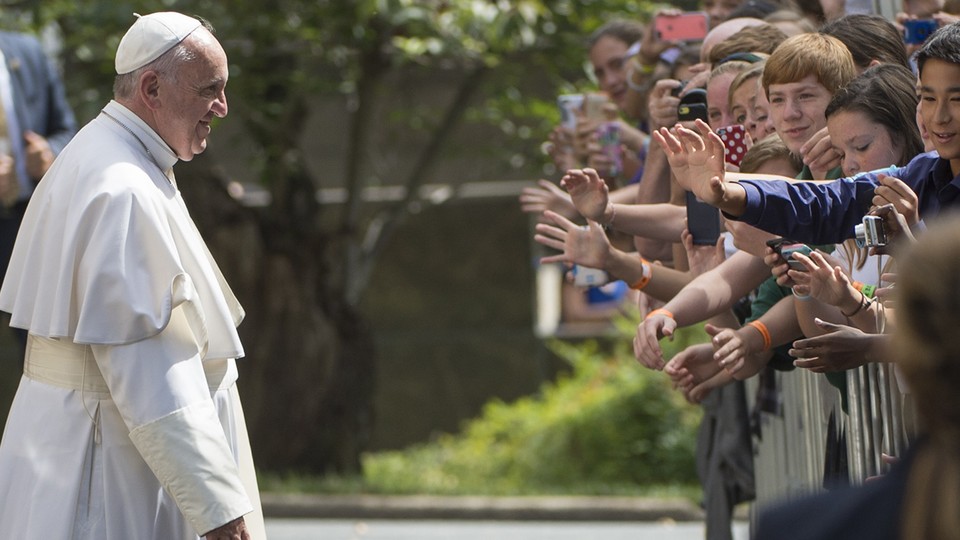 If Pope Francis ever had a message for Washington, it was to look more closely at how the American people, and the politicians who lead them, react to immigrants.
"In recent centuries, millions of people came to this land to pursue their dream of building a future in freedom. We, the people of this continent, are not fearful of foreigners, because most of us were once foreigners," the pope said before a joint meeting of Congress Thursday.
After years of political divide over how to deal with the country's southern border, a rush of young migrants and now a Syrian refugee crisis, the pope urged Washington to take a new and more collaborative approach to tackling migration. Advocates, however, fear the pontiff's message will do little to ease nativism and anti-immigrant sentiment on the presidential campaign trail and in the halls of Congress.
"I don't want to be pessimistic," said Frank Sharry, the founder and executive director of America's Voice, an immigration reform group based in D.C. "But, the problem is that there is a war for the Republican soul on immigration between what is politely called the 'white identity wing' of the party and the wing that wants to modernize. Unfortunately, the hardliners are winning right now."
In 2013, when the Democratic-controlled Senate passed a comprehensive immigration bill, advocates were optimistic that an overhaul was near. That bill would have provided a path to citizenship for millions of immigrants already in the country illegally. But House Speaker John Boehner—a Catholic who invited the pope to speak Thursday, and was visibly emotional during the pope's visit—never brought it to the floor fin the House for a vote. His conference was deeply divided. And, advocates say nothing has changed there. If anything, a Republican wave election in 2014 that landed Republican Mitch McConnell as the leader of the Senate has only made hopes of immigration reform dimmer ahead of a presidential election.
"If Boehner is moved by the pope and really wants to help his country and save his party, one could imagine a scenario where he falls on the sword to get it done and becomes a profile in courage," Sharry says."Given how weak his leadership on this issue was in the last congress and given how much influence [Iowa Rep.] Steve King has today over John Boehner, it is a long shot."
For now, the debate about immigration continues in the Republican presidential race, with Donald Trump leading the pack with promises of border walls and halting immigration. The rhetoric has brought out the more conservative positions within all of the candidates, with Jeb Bush referring to immigrants born in the U.S. to undocumented parents as "anchor babies."
But Tamar Jacoby, who is president and CEO of ImmigrationWorks and advocates for business-minded reform says that immigration reform has been deterred for many reasons even beyond the current Republican debate. She says that the president's executive actions made it hard for Republicans to feel motivated to act, as their constituencies were incensed by the president's use of his pen. And a rush of thousands of unaccompanied minors crossing into the U.S. to flee gang violence in Central America last summer took a toll as Americans watched the crisis on their television screens.
"There are many of us who are waiting for Congress to act on immigration, but the sad truth is that some of the things that have happened in the last year have so poisoned the atmosphere that it is hard to see even how the pope can move Congress," Jacoby says.