Why Do Evangelicals Support Donald Trump?
The brash Manhattan billionaire would seem to stand for values they despise—yet conservative Christian voters are flocking to his campaign.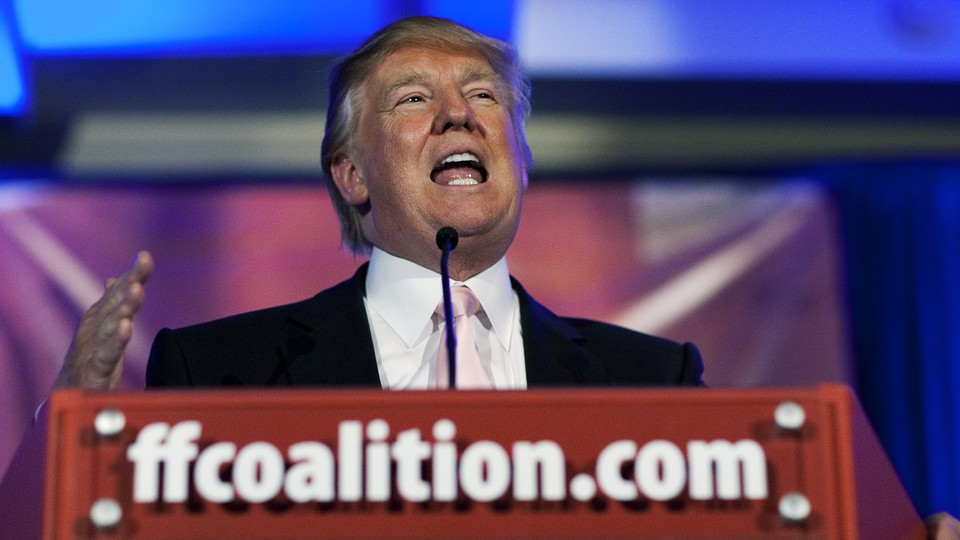 Donald Trump is immodest, arrogant, foul-mouthed, money-obsessed, thrice-married, and until recently, pro-choice. By conventional standards, evangelical Christians should despise him. Yet somehow, the Manhattan billionaire has attracted their support.
According to the most recent polls, Trump is one of the top picks for president among evangelical Christians. One Washington Post poll even had him as the group's favorite by a margin of six points. His first major rally in the Bible-Belt fortress town of Mobile, Alabama, drew an estimated 18,000 attendees. And on September 28, prominent televangelist Paula White will reportedly lead a delegation of evangelical leaders to meet with the mogul in Trump Tower.
"Why do they love me?" Trump replied when asked about the trend. "You'll have to ask them. But they do. They do love me."
It's rare that the real estate mogul struggles to find an explanation, but in this instance, his puzzlement is understandable. There is little about The Donald that would seem to align with evangelicals' values and beliefs. But when it comes to the famously coifed candidate, the faithful seem to be valuing style over substance or spirituality.
Since at least the Reagan era, evangelicals have mostly supported presidential candidates who are socially conservative. Sixty-four percent of evangelicals, for example, claim that a candidates' position on abortion will have "a lot" of impact on who they vote for in 2016. But Mr. Trump was, in his words, "very pro-choice" until recently. One can't help but think about how evangelicals attacked then-Senator John Kerry during the 2004 presidential election for "flip-flopping" on key political positions. Somehow Trump has evaded such treatment from the faithful.
Trump claims to oppose same-sex marriage, which will please most evangelicals, but now that the Supreme Court has put that issue to bed for good, a candidate's views on the matter are largely inconsequential. When it comes to LGBT rights, however, Trump's record is more complicated. He has stated in the past that he supports amending the 1964 Civil Rights Act to outlaw discrimination based on sexual orientation, something nearly half of evangelicals oppose. Trump's broader positions on same-sex issues are such that MSNBC posited he may be "2016's most LGBT-friendly Republican."
On other political issues, it is difficult to say how Trump aligns with most evangelicals. This is due, in part, to the fact that the candidate hasn't outlined his policy proposals in much detail. Even his rigid position on immigration, which includes mass deportations and the construction of a separation wall along the Southern border, doesn't entirely square with their professed views. Some evangelicals are clearly sympathetic to that stance, but, conversely, 62 percent of evangelicals support finding a way to allow unauthorized immigrants to stay in the United States. Trump also favors legalizing all drugs, something most evangelicals oppose.
So if Trump's policies aren't drawing conservative Christians' support, why are the faithful so fond of him? Historically, evangelical voters have valued candidates who share their beliefs. According to a 2015 poll by Barna Group, 45 percent of evangelicals say that faith is an important factor in choosing a candidate—five times greater than the general population.
Trump knows this and has ramped up his religious rhetoric on the campaign trail. But he has had a difficult time convincing anyone that he is within gunshot of orthodoxy. On the matter of asking forgiveness for sins—hardly an obscure Christian doctrine—Trump says he's never done it. "I think if I do something wrong, I think, I just try and make it right," he said recently. "I don't bring God into that picture." Trump declared that his favorite book was the Bible, but when asked to name his favorite Bible verse, The Donald declined. And he spoke flippantly of the cornerstone Christian sacrament of communion, saying he "feels cleansed" when "I drink my little wine … and have my little cracker."
And what of Trump's religious practices? He says that he is a faithful Presbyterian and member of Marble Collegiate Church in Manhattan, but after this announcement, the congregation released a statement saying he is not an active member. And, of course, Trump's three marriages are painfully out of step with Christian restrictions against divorce.
As USA Today columnist Kirsten Powers notes, Donald Trump is no dummy. She argues that he is scamming Christians in an effort to win over the critical Republican voting bloc. This seems plausible. But if Trump's political views and religious commitments are so far from most evangelicals', why are these Christians going along with it?
The answer seems to be the growing anti-establishment sentiments held by many evangelical Christians. (After all, the Tea Party movement draws "disproportionate support" from their ranks.) Not only are conservative Christians solidly Republican, they are also fierce traditionalists who feel that their values are increasingly under assault by modern society.
They like a candidate who will stand up to "the media"—whether Jorge Ramos or Megyn Kelly—because they feel reporters don't give them a fair shake either. They are drawn to a candidate who hails from outside the Beltway—even if his hometown is the elitist island of Manhattan—because they think the Washington establishment has abandoned them. And they appreciate someone who makes no apology for using politically incorrect rhetoric—even if this includes a bit of profanity or misogyny—because they believe society is increasingly intolerant of many of their sentiments, too.
Trump's support among evangelicals is substantial, but it isn't, well, yuuuuge. It's too early to say whether Trump can grow his support among conservative Christians and continue to expand it to the broader Republican base. He'll need to do both in order to win the primary, much less contend in the general election. For now, evangelicals need to ask themselves whether Trump's brashness is enough to make them overlook many of the values they hold most dear.
If they don't choose carefully, then after the Republican National Convention, they may find that they got what they wanted but no longer want what they've got.