Why Did the Pope's Plane Go Into a Holding Pattern?
Editor's Note:
This article previously appeared in a different format as part of The Atlantic's Notes section, retired in 2021.
Updated at 8:30 p.m.
As pope stalkers of the world watched his flight path on the Alitalia website, the plane started making several loops over North Carolina on its way to Joint Base Andrews this afternoon: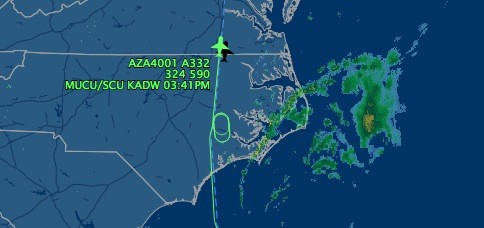 In an earlier version of this note, I reported that the reason the plane started circling was that Obama and his entourage had been running late to the greeting ceremony. However, as a White House spokesman subsequently pointed out, the Pope deplaned at 4 p.m., precisely as scheduled, and the president was on hand to greet him. Others have meanwhile indicated that the Pope's plane took off early from Cuba, which would explain the flight pattern.