Why Bernie Sanders Loves to Name-Check Pope Francis
The Vermont Senator invokes the pontiff more often than any other 2016 contender.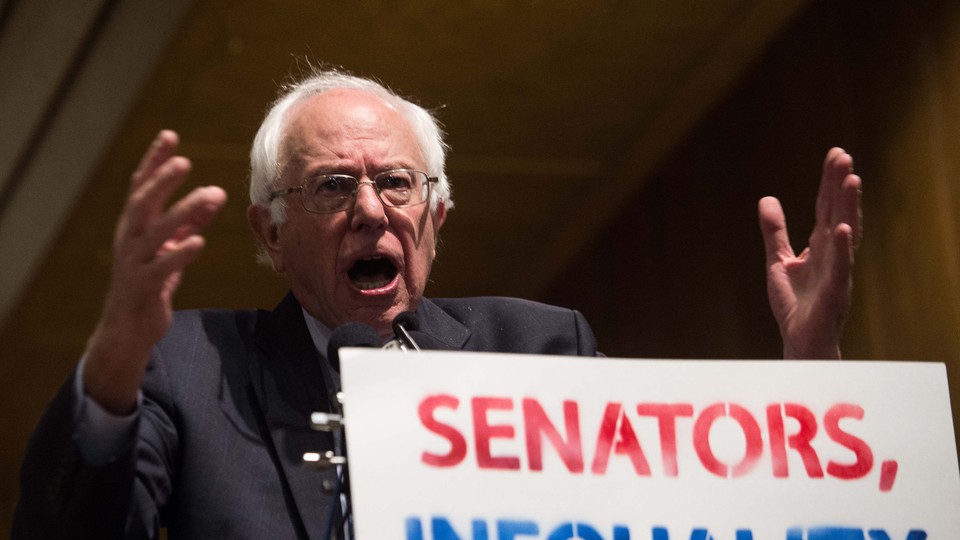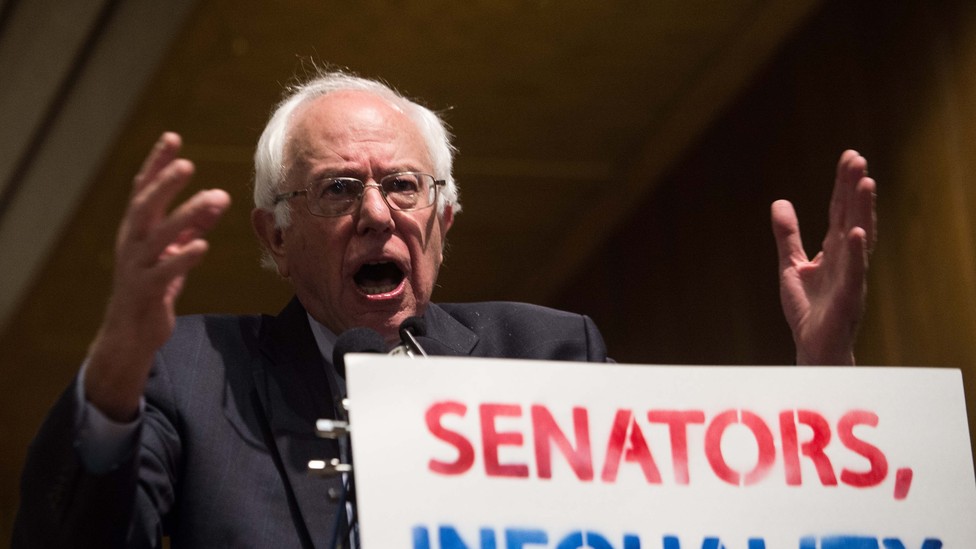 Pope Francis's visit has been the talk of Washington, but largely not of the presidential campaign—with one notable exception.
Hours before he touched down for the first time in the United States, Pope Francis was welcomed Tuesday by Sen. Bernie Sanders, the rare 2016 contender who has frequently invoked the pontiff and his teachings. The Vermont senator spoke at a D.C. church rally focused on raising the federal minimum wage to $15 an hour. For about five minutes, Sanders addressed a packed house, including some Capitol employees in blue "Strike!" T-shirts carrying posters calling to mind Pope Francis's apostolic exhortation: "SENATORS, INEQUALITY IS THE ROOT OF EVIL."
"Today, as we welcome Pope Francis to the United States and U.S. Capitol, I hope that every member of Congress and the president will heed his call for social and economic justice," said Sanders.
For months, Sanders has cited the pope more frequently than Hillary Clinton or any of his Republican competitors in his campaign, particularly on social media. According to Zignal Labs, Sanders tweeted about the pope 29 times—about 1 percent of his tweets overall—from May 1 to Sept. 20. Clinton, by contrast, mentioned the pope only twice in that time, one tenth of 1 percent of her overall tweets. (Clinton, in an interview with ABC earlier this month, said she was a "great admirer" of Pope Francis and hoped he would "prick the conscience of everyone" when he gives his speech to Congress Thursday.)
In an interview Tuesday—before he went to the Senate floor to again reflect upon the pope's calls to address capitalism's ills—Sanders explained why he name-checks Pope Francis so much. "I respect him immensely," Sanders told National Journal. "I think he is articulating some of the most important issues that the world faces in terms of income and wealth inequality, in terms of paying attention to those who are dispossessed, those people who sleep out on the streets and have no jobs, and also focusing on the global crisis of climate change. So I think he is a great man playing a great role in the world."
Sanders, a Jewish Democratic socialist, has much to gain by hugging Pope Francis. As The New York Times recently noted, no presidential candidate has won the popular vote without the Catholic vote since 1972, when news-media exit polls began. And while Sanders notes his "strong disagreements" with the Church on gay rights and abortion, the wildly-popular pope has shifted the Vatican's tone from those hot-button issues to others like inequality and climate change, which plays right into Sanders's sweet spots.
After months of infrequently mentioning his name, some Republican presidential candidates have recently jumped to shine the papal spotlight on one of their pet issues. On Friday, Sen. Marco Rubio of Florida published a CNN op-ed highlighting Cuban oppression a day before the pope arrived in the country. On Monday, former Florida Gov. Jeb Bush tweeted that the Castro regime "shamefully" detained dissidents to a papal event. On Tuesday, Sen. Lindsey Graham, at a press conference touting his 20-week abortion bill before the Senate, reminded the audience that the pope "has been an outspoken supporter of the unborn." (The quote was later flagged by Americans United for Life.)
Graham told National Journal that Sanders, like anyone else running for the White House, cherry-picks the pope's views as he sees fit.
"I think Bernie is trying to use the pope's words on his economic message," said Graham. "He seems to not listen to the pope on anything else. Selective hearing when it comes to the pope is a game a lot of politicians are playing.
"We love the Pope when he agrees with us," he added with a chuckle.
In the past few days, former Arkansas Gov. Mike Huckabee, another GOP presidential candidate, has been giving Sanders a run for the pope-drop title. After learning that the White House invited gay Catholics and LGBT advocates to Wednesday's papal visit, Huckabee wrote in a Daily Caller op-ed that President Obama "shows total disrespect to millions of Americans by transforming Pope Francis' White House visit into a politicized cattle call for gay and pro-abortion activists." After not tweeting about Pope Francis at all for five months, according to Zignal, Huckabee tweeted about the pope at least 10 times in 48 hours and went on Fox news to discuss his outrage.
In some instances, the candidates have pushed back on fitting the religious leader into a political box. In his first week of campaigning, Bush, a Catholic, said he doesn't get his economic policy from the pope and that religion "ought to be about making us better as people and less about things that end up getting into the political realm." And earlier this week, New Jersey Gov. Chris Christie criticized the pope's involvement in the renewed U.S.-Cuba diplomatic engagement, telling CNN that "his infallibility is on religious matters, not on political ones." But instead of outlining divisions between church and state, the candidates have, for the most part, tried to diminish their differences.
According to Zignal, most of the GOP field' including neurosurgeon Ben Carson, Sen. Ted Cruz of Texas, Rubio, Louisiana Gov. Bobby Jindal, businesswoman Carly Fiorina, Ohio Gov. John Kasich, Sen. Rand Paul of Kentucky, former Sen. Rick Santorum of Pennsylvania, Graham, and Huckabee didn't mention the pope on Twitter once from May through September 20. (The remaining few did a handful of times combined; Donald Trump, the GOP front-runner, tweeted twice to rebut an article alleging that he wanted to buy an Argentina soccer team the pope liked.) The papal playbook is clear: Tout when he agrees with you and, when he doesn't, lay low.
On Tuesday, Cruz told reporters that Pope Francis is an "important spiritual leader in the world calling for greater compassion for those who are suffering—and that is a message that everyone should heed." When a Politico reporter followed-up, asking about his response to the pope's position on climate change and immigration, Cruz ducked into an elevator. "I've got to get up and vote," he said.