It's Democrats Who'll Miss Boehner Most
Chuck Schumer and Harry Reid lament the speaker's retirement while Republicans exult. How long will that last?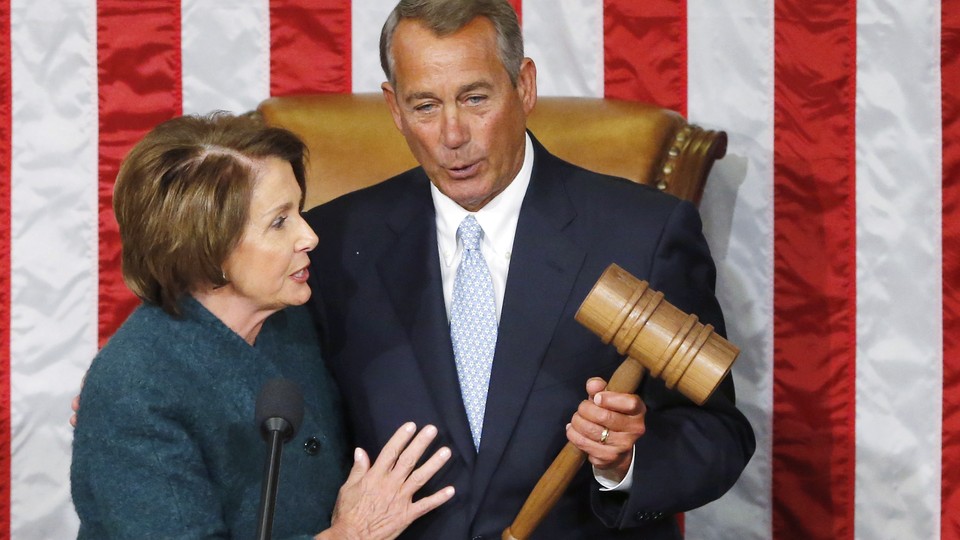 The way that partisans of both stripes reacted to John Boehner's departure goes a long way toward explaining his decision to step down as speaker and leave the House.
"Speaker John Boehner is a decent, principled conservative man who tried to do the right thing under almost impossible circumstances," Senator Chuck Schumer, the presumptive next Democratic leader of the Senate, said in a statement. "He will be missed by Republicans and Democrats alike."
Current Senator Minority Leader Harry Reid—whom Boehner once instructed to do something unprintable during a heated feud—was positively gushy: "To say that I will miss John Boehner is a tremendous understatement."
Even Boehner's opposite number in the House, Nancy Pelosi, declined to express any pleasure about his resignation. Who says politics is too polarized?
Of course, these Democrats have ulterior motives: All of them used the occasion to point out what they think is a strain of intractability and extremism in the Republican caucus, which they blamed for pushing Boehner out.
The reaction on the other side of the aisle was rather different. Amid widespread shock, some members of the House close to Boehner expressed sorrow. But many of the GOP's most prominent standard-bearers were openly pleased.
Senator Ted Cruz, whom House Republicans have accused of meddling in House business, was positively delighted when he learned of the resignation from reporters while at the Values Voters Summit. Cruz is running for president.
"We've had Republican majorities in both houses of Congress for coming up on a year now, and what on Earth have they accomplished?" he said. "Immediately after the elections we came back and leadership joined with Harry Reid in passing a spending bill filled with corporate welfare. Then Republican leadership took the lead in funding ObamaCare. Then they took the lead in funding executive amnesty. Then they took the lead in funding Planned Parenthood. And then Republican leadership took the lead in confirming Loretta Lynch as attorney general."
Senator Marco Rubio, another presidential hopeful, was less gleeful, but hardly broken up. "It's not about him or anyone else, and I'm not here to bash anyone, but it is time to turn the page," he said. As for what the conservative voters who attend the Values Voters Summit thought, see this video of Rubio breaking the news to them:
The crowd reacted with raucous applause and a standing ovation.
It's not hard to see why the Democrats will miss Boehner. He's a pragmatist. Despite their disagreements with him, they see him as someone who fundamentally wants to make Congress work, isn't interested in pursuing strategies that can't succeed, and doesn't want to shut down the government. But the hardcore conservatives see all that as a bug, not a feature. They'd rather shut down the government—over Planned Parenthood, the debt ceiling, whatever—than accept a compromise.
The question is what they'll get from the next speaker. Already, some influential conservative observers are warning of danger ahead:
I think conservatives have no clue how bad the Boehner resignation is for them.

— Sean T at RCP (@SeanTrende) September 25, 2015
Boehner isn't a squish ideologically, but he's able to count votes. The next speaker will face the same problems, but Boehner's long tenure in the House made him an accomplished operator who knew the chamber's ins and outs and had ties across the aisle. Whoever succeeds him is likely to have less experience in those ways. And he (or maybe she, but probably he) will have to deal with the same factions, and still have to either disappoint conservatives or else plunge the chamber into total chaos and likely shutdown. (There's a reason Kevin McCarthy, the majority leader and early favorite to succeed Boehner, hasn't been agitating for his ouster.) Democratic leaders seem to see this already. Republican leaders may see it but recognize the political winds won't reward for pointing it out. As for conservative activists and lawmakers, they may soon discover that Boehner wasn't the problem, but that removing him only made it worse.