"Who Is the Real Jeb Bush?" Ask Latino Business Leaders.
Group demands consistency on immigration and other issues from GOP contender.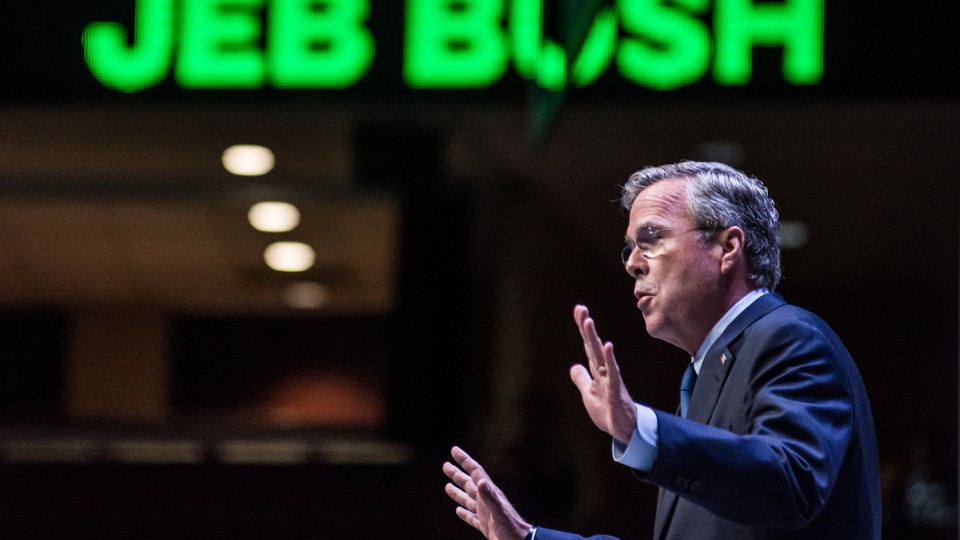 What started as a typical political luncheon at the U.S. Hispanic Chamber of Commerce National Convention became a test of nerves for Jeb Bush.
The Republican presidential candidate was the main speaker at the Women in Business & Leadership Luncheon in Houston this week. More than 1,000 attendees gathered, representing local organizations and global corporations. A few minutes into Bush's speech, demonstrators entered the banquet hall and split into two groups. One remained in the back of the room while the other stood beside the stage. Their banners asked, "Who is the real Bush?"
"No hope without our vote!  No hope without our vote!" they chanted.
Initially, Bush ignored them and tried to continue with his speech about women business leaders. Eventually, he had to pause and finally, as the protesters were escorted out, Bush addressed immigration reform, saying he "would continue to be respectful of the ramifications of the citizenship path."
The protest was led by the Texas Organizing Project, Service Employees International Union, and Mi Familia Vota. For Wilmer Zepino, one of the organizers, Bush's message is not consistent. "Depending on the crowd he is talking to, his message changes," Zepino said. "You can see him high-fiving Donald Trump and denouncing President Obama's executive action on immigration. But then he comes here and says he is for immigration reform."
The very vocal protest was intended to send a very clear message to Bush, Zepino said. "Be straightforward, Jeb! Which Jeb Bush are you?" asked Zepino. "What is it that you really stand for? Stick to it because the things that you say contradict one other."
Bush did address immigration.
"We have to secure our border," he said. "We need to respect the rule of law. There are national security questions and public health questions. There are important questions about protecting and securing the border, but we don't need to build a wall."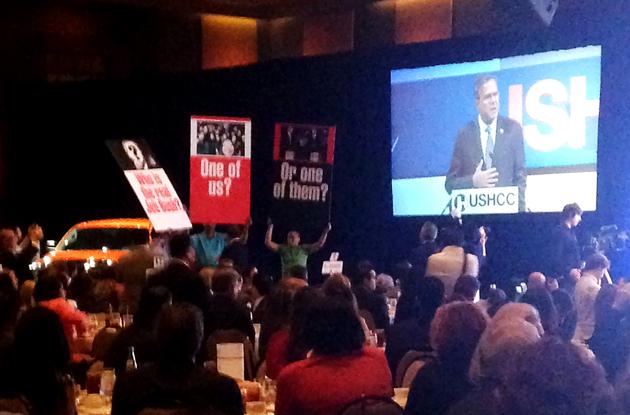 Describing his own family as bicultural and comparing meeting his wife Columba in Guanajuato, Mexico, to being struck by lightning, Bush dismissed the differences in accents or races as unimportant when dealing with economic growth.
"That does not matter," Bush said. "What matters is that we embrace a set of shared values and that we have a society where everybody has a chance of achieving their success."
For Dr. Dorothy Caram, a champion for education in several Houston-based community organizations, what resonated the most were Bush's remarks on the improvement of the public education system.
"He gave some of us the idea that we can look forward to some solutions in education. He covered all the points that I included in a letter I had sent to senators a couple of years ago."
What should the next president do to encourage women entrepreneurs? "I think he needs to make sure that there is money that they can borrow," Caram said. "And they need to be qualified to borrow so that they can have good a foundation for their business. There should be inclusiveness of all women, not just Hispanic women."
Sally Lechin, another attendee, said she paid little attention to the protesters and that while Bush's address could have been more focused, the fact that he addressed education is an indication that doors should be opened for women in the form of scholarships.
While Bush didn't mention the current Republican front-runner by name, he did say he didn't want to add to the anti-immigrant rhetoric coming from some candidates like Donald Trump. "There are voices who don't believe in immigration reform. There are loud voices. And I do not want to create more of the food fight."
Voters like Wilmer Zepino may agree, but they also hope Bush remembers which side he says he's on, too.