Where Democrats Are Outspending Republicans
In Wisconsin and Illinois, Democratic Senate outside groups have flipped the script and outspent defenders of Ron Johnson and Mark Kirk so far this year.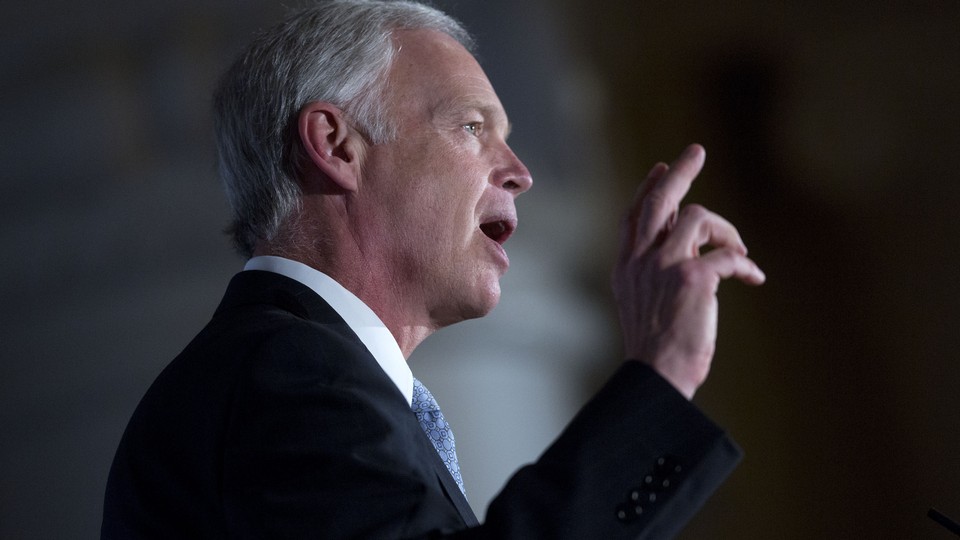 Republicans wrote the book on early-campaign spending in the 2014 midterms, and as they look to defend their Senate majority in 2016, outside groups such as Americans for Prosperity and the U.S. Chamber of Commerce have already shelled out millions to attack Democratic candidates. But Democratic groups have actually outspent their counterparts in two key Senate states so far.
In Wisconsin, Democratic allies have already spent about $1.8 million against Republican Sen. Ron Johnson, compared to about $1.2 million spent by Republicans against his challenger, former Sen. Russ Feingold, according to Republican sources tracking media buys in the state. In Illinois, green groups have spent more than $1 million against Sen. Mark Kirk, while Republicans have spent about $650,000 on ads defending him.
That Democrats would invest early against Kirk and Johnson is no surprise. The two are considered to be the most endangered senators up for reelection in 2016, and both parties have claimed recent success after attacking vulnerable incumbents early.
But for Republicans, the idea of being outpaced in the outside-spending department in a few key races is an unusual change of pace, especially as the Senate GOP prepares to defend a large number of incumbents next year.
When Johnson defeated Feingold in 2010, the Democrat waved off help from outside groups, including the Democratic Senatorial Campaign Committee, as part of his platform to keep money out of politics. That year, Republican outside groups outspent Democratic groups nearly 2-to-1 ($2.6 to $1.3 million), according to data from the Center for Responsive Politics.
This time, Feingold took back his outside spending pledge, saying such a policy "makes no sense now" following recent court rulings on campaign finance. He proposed a mutual pledge between the two campaigns to curb spending by outside groups, to which Johnson did not respond.
Democratic groups looking to replicate the strategy executed by conservative groups like Americans for Prosperity—which found success attacking Democratic incumbents more than a year ahead of the 2014 elections—have spent early to label Johnson a climate-change doubter. The League of Conservation Voters, the biggest spender against Johnson so far, actually began targeting him with television ads in the summer of 2013, more than three years ahead of his reelection. In the latest poll from Marquette University, Feingold led Johnson 50 percent to 36 percent, and more voters viewed Johnson unfavorably than favorably.
"We're ob­vi­ously not try­ing to de­feat Ron John­son right now," Navin Nayak, then LCV's seni­or vice pres­id­ent for cam­paigns, told National Journal at the time. "A lot of what we're try­ing to do, both on the elec­tion side and in this kind of cam­paign, is to demon­strate the polit­ic­al sa­li­ency of our is­sues…. We feel con­fid­ent that when con­stitu­ents find out their mem­bers are cli­mate den­iers, they'll take a hit at home."
It's similar to AFP's 2014 strategy, which set the tone in big Senate races with a drumbeat of ads tying incumbents to Obamacare.
"The lesson from 2014 was that early advertising really helped drive a narrative and made Obamacare probably one of the most dominant issues that was being debated in those states," said AFP spokesman Levi Russell. "Starting some messaging early where it's not saturated with a lot of political advertising and people are just starting to tune in has a lot of value."
AFP is doing that again in some states: In Ohio, the group launched a $1.4 million campaign against Sen. Rob Portman's Democratic challenger, former Gov. Ted Strickland, seeking to set the tone around job loss that occurred during his time as governor. AFP and others have also launched preemptive strikes against New Hampshire's Democratic Gov. Maggie Hassan, who many expect to challenge GOP Sen. Kelly Ayotte, tying her to a controversial budget veto.
But Russell said the group has no plans right now to go into Wisconsin's Senate race, noting simply that the group looks at a "number of factors" when deciding where to engage. (AFP is involved in several local issues in Wisconsin right now.)
Several other GOP groups have also skipped over Wisconsin, despite touting the early-money strategy in a handful of other races.
The U.S. Chamber, the biggest spender on Johnson's behalf in 2010, launched a very public effort go up early in nearly every other Senate battleground—even Arizona, which is more of a long-shot target for Democrats—in July. The nonprofit One Nation, part of the Crossroads network of GOP outside groups, has run positive ads on behalf of incumbents in Ohio, New Hampshire, Pennsylvania, and even North Carolina, where Sen. Richard Burr didn't yet have a challenger—but not Wisconsin.
Brian Reisinger, a spokesman for Johnson's campaign, said in a statement that they're "confident Ron will get all the support he needs."
All of these groups say it's still early, and none of them have ruled out getting involved in Wisconsin at some point. Meanwhile, the biggest conservative group playing in Wisconsin is one that some of them have clashed with in the past.
The group spending the most defending Johnson right now is the Club for Growth (with an assist from a new Illinois-based super PAC called Restoration PAC). They've combined to spend $1,226,768, according to the media tracker.
Establishment Republicans have long lamented some conservative groups' heavy investment in primaries at the expense of general elections. But in this case, the Club—one of the best-financed conservative groups in Washington—is investing big in the one of the most competitive races of the 2016 election cycle largely on its own.