When a Super PAC Acts Like a Campaign
By doing the sort of advance work traditionally left to campaign staff, CARLY For America is redefining what makes a super PAC "independent."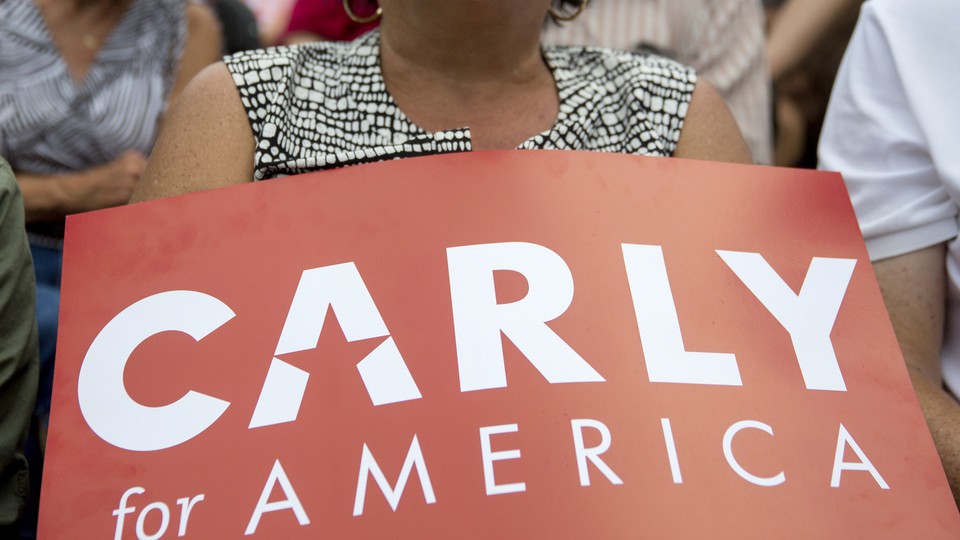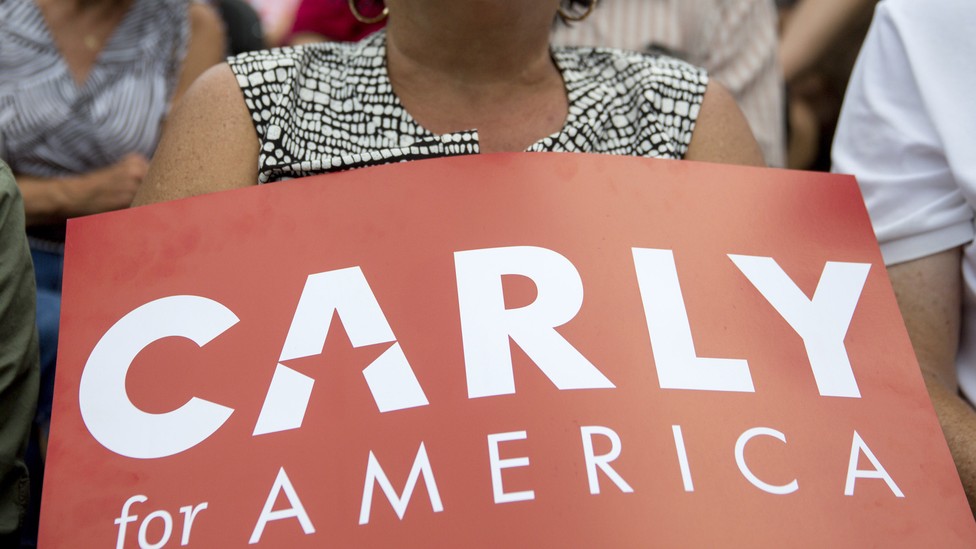 On a recent swing through Iowa, Carly Fiorina kept a rigorous campaign schedule. At six campaign stops over the course of two days and 300 miles, Fiorina spoke in front of Republican crowds at three colleges, an ice cream parlor, a vineyard, and an outdoor tiki bar. And at each event, staffers working for a super PAC that supports Fiorina's candidacy were one step ahead of the campaign.
Traditionally, a political campaign will have dedicated staffers on the ground to "advance" the candidate, arriving at an event space before the candidate shows up, making sure the room is decorated with campaign swag, and setting up a table where attendees can sign up for the all-important email list.
At the events in Iowa, Fiorina's campaign had no visible advance presence. There was, however, a well-organized advance team awaiting Fiorina's campaign at every stop, courtesy of a super PAC called Conservative, Authentic, Responsive Leadership For You and For America—better known as CARLY For America.
At a typical Fiorina campaign stop, a CARLY For America staffer was stationed at a table outside of the event space to sign up attendees for the super PAC's email list. Another staffer handed out CARLY For America stickers to attendees as they arrived. When Fiorina and her staff entered the event, they were usually met by a room covered in red "CARLY" signs and tables covered in pro-Fiorina literature, all produced by CARLY For America.
If a regular voter attended every campaign stop and handed out flyers telling someone to vote for that candidate, the cost of printing would count as an in-kind expenditure. Both Fiorina's campaign and CARLY For America maintain that the work being done by the super PAC does not constitute an in-kind contribution to the campaign, but an independent expenditure. But election-law experts say that, in effect, the super PAC is providing a service by staffing the events.
The Federal Election Commission defines an in-kind contribution as "goods or services offered free or at less than the usual charge." That could mean anything from a computer, to office furniture, to merchandise, to catering at an event—pretty much any good or service given to the campaign that has value. It is illegal for someone to give a campaign goods or services that exceed $2,700—the limit for donations to federal candidates—and PACs that accept money from corporations or labor unions cannot provide any in-kind contributions to the campaign.
This differentiation between in-kind and independent expenditures can lead to some confusing optics. It was Fiorina's birthday on Sunday, and at a campaign stop in New Hampshire she was presented with a birthday cake. The cake was decorated not with her campaign's logo, but the super PAC's logo. At a Labor Day parade the next day, a video sent out by Fiorina's official Twitter account shows the candidate walking down the street, surrounded by supporters in CARLY T-shirts, waving CARLY signs. There was no visible campaign swag from Fiorina's presidential campaign, so a casual observer could reasonably assume that the paraphernalia was coming from the campaign itself.
Sarah Isgur Flores, Fiorina's deputy campaign manager, acknowledged that the campaign does not do as much merchandising at events as CARLY For America does, but said the super PAC's advance work does not constitute an in-kind contribution because it is not coordinating with the campaign.
"The issue with super PACs is never that they would make an in-kind contribution. It would be coordination," Flores said. "It's the coordination that's the issue."
Larry Noble, who served as the FEC's general counsel from 1987 to 2000 and now works at the Campaign Legal Center, disagrees with that assessment. Noble said that the super PAC's advance work wouldn't be a problem if Fiorina's campaign were performing similar functions at Fiorina's events, but that it appears as if the super PAC is fulfilling a larger role within the campaign by "providing the infrastructure for the event.
"That's the type of thing that the campaign would have to pay for, but the super PAC is doing," Noble said.
Flores, who worked for CARLY For America before joining Fiorina's campaign, said the campaign tries to advance as many events as it can, but added that the support they observe from CARLY For America staffers is "fantastic.
"It depends on the event, but yes, we have staff that normally goes to things ahead of time," Flores said. "We'll continue doing our thing, but we're thrilled that they're doing theirs."
Unlike in 2012, when super PACs mostly spent money on television advertising, super PACs are starting to get much more personal with their spending this cycle. Leslie Shedd, CARLY For America's spokeswoman, said the super PAC's staff finds out about Fiorina's campaign events through public listings, then sets up a table to sign up attendees for its email list and distribute swag.
"What you're seeing now is the modern campaign," Shedd said. "This is how campaigns are evolving and moving, and I think that we just kind of latched onto that."
Shedd said the super PAC decided the best way it could help is with on-the-ground work, which she said is "one of the most expensive and time-consuming aspects of any campaign.
"For a candidate like Carly Fiorina, who is a political outsider, who does not have the political base that a lot of these other kind of career politicians in the race have had, what we decided as an outside group that the best thing that we could help to provide is ground-game support," Shedd said.
When asked to clarify whether or not the super PAC provides those services so that the Fiorina campaign does not have to worry about them, Shedd balked.
"No, I would definitely never say that because that would be coordinating," Shedd said. "What I have told you is that we have assessed the situation and we have determined that one of the ways that we can help is by helping with the ground game."
The FEC and the Department of Justice are still mapping out the boundaries of what makes an in-kind contribution illegal. So far, there has been little precedent set, but there have been a few cases that shed light on how the government thinks about the issue. In 2012, after the Republican super PAC American Crossroads used footage created by Sen. Rob Portman's reelection committee in its own television ad, the FEC ruled in favor of Crossroads, and said republishing the campaign's footage did not constitute an in-kind contribution. This past June, a Virginia man was sentenced to two years in prison for spending $325,000 worth of super PAC funds in coordination with a campaign committee for a candidate in Virginia's 11th Congressional District.
CARLY For America is not the only super PAC to push the definition of independent expenditures this cycle. Three super PACs supporting former Texas Gov. Rick Perry have been propping up Perry's candidacy while his own campaign has had to stop paying staffers in key primary states. And Correct the Record, an opposition-research firm led by prominent allies of Hillary Clinton, is arguably taking work off Clinton staffers' hands by digging up dirt on Clinton's opponents.
Bob Biersack, a senior fellow at the Center for Responsive Politics, says the fact that all these super PACs are providing services that so directly support one specific campaign puts the lie to the idea that they are acting independently.
"This pantomime that we're doing on so many levels now, pretending that these organizations are autonomous and independent when common sense defies that notion ... is just another example of the somewhat ridiculous lengths that people will go to to maintain the illusion of independence," Biersack said. "They really need it to be an illusion."
Noble says this case is not so much about one campaign as it is an example of the FEC's failure to enforce specific standards.
"This shows what happens when the FEC doesn't enforce the rules, and people just keep pushing the lines to the point where, if what they're doing is accepted, it's legal, there are no lines between super PACs and campaigns anymore," Noble said. "Why even have a campaign committee anymore?"