What President Xi Wants
The Chinese president's Wednesday visit with tech executives in Seattle sets the tone for his trip to Washington later this week.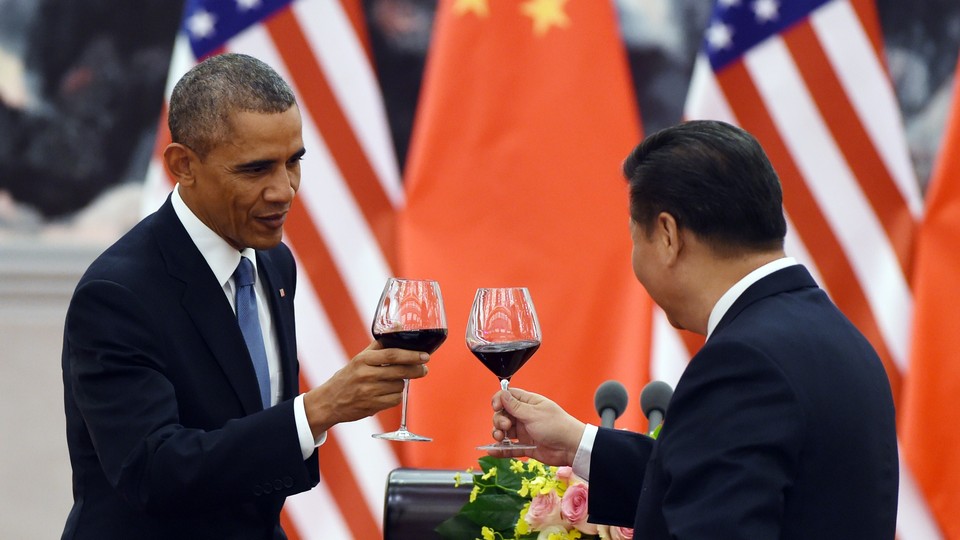 The White House has publicly criticized China in recent months for manipulating its currency, engaging in corporate espionage, proposing restrictions for U.S. tech firms that want to do business in the country, and being involved in a spate of cyberattacks that targeted American companies and government agencies.
Despite this tension, however, President Obama will greet Chinese President Xi Jinping with a 21-gun salute and a formal state dinner when he visits Washington this week. And while Obama has a long list of grievances he will likely want to take up with Xi, the Chinese president is coming with his own agenda.
Technology and cybernorms will be a focus of Xi's state visit, which begins Tuesday in Seattle. There, Xi will commune with tech leaders—including the chief executives of Amazon, Apple, Microsoft, IBM, Google, and Facebook—becoming the fourth consecutive Chinese leader to travel to the Pacific Northwest tech hub.
The president's visit comes during a tightening of restrictions in Beijing on foreign technology companies operating in China. Xi will likely try to convince American companies to comply with a series of drastic proposals that would change the way they do business in the country.
One proposal would require foreign tech companies to agree to store data about Chinese users within the country, and maintain "secure and controllable" products, a phrase which may amount to a government request for intimate access to systems and technology deployed in China, The New York Times reported last week.
A national security law put forward this summer included some of the same stipulations about data localization, and would allow the Chinese government to levy fines against Internet companies that did not swiftly delete and report information that Beijing finds objectionable.
American tech companies have in the past gone along with the laws China imposes in order to preserve their access to the lucrative Chinese market. Chinese media reported earlier this year that Apple became the first foreign technology company to submit to Chinese "security checks."
But Obama has pushed the business community to back up the administration's positions by airing their own grievances with the Chinese government. "Don't tell us on the side, 'We've got this problem, you need to look into it, but leave our names out of it because we don't want to be punished' kind of thing," he told business leaders at a speech to the Business Roundtable last week.
"Typically, we are not effective with the Chinese unless we are able to present facts and evidence of a problem," Obama continued. "Otherwise, they'll just stonewall and slow-walk issues."
When Xi heads to D.C., cyberespionage and cyberspace norms will figure prominently in scheduled meetings, which will come on the heels of negotiations between American and Chinese officials over the rules of cyberwar.
The White House is walking a tightrope in its relations with China, trying to simultaneously respond firmly to China's aggression while keeping lines of communication open and productive.
The administration has considered imposing economic sanctions on China to punish it for cyberattacks, but has made clear the distinction between the theft of trade secrets, which it says is an anticompetitive practice, and conventional espionage. "We have repeatedly said to the Chinese government that we understand traditional intelligence-gathering functions that all states, including us, engage in," Obama said at the Business Roundtable speech. "And we will do everything we can to stop you from getting state secrets or transcripts of a meeting that I've had, but we understand you're going to be trying to do that."
Government officials have placed the large-scale breach at the Office of Personnel Management in the category of traditional spying, pushing back against characterizations of the breach as a cyberattack. "That's a passive intelligence-collection activity—just as we do," said Director of National Intelligence James Clapper at a Congressional hearing this month.
But as Washington braces itself for the security precautions that will accompany both Xi and Pope Francis during their visits to the capital this week, some lawmakers have accused Obama of showing weakness in his dealings with China. Republican presidential candidates have piled on, too: Marco Rubio and Scott Walker last month called for Obama to downplay or outright cancel Xi's visit.
Calling the U.S.–China relationship "the most consequential in the world today," National Security Advisor Susan Rice said Monday that ongoing engagement and negotiations are the only option. "I know that some people question why we host China at all. That is a dangerous and shortsighted view," she said at an appearance at George Washington University. "If we sought to punish China by cancelling meetings or refusing to engage them, we would only be punishing ourselves."
She added, "If America chose to remove itself from China, we would only ensure that the Chinese are not challenged on the issues where we differ and are not encouraged to peacefully rise within the international system that we have done so much to build."