What It Was Like Inside the Capitol When Pope Francis Spoke to Congress
Members were alternately awed, respectful, and teary-eyed for the historic address.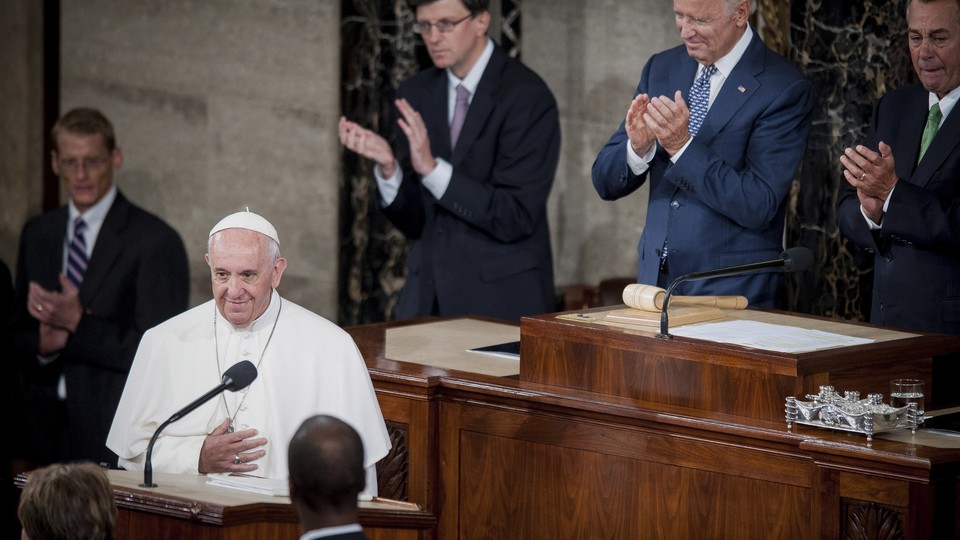 Behind him were columns of black Italian marble. Above him, engraved into the wall, were the words "IN GOD WE TRUST." The House chamber was made for a pope before one was really welcome or ever came—and the response when he finally did was solemn and quiet until it roared.
The 51-minute speech reminded the 79 million U.S. Catholics how they are politically homeless, as the pope gave fodder to each of America's two parties, while urging a necessary message for an often-dysfunctional Congress: a "renewed spirit of fraternity and solidarity, cooperating generously for the common good." He called to mind the country's better angels—including Abraham Lincoln and Martin Luther King, Jr.—and its song ("The land of the free and the home of the brave"), as well as American Catholic heroes Dorothy Day and Thomas Merton.
He didn't stray from topics that divide the country. On one occasion, the appearance looked more like a President Obama State of the Union, as the pope called "to avert the most serious effects of the environmental deterioration caused by human activity." The Democrats stood and cheered while most Republicans sat. The Democrats were also more sudden and forceful in their applause when Francis discussed immigration, saying, "We, the people of this continent, are not fearful of foreigners, because most of us were once foreigners."
But he usually received cheers from both the Left and the Right, and appeared to cut a potentially tricky line about how politics "cannot be a slave to the economy and finance." There were congratulations all around: a fist pump from Rep. Chaka Fattah at the mention of Philadelphia—one of the pope's next two visits—and pats on the shoulder from Reps. Joseph Crowley and Rosa DeLauro for civil rights hero Rep. John Lewis at the mention of Martin Luther King's march from Selma to Montgomery. Lewis suffered a skull fracture there and put hand over heart as the pope said, "I am happy that America continues to be, for many a land of 'dreams.'"
He certainly fulfilled one for Sen. Lisa Murkowski, a Catholic. Before Francis addressed Congress, the escort committee—a select group of members that walked into the chamber with the pope—lined up. They were told, Murkowski said, to stand with their feet together, their hands clasped in front of them. And if the pope greeted them, they were told they could greet him back.
Francis moved quickly through the double line of members. Murkowski stretched out her clasped hands clenching two rosaries. One, an Alaskan jade she was given for her 25th birthday. The other, her sister-in-law gave her from Brazil. Francis noticed. He put his hand on the pile of rosaries, cupped Murkowski's other hand over it, and blessed her.
"I could not speak," said Murkowski after the event. "Sen. Collins was directly to my right, and she said, 'Welcome, Your Holiness.' So, she provided the audio because I was absolutely just speechless. I still have tingles."
There were breaches of decorum usually reserved for a rock star. There was at one time a solo whoop—quickly stifled, hand now over mouth—from one representative when the pope called for the "the global abolition of the death penalty." Sen. Elizabeth Warren held her smartphone up high so that she could snap a photo. Sen. Joe Manchin had a similar idea but a different approach, choosing to twist around the military man in front of him. They both broke House rules.
Of course, not all participated in the adulation; the four Supreme Court justices present, dressed in black robes, sat quietly in front the whole time. But the rest of the flock did, even though some struggled to understand him. Shortly after the pontiff took the podium and started to speak, House Speaker John Boehner—a devout Catholic who for decades had worked to secure the first papal address to Congress—began to tear up. The Republican leader known for a sharp tongue took out a handkerchief at various points during the speech to wipe away tears. As the pope ended his speech and the crowd—including several presidential candidates—rose to its feet, Sen. Tim Kaine outstretched his arms as if receiving a blessing.
Yet even the leader of a billion-person flock may not be able to change the habits of 535 elected U.S. officials, especially as it argues over abortion in the looming debate over government spending. After the papal address, Sen. Ted Cruz, a GOP presidential candidate, said, "It was striking and heartbreaking to see so many congressional Democrats stone-faced, arms crossed, when the Pope urged us all to defend human life—the first and most fundamental right and fundamental obligation."
The pope ended his speech with a call to America's spirit: "It is my desire that this spirit continues to develop and grow, so that as many young people as possible can inherit and dwell in a land which has inspired so many people to dream." But some members responded that they were focused on more earthly pursuits.
"We can always hope, but I think he's operating in a more spiritual realm," said Sen. John Cornyn. "We're involved in the day-to-day, back-and-forth, rough-and-tumble politics and trying to actually find consensus here."
---
Sarah Mimms, Clare Foran, and Rachel Roubein contributed to this article