What Can the New Ferguson Report Achieve?
A commission set up by Governor Jay Nixon delivered 198 pages of recommendations, but skeptics wonder whether any of its ideas will be implemented.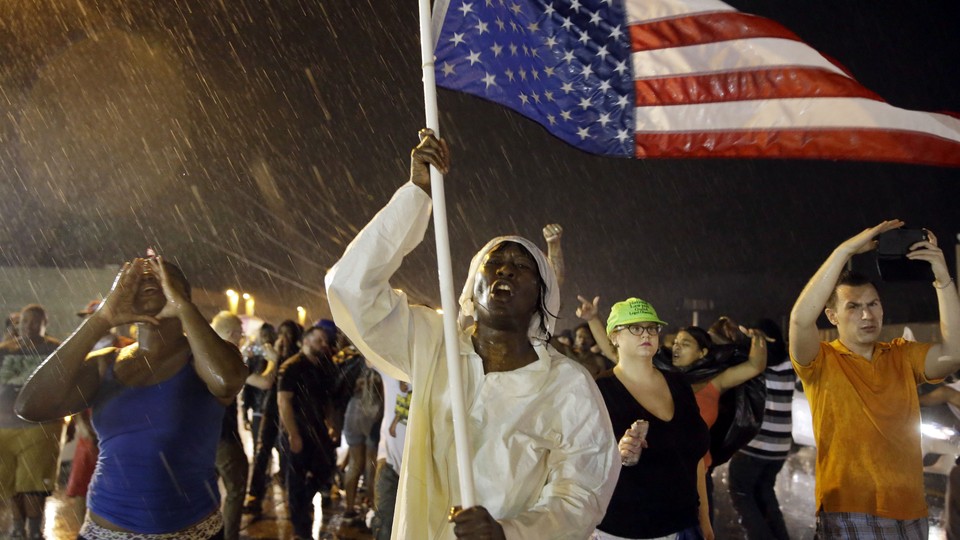 In the months since Michael Brown was shot to death on a street in Ferguson, the state of the city and the St. Louis region have been painstakingly studied. That has included two detailed Justice Department reports and an incredible amount of journalistic coverage. Now comes yet another report: the findings of the "Ferguson Commission" created by Missouri Governor Jay Nixon.
The report, "Forward Through Ferguson," is a sprawling project, laid out in a slickly designed website and a 189-page document. It offers detailed recommendations for reforming the police, the courts, and the education system with an eye toward racial justice.
But while the report looks like a policy recommendation, the authors shy away from that: "Our primary audience for this report is the people of the St. Louis region," they write. "With that in mind, we have written this report to speak to an audience of average citizens— not lawyers, legislators, academics, politicians, or policy wonks." In addition, they caution that "while this report includes many specific policy calls to action, it is not an implementation plan."
They're on to something. The report is so vast as to raise questions about its utility or even its point. Many of the proposals in the report fit with what other people have recommended, including the portions on police reform. Others appeal to a fairly basic, if left-leaning, common sense: If schools are better, fewer children will end up in the justice system; proving affordable health care to impoverished communities will improve their well-being. Creating a public-transit system will enable the poor to work more easily.
The police section is particular detailed, calling for, among other things, less use of force; more rigorous and consistent training; culture-responsiveness training; and civilian review boards.
But it's a long way from saying these things to make them happen. Who will pay for a transit system? Who will retrain police departments across the state? Each section helpfully includes a list of accountable bodies for each item, but that just reinforces the challenge: The list includes everything from discrete individuals (the governor) to abstract groups (the philanthropic community), and dozens of governmental agencies across all three branches. Politically, state-wide overhauls will be a tough sell with Missouri's Republican-controlled legislature. (Nixon is a Democrat.)
The New York Times talked to some members of the community, who expressed reservations.
"What this group has done over the last year has just put into written form what so many people have already voiced for years about change that needs to happen in the St. Louis region, but identifying a problem and fixing it are different," Antonio French, a St. Louis alderman who has been active in protests, said on Sunday.

Maria Chappelle-Nadal, a Democratic state senator, said she feared that the commission's findings would be announced with great fanfare, "but then we're just going to hear crickets, crickets, crickets."

She added: "The practicality of getting any of this done is close to null."
Their pessimism is understandable. "Forward Through Ferguson" is an impressive collection of ideas and research, but whether a document that has such a sweeping scope but no clear path to implementation can fix what ails Ferguson is a question that remains unanswered.