What Bernie Sanders Can Bring to Liberty University
When the presidential hopeful visits Liberty University, he'll expose students to a party otherwise cloaked by the many Republican presidential candidates that have come before him—can his visit influence a conservative audience?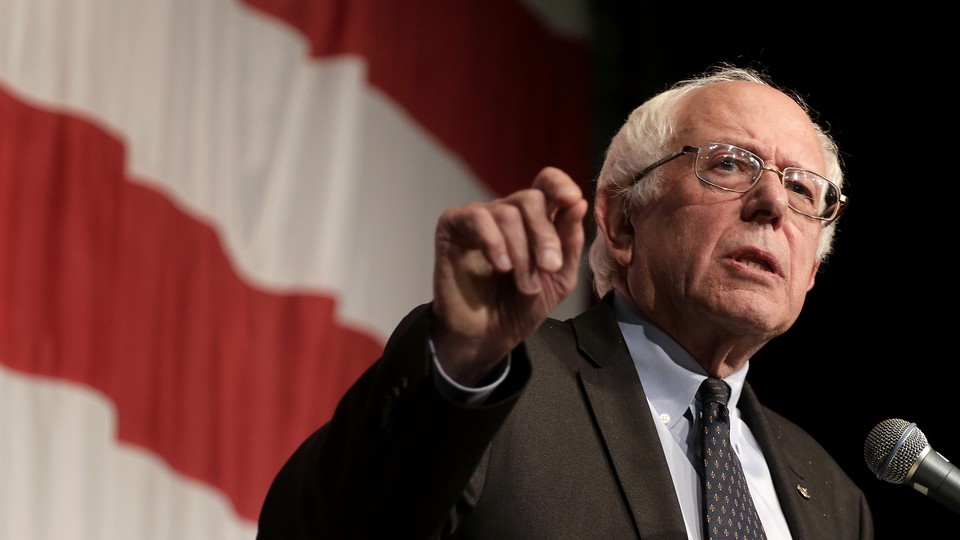 It's not unusual for Liberty University to host politicians. In the spring of this year, it gained national attention when Ted Cruz announced his presidential bid on campus. Liberty has hosted speakers such as Donald Trump, Rick Perry, Michele Bachmann, and Sean Hannity. But when Liberty University announced its convocation speakers for the fall of 2015, including Scott Walker and Ben Carson, it included an unexpected name: Vermont Senator Bernie Sanders.
As a student at Liberty University, I have learned from my professors how to apply my conservative theology to all areas of my life. And that's why I'm drawn to support Bernie Sanders's presidential campaign.
Jerry Falwell, the founder of the university, strongly believed that teaching students how to integrate their Christian worldview into all sectors of their lives, especially politics, is an essential part of providing a Christian education. I agree with the Liberty University Doctrinal Statement, which says that the Bible is "true revelation" that is "inspired by God" to create a standard of truth, there is one God "who exists eternally in three persons," and Jesus Christ "offered himself as a sacrifice" for humanity's sin. However, I find myself in the minority on campus politically.
Two years ago, I started my college journey at a similar point to most college freshmen, politically ignorant. Many of my southern friends and relatives hoped that I would develop a firm foundation of conservative Christianity, politically and theologically. However, after joining the debate team my freshman year, I realized that I was much more politically liberal. On the debate team, I was able to research and explore political ideas that I never would have discovered on my own. At first this led to a massive amount of tension with the rest of my studies. I struggled to reconcile the secular politics I learned in debate, and the Christian principles leaders in my faith were teaching. With help from my coaches, teammates, and even some of my professors I began to learn to craft my own means of integrating what I believe about politics and what I believe about God.
Many of my conservative Christian peers are baffled by the idea that my political beliefs could be grounded in my faith in Jesus Christ; but I believe the best way to find any sort of concrete truth among the shifting cultures of Christianity is to go directly to the Bible. From my studies, I have concluded that the Bible clearly indicates all life is valuable. Jesus calls his followers to care for those on the fringes of society: the poor, orphans, immigrants, and other disenfranchised groups. His calling leads me to a strong passion for social justice and an interest in hearing Senator Sanders speak.
Some readers may question what a conservative Christian would define as social justice. The National Association of Social Workers defines social justice as "the view that everyone deserves equal economic, political and social rights and opportunities." The policies that the government creates shape people's access to these rights and shape the way that citizens, under the power of the government, view each other's legitimacy. For example, when the government gave women the right to vote, it led the rest of the nation to acknowledge the personhood of women outside of their relationships to men. This gave women more power politically but also began a movement towards an increased acceptance of women in the workforce. If it is true that the Bible states that all life is valuable, than these types of policies should be important to Christians.
Jesus spent the majority of his time on earth ministering to people seen as outcasts or invaluable to his community. He healed people with diseases and disabilities, reached out to those facing judgment from religious and political authority, and continually gave of himself to those in need. A favorite biblical story of mine is commonly referred to as "The Woman at the Well." While traveling throughout Israel, Jesus met a woman at a well in Samaria. At this time in history, Jews disliked Samaritans and would go completely out of their way to avoid the area. If they happened to come across a Samaritan woman, most Jewish men at this time would have refused to interact with her because of her faith and gender. Jesus crosses these cultural barriers to reach out and share his love with this woman. Jesus's conversation with the woman indicates that she felt ashamed of her life and disconnected from her community. Jesus makes it clear that he knows the woman completely. He knows the worst parts of her life and the reasons that her community has rejected her; but regardless of these facts he cares for her. The woman was overwhelmed by this encounter. She immediately went back to everyone she knew and encouraged many of her friends to follow Jesus. Because of her peculiar story many Samaritans were drawn to Jesus's radical ministry.
Jesus chose to continually take people situated on the outside of society and bring them into community with him. Christians are directed to do the same. The Gospel of Matthew states that what we do for "the least of these" we are doing for Jesus. It even says that Jesus will not recognize those who refuse to care for the impoverished people in their communities.
For me, applying these truths to my political life puts me somewhere in between the two political parties. There is not a candidate for the upcoming election with whom I fully agree; but the majority of Sanders's political ideas seem to fit well with my faith. According to his campaign site, Sanders's political focus is on issues such as strengthening the middle class, racial justice, women's rights, and a better immigration policy. These types of policies help more people gain equal access to political, economic, and social rights. Sander's economic policies have the potential to shift our countries' mindset from profit motive to a focus on communal well-being and equality. A governmental focus on these policies could help America to create a more inclusive community; a community that would allow us to decrease the number of people left on the margins of society.
September 14th will be a big day for Liberty University. Hosting Sanders at convocation is a big step towards becoming more accepting of the variety of political beliefs that each student may support. Sanders's visit will give the students of Liberty the opportunity to learn what motivates his various political stances. Hopefully this will lead more students to begin to contemplate how different political ideas can fit within the Christian worldview.