Waiting for Elijah Cummings
The big questions in Maryland politics: Is he running for Senate? And when will it be too late for him to decide?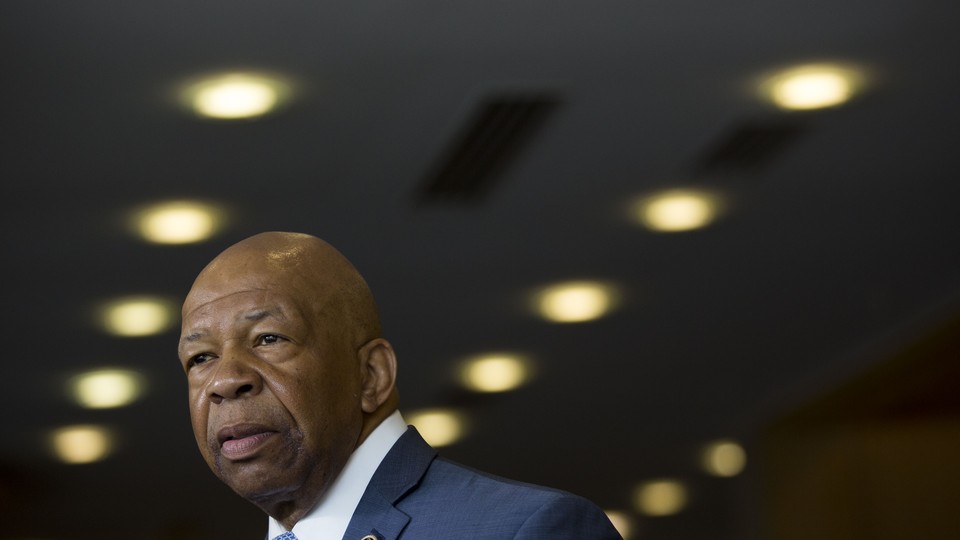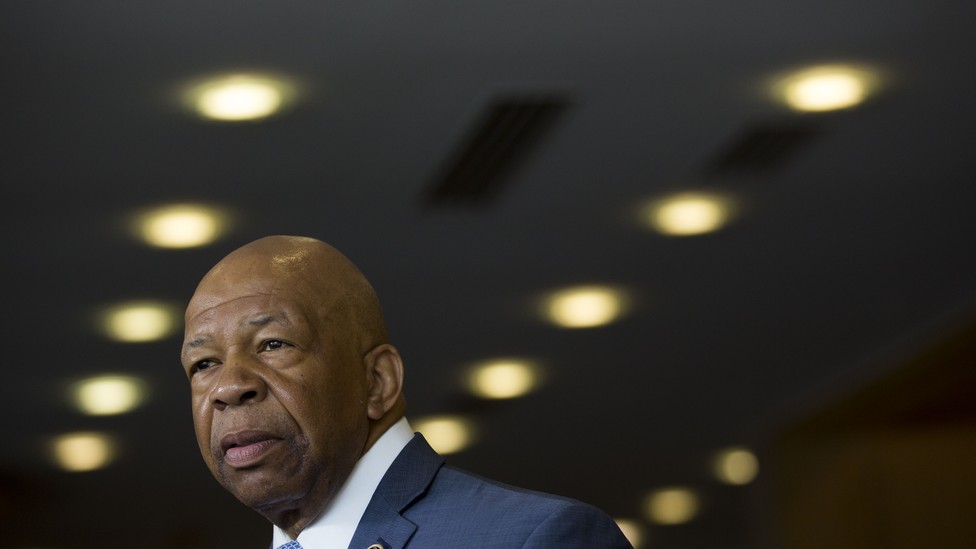 Plenty of Democrats in Maryland would love to see Rep. Elijah Cummings run for Senate. No one seems to know if he will—or even when he'll decide.
"I don't think Elijah Cummings knows whether Elijah Cummings is going to run yet," said Doug Gansler, who served as Maryland's attorney general before losing in the 2014 gubernatorial primary. "I don't think this is one of those things where he's playing coy."
Democratic operatives in the state say Cummings has done little to tip his hand on his intentions; his campaign has downplayed speculation surrounding his hiring of a veteran Senate fundraiser. Even those who say they talk regularly with Cummings have different ideas about when he'll make his decision.
Rep. Dutch Ruppersberger, a fellow Baltimore-area member who's also considering running, said he's communicating with Cummings and the two of them will likely decide their paths by the end of the month. "I've encouraged Elijah to run," Ruppersberger said. "It's something he should look at. We're going to all pull it together by the end of September."
Asked Thursday by National Journal about his timeline for deciding, Cummings said, "I'm getting there."
He added: "Right now I'm really concentrating on—I spend so much time in Baltimore, I spent most of my time on the break dealing with gangs and trying to get people jobs."
Some say they don't expect Cummings to make a Senate decision until after the House Select Committee on Benghazi—on which he serves as ranking member—hears the testimony of former secretary of State and Democratic presidential front-runner Hillary Clinton on Oct. 22.
"What I've been told is the Benghazi hearing is focusing his attention," said one Maryland political operative, who requested anonymity to speak candidly about the race. "He feels that he has to be ready for that hearing. … That takes all of his time."
Others said Cummings might worry about the hearing becoming politicized if he is an announced candidate for the Senate. "If he's a candidate there—as soon as you become a candidate, everything you do is viewed through that lens," said another Democratic operative with Maryland ties. "He's smart enough to know that."
Whenever—and whatever—Cummings decides, Maryland Democrats say two factors will play into his choice: his deep love for the city of Baltimore and his role as the White House's top defender on Capitol Hill.
Allies said Cummings is content in his role as ranking member on the Oversight and Government Reform and Benghazi committees, where he's earned respect from his colleagues for the often-thankless task of defending administration officials from what Democrats view as GOP witch hunts.
But observers say he's also troubled by Baltimore's loss of statewide political power. Gov. Larry Hogan hails from Prince George's County in the Washington suburbs, and Reps. Chris Van Hollen and Donna Edwards—the two declared Senate candidates so far—also come from districts that border the nation's capital. That, coupled with the unrest in Baltimore after the death of Freddie Gray, have led some to believe Cummings views a Senate run as the best way to bring Baltimore's issues to the forefront. "In many respects, he's upset that Baltimore seems to be losing power so quickly, and that makes him want to run," said the Maryland operative.
Others see it differently. "He represents his district so well in the House, it'd be a shame to lose that," said Richard Hall, the executive director of Baltimore's Citizens Planning and Housing Association. "His future is more certain if he stays in the House, and he's got a lot to build on there. ... It would be a huge loss on the House side."
What most observers can agree on is that there's still time for Cummings to get into the race. "If Elijah Cummings entered the race, it's difficult to imagine how he would lose the race," Gansler said. "He would be the immediate favorite. … There's a lot of time left. Because of his connections, power, what he's done, he can certainly wait longer than most candidates. And frankly he doesn't need to raise the amount of money that other candidates need to raise."
Cummings's allies say those factors—his statewide name recognition and popularity—would make him the front-runner if he chose to run. But others question whether he could do enough to offset his weaknesses: the lack of an established, robust campaign apparatus and limited fundraising capacity. And as Van Hollen and Edwards snatch up donors and endorsements, some see Cummings's window narrowing.
"He'd have to be raising his money right now, and right after Benghazi he'd have to pull the trigger," said the Maryland operative. "That'd be the absolute last moment to jump in."
Ruppersberger, who thinks Cummings's decision is coming soon, said he would immediately catapult to the front of the pack if he runs. "If Elijah would [run], I think he would be [the front-runner] based on the polling that I've seen," he said. "He has a lot of name recognition in Prince George's County."
That's another advantage cited by Cummings's backers—he would bring a strong Baltimore base while Van Hollen and Edwards fight over the suburban vote. And, they say, he would cut into much of Edwards' Prince George's County base. Multiple operatives mentioned a late August forum in the county on the Voting Rights Act that included Cummings and Rep. John Lewis.
"He couldn't even get out of the room afterward," Gansler said. "He was getting bombarded by people urging him to run for that seat."
The operative with Maryland ties said Cummings was similarly impressed with the reaction. "'I was amazed at the reaction I got in Prince George's County,'" he said Cummings told him. "'The government workers there and the people who follow politics know my story. ... I don't campaign there, I don't run ads.'"
Geography aside, Cummings could be positioned to cut into two of Edwards' biggest statewide targets—African-Americans and progressives. Maryland has yet to send an African-American to the Senate, and some feel Cummings would supplant Edwards as the preferred candidate among those who want to reach that milestone.
Edwards has long had a strained relationship with the Congressional Black Caucus. And while Edwards has tried to make herself the progressive favorite in the primary—earning the endorsements of several outside groups—Cummings comes with strong liberal bona fides of his own. He's also close friends with progressive icon Sen. Elizabeth Warren, and the two have worked together on a number of issues.
Spokespeople for the campaigns of Van Hollen and Edwards did not comment for this story. But even Edwards's team has publicly acknowledged Cummings's strength. An internal poll released in August by the Edwards campaign, one which showed her with a narrow lead over Van Hollen in a head-to-head primary matchup, gave Cummings a rating of 65 percent favorable, 9 percent unfavorable, and the accompanying memo noted that he "is very popular."
Without clear signals from the man himself, outsiders have been left to hazard guesses.
"It would absolutely change up the race, but victory would be far from assured for him," said the Maryland operative. "My guess is after all this he concludes the timing just isn't right."
"He hasn't ruled it out, and he hasn't determined he's going to jump in yet," Gansler said. "He's getting an enormous amount of pressure from people who want him to get into the race. … He would be extremely formidable."