Volkswagen Scandal Offers Role Reversal for U.S. and Germany in Pollution Fight
Uber-green Germans are embarrassed they let the Volkswagen scandal happen under their nose, and that they needed gas-guzzling Americans to blow the whistle.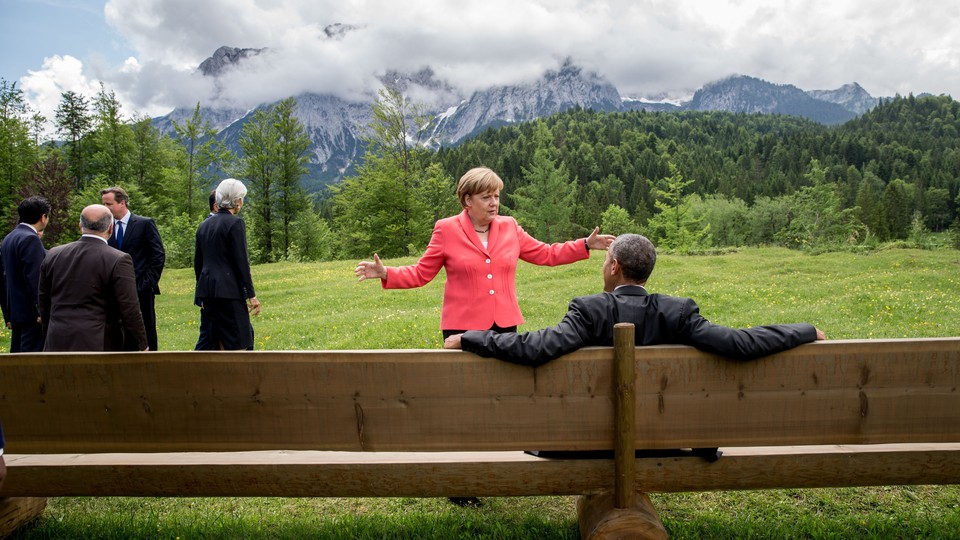 BERLIN—How the tables have turned.
Germany is reeling from Volkswagen's widening emissions-rigging scandal, which has caught the country's biggest company in an attempt to fool American regulators and jeopardized the standing of one of its most recognizable brands.
But Europe's largest economy, which enjoys a reputation as a paragon of efficiency that flexes engineering know-how with small carbon footprints, is also suffering from a case of national embarrassment. A country where there is a shortage of trash, where people find it rude not to properly recycle, and where the Green Party is a viable political entity is suddenly facing international scrutiny for exporting cars that spewed up to 40 times the amount of pollution into the atmosphere that it claimed.
Worse for Germany, it was the gas-guzzling United States that blew the whistle, amounting to a remarkable role reversal for two countries historically regarded as occupying opposing ends of the environmental spectrum.
"There is a sense of disappointment with the possibility of boiling over into outrage," said Irwin Collier, an American economist who teaches at the John F. Kennedy Institute for North American Studies at the Free University in Berlin. "The question is naturally raised in Germany, why weren't our [German authorities] able to catch them?"
Instead, it was the Environmental Protection Agency under the Obama administration.
The nonprofit International Council on Clean Transportation alerted EPA to the potential for fraud after conducting its own tests on the vehicles. Under the Clean Air Act, the company could face fines of up to $37,5000 per vehicle, opening the door for a potential penalty of up to $18 billion.
The scandal—which claimed Volkswagen CEO Martin Winterkorn's job Wednesday—has also underscored the regulatory might of the oft-maligned EPA, which got Volkswagen to fess up to cheating one of America's bedrock environmental laws.
For American greens, who at times suffer from an inferiority complex when comparing their country's domestic environmental record to their cross-Atlantic neighbors, the Volkswagen snare offers a chance to flash a touch of pride: "This is a powerful reminder that when the U.S. makes environmental commitments, it honors them, especially those enshrined in domestic law," said Paul Bledsoe, an energy and climate consultant and former Clinton administration official.
The incident has also highlighted the fact that the U.S. currently has some of the most stringent emissions standards for vehicles aimed at safeguarding air quality, standards that have been tightened under the Obama administration.

But despite catching Volkswagen and pushing cleaner automobiles, the U.S. is still regarded around much of the globe as a car-obsessed, wasteful country that contributes an outsized amount of pollution into the atmosphere. Together with China, the U.S. remains on the hook for nearly half of the global greenhouse-gas emissions that drive global warming.
Germany, meanwhile, has long had a reputation of acting as a world leader on the environment, an image enshrined in hard-charging commitments such as a pledge to transition to an electricity sector powered entirely by clean energy by 2050.
And German Chancellor Angela Merkel has staked out a role as a leading force in marshaling commitments from the rest of the world to act on climate and the environment.
The timing of Volkswagen's "dieselgate"—which the company said this week could implicate as many as 11 million vehicles—arrives at a particularly bad time for Merkel, herself a former environment minister, who is due in New York this weekend to appear before the United Nations in a bid to persuade international leaders to commit more aggressively to limiting fossil-fuel dependency.
The German government isn't responsible for Volkswagen's deception, but officials and politicians have already expressed concern that the automaker's actions could tarnish the overall "Made in Germany" brand—and it doesn't help that the manufacturer is partly owned by the German state of Lower Saxony.
Responding to the crush of scrutiny, Merkel—who recently praised the German auto industry for its efforts to green up and help the nation tackle its climate agenda—on Tuesday called on Volkswagen to come forward with "full transparency," as worries mounted that the damage could filter into the broader German car market and tarnish the country's favored diesel-engine technology.
And now, it is the U.S., not Germany, leading the way.
The EPA announced last week that VW had violated the Clean Air Act. EPA Assistant Administrator for Enforcement Cynthia Giles denounced the company's actions as "illegal and a threat to public health."
EPA's Volkswagen accusation has also sparked concern among European nations such as Britain and France who are now calling for investigations into whether the automaker may have skirted environmental laws on their home turf.
"Other countries are looking to the United States and to what EPA has found, so it's showing that the agency is serving as a model here in terms of finding and identifying these kinds of problems," said Peter Ogden, a senior fellow at the left-leaning Center for American Progress and a former White House climate official.
And while many Germans are embarrassed by the scandal, there is also a sense that the country can't help but be thankful that the U.S. acted with authority and vigilance. Collier, the Berlin professor, explained: "The German love-hate relation with American ways of governing and doing business is nudged to the love side by this."