Unlike His Immigration Plan, Donald Trump's Tax Proposals Are Actually Feasible
Trump's new tone on tax reform shows he is trying to prove he's a policy-focused candidate.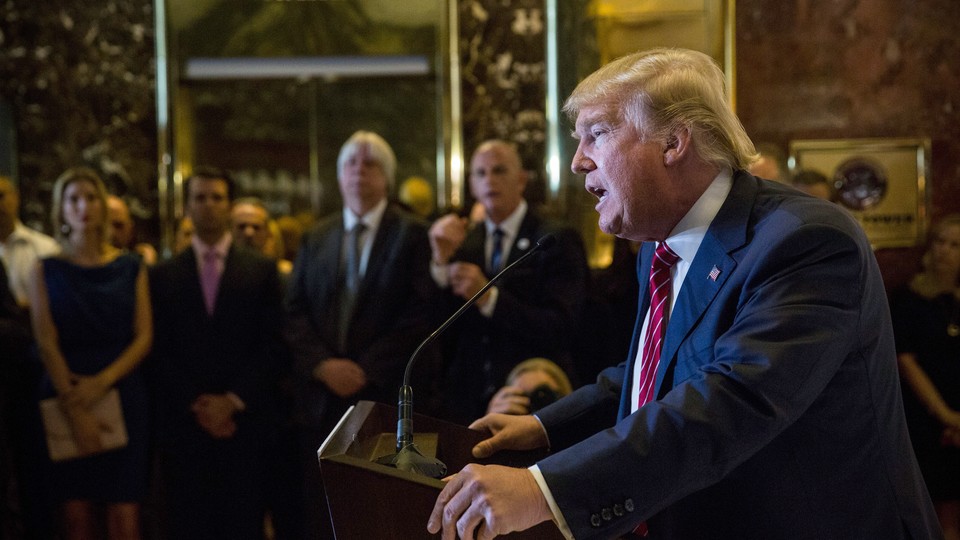 Don­ald Trump soun­ded like a ser­i­ous GOP pres­id­en­tial con­tender Monday morn­ing as he un­veiled a tax plan that checked all the Re­pub­lic­an Party's boxes.
Trump—who usu­ally speaks loosely and off the cuff—held court at Trump Tower on Monday with notes and a de­tailed list of tax pro­pos­als, which ranged from erad­ic­at­ing the so-called death tax to lower­ing the cor­por­ate tax rate from 35 per­cent to 15 per­cent for busi­nesses of all sizes, "from For­tune 500 to mom-and-pop shops to a freel­an­cer liv­ing job to job.
"We have an amaz­ing code. It will be simple. It will be easy. It will be fair," Trump said.
Un­like his im­mig­ra­tion pro­pos­al, which was dis­missed as a pan­der­ing pipe dream with calls to de­port 11 mil­lion people, Trump's tax plan in­cluded many ideas that the GOP has lob­bied for be­fore.
Trump's plan draws from the tra­di­tion­al Re­pub­lic­an policy ar­sen­al. He pro­poses re­du­cing the num­ber of tax brack­ets in the U.S. from sev­en to four, with those mak­ing less than $25,000 as in­di­vidu­als or $50,000 as a couple hav­ing an in­come-tax rate of zero. The highest earners who make $150,000 in­di­vidu­ally or $300,000 as a couple will have a top rate of 25 per­cent. He also pro­posed giv­ing busi­nesses a tax hol­i­day and en­cour­aging them to re­in­vest their for­eign-held money in the U.S. by of­fer­ing them a "one-time" 10 per­cent tax rate.
Dur­ing his press con­fer­ence, Trump de­clined to tell re­port­ers who had craf­ted his plan, but many of the ideas have been offered up already by fel­low GOP can­did­ates. Former Flor­ida Gov. Jeb Bush, for ex­ample, planned to re­duce the num­ber of tax brack­ets from sev­en to three and also slash the cor­por­ate tax rate to 20 per­cent.
Trump did try and ap­peal to his fin­an­cially strug­gling sup­port­ers Monday by pledging to cut back on tax de­duc­tions and 'loop­holes" for the wealth­i­est Amer­ic­ans and "[elim­in­ate] the in­come tax for over 73 mil­lion house­holds."
"It is go­ing to cost me a for­tune," Trump said.
But con­ser­vat­ive tax ex­pert and founder of Amer­ic­ans for Tax Re­form Grover Nor­quist said Trump's plan isn't bor­rowed from lib­er­als—it is clas­sic­ally con­ser­vat­ive. And, he ar­gued, it is im­ple­ment­able.
"The Re­pub­lic­an Sen­ate and House would pass this to­mor­row," Nor­quist said. "He is com­pletely in the cur­rent of the mod­ern Re­agan Re­pub­lic­an Party, and his plan fits very com­fort­ably … and in many ways is more ag­gress­ive."
Trump might be the flash­i­est can­did­ate in the 2016 pres­id­en­tial race, but it turns out his tax plan is pretty typ­ic­al. Of course, Trump couldn't let an op­por­tun­ity to diss his fel­low Re­pub­lic­ans on Monday morn­ing. When asked about Sen. Marco Ru­bio, Trump re­spon­ded, "Sen­at­or Ru­bio is a light­weight. He wouldn't be able to do this."